Sleek and superficial, this high-octane action film tests Charlize Theron's new-found box office powers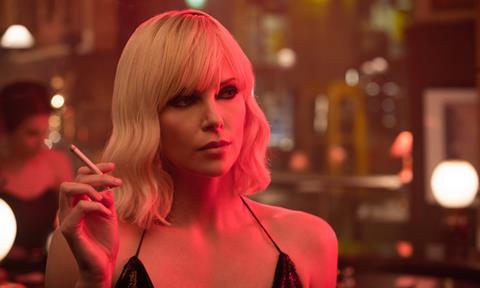 Dir: David Leitch. US. 2017. 115mins
Like its stylish, lethal heroine, Atomic Blonde gets the job done with brutal efficiency — and yet, for a thriller with such a large body count and bullet wounds, it's an oddly bloodless affair. Despite a smorgasbord of high-octane action filmmaking, its thimble-deep characters and strained political commentary repeatedly stall what should be a wonderfully trashy shoot-'em-up. Playing a superspy sent into Berlin at the end of the Cold War, Charlize Theron exudes all the icy cool one could want, helping to sell a film that tries too hard to convince us of its badass credentials.
Statuesque and steely, Charlize Theron makes Lorraine seem menacing even when she's completely still
Atomic Blonde arrives in American theatres on July 28 and UK screens on August 9, hoping to capitalise on Theron's commercial cachet following Mad Max: Fury Road and The Fate Of The Furious. Considering that it's directed by David Leitch, one of the two filmmakers responsible for the 2014 cult smash John Wick, action aficionados should turn out in droves.
Set at the tail end of 1989, the film stars Theron as Lorraine Broughton, an elite MI6 spy assigned to Berlin to rendezvous with local station chief Percival (James McAvoy), who might know the whereabouts of a mysterious man (Eddie Marsan) with access to a top-secret file that contains the identities of Western agents working in the city. Lorraine must find this man before the KGB does, but she's not sure whether she can trust Percival.
Based on the 2012 graphic novel series The Coldest City, Atomic Blonde reeks of sleekness. Leitch and cinematographer Jonathan Sela drape each widescreen scene in grungy, low-lit ambiance in order to capture the urgency of a divided, restless city just as the Berlin Wall is about to collapse. The film's narrative is equally flashy: Atomic Blonde is told in flashbacks as Lorraine is interrogated by her MI6 boss (Toby Jones) and a stoic CIA operative (John Goodman) in London, the action darting back and forth between the tense interview and her time in Berlin. Screenwriter Kurt Johnstad hasn't just crafted an action movie but also a mystery, teasing the audience with questions about how Lorraine's face and body are so bruised and what happened during her mission.
Leitch and his John Wick directing partner Chad Stahelski used their experience as stunt coordinators to craft a visceral, balletic series of fight sequences that were shocking in their intimacy and intensity. Working solo on Atomic Blonde, Leitch continues to deliver nasty, bone-crushing action set pieces, often requiring Theron to dispense a slew of bad guys in gritty hand-to-hand combat. The film serves up these bravura moments in entertainingly different ways — sometimes with an artsy backdrop (Lorraine battles in a movie theatre while Tarkovsky's Stalker plays on a large screen behind her), and other times with a gripping simplicity, like when she has to journey through a seemingly abandoned building, shooting and punching her way to safety.
Atomic Blonde consistently sports a cheeky irreverence. (One especially cathartic fight scene is ironically scored to George Michael's mournful Father Figure, which is playing on a stereo in the room.) Up to a point, the film's noir-ish posturing has its kicks. But Atomic Blonde's story often fails to fully engage. Lorraine has plenty of reason to distrust the people around her, but the stakes are rarely dramatised in a way that makes the audience feel like a taut net is closing in around her. As a result, the proceedings are much more satisfying when Theron is just shooting and kicking, which helps distract from Atomic Blonde's ham-fisted musings on how spycraft corrodes its participants' souls.
Statuesque and steely, the Oscar-winner makes Lorraine seem menacing even when she's completely still. She acquits herself more successfully than McAvoy, who overdoes Percival's oily, duplicitous charm. Likewise, Sofia Boutella plays a novice French agent who seduces the wary Lorraine, the actress struggling to find dimensions in a femme fatale character within a film that prefers silky superficiality.
Production companies: Focus Features, Sierra Pictures, Denver & Delilah Productions, Chickie The Cop, TGIM Films, 87Eleven
International distribution: Focus Features/Universal
Producers: Eric Gitter, Peter Schwerin, Kelly McCormick, Charlize Theron, A.J. Dix, Beth Kono
Executive producers: Nick Meyer, Marc Schaberg, Joe Nozemack, Steven V. Scavelli, Ethan Smith, David Guillod, Kurt Johnstad
Screenplay: Kurt Johnstad, based on the Oni Press Graphic Novel Series The Coldest City, written by Antony Johnston and illustrated by Sam Hart
Cinematography: Jonathan Sela
Production design: David Scheunemann
Editor: Elísabet Ronaldsdóttir
Music: Tyler Bates
Main Cast: Charlize Theron, James McAvoy, John Goodman, Til Schweiger, Eddie Marsan, Sofia Boutella, Toby Jones