A historian and his stepdaughter investigate a mysterious 18th century mechanical doll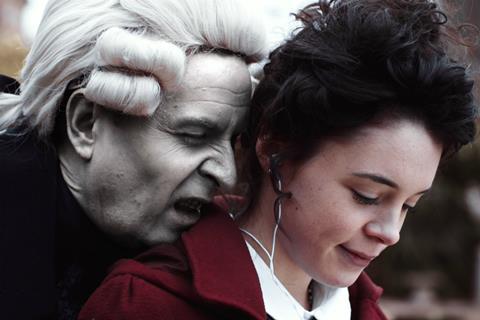 Dir/scr: Lawrie Brewster. UK. 2019. 94mins
In 18th century Europe, a craze sprung up for fabulously ingenious life-sized mechanical dolls. These Automata were supposed to delight and amuse, but generations of writers, artists and animators have seen the bewigged proto-robots in a macabre light. E.T.A. Hoffman's 'The Sandman', for example, introduced Olimpia, the soulless, betwitching dancing doll – played memorably by Moira Shearer in Michael Powell and Emeric Pressburger's 1951 film of Offenbach's opera Tales of Hoffman. But while Automata crop up in everything from Blade Runner to Doctor Who, few full-length films have made them central figures – which gives director Lawrie Brewster and writer Sarah Daly an opportunity to explore a grand old horror tradition that's still relatively untapped on-screen.
The modern-day storyline is unusually intimate
Working under the banner of Hex Studios, Brewster and Daly have made a series of ambitious, Scots-accented art-horror hybrids notable for chilly widescreen beauty and careful myth-building (Lord of Tears, The Unkindness of Ravens, The Black Gloves). Automata is their most accessible and satisfying film to date, and a strong prospect for audiences with the patience to get involved in slow-building terror – which pays off with properly nightmarish sequences.
Though flashback sequences marshal costume extras and a large cast of historical figures, the modern-day storyline is unusually intimate – with only three major characters, one of whom is apparently a wind-up doll. Historian Brendan Cole (Jamie Scott Gordon), who has written a book about a famous automaton known as 'the Infernal Princess', is commissioned by a German aristocrat (Erich Redman) to examine the supposedly rediscovered original article. If Cole can authenticate the Princess and get her to perform the five tasks for which she is programmed, he will earn a million pounds – but he has to deliver his findings in a week, and is left on his own in an isolated mansion to get on with it.
The widowed Cole is accompanied by his stepdaughter Rose (Victoria Lucie), young enough to ask to share his four-poster bed when troubled by nightmares but old enough to have vivid sexual fantasies. As he fiddles with the china-faced doll (Alexandra Nicole Hulme), he digs deeper into the myths about its creation. Cole and Rose sense the spectral presences of the doll's original owner, a mad General (a splendidly viperish Jonathan Hansler), and its creator, Scots engineer Alexander MacIntosh (Keith Robson).
The General had the doll made in the image of his daughter Talia (also Hulme), whose disappearance remains an unsolved mystery. The repressed academic and the matter-of-fact girl are tormented by dark desires, and may fall under the influence of the doll and the General, which pulls them into a maelstrom of past and present – and leads to scenes of savage frenzy on the grounds, and quiet creepiness in the house.
The Hex Studios filmography has some overlap with the haunted landscapes of Ben Wheatley and the puzzle-like intricacies of Peter Strickland, but is developing a very distinctive screen personality, drawing on British and European genre and art cinema. Here, the period inevitably means echoes of Barry Lyndon (or even parallels with The Favourite) but the general tone of perverse obsession evokes the scruffier, disreputable sex horror films of Jean Rollin and Jesus Franco. Key cast is excellent, with Gordon and Hulme held over from earlier Hex films, and newcomer Lucie showing a presence and range which will catch the attention of casting directors.
Production companies Antique Pictures Ltd, Hex Studios Ltd, Dark Dunes Productions, Needle's Eye Productions, 7 Toes Productions, Lights Out Productions
International sales Hex Studios lawriebrewster@hexmedia.tv
Producers Lawrie Brewster, Sarah Daly
Cinematography: Gavin Robertson, Michael Brewster
Production Design:
Editors: Lawrie Brewster, Thomas Staunton
Music: Joni Fuller, Thibaut Vuillermet
Main Cast: Jamie Scott Gordon, Jonathan Hansler, Alexandra Nicole Hume, Victoria Lucie, Erich Redman, Keith Robson