Dir/scr/cine. Cary Joji Fukunaga. US, 2015, 136 mins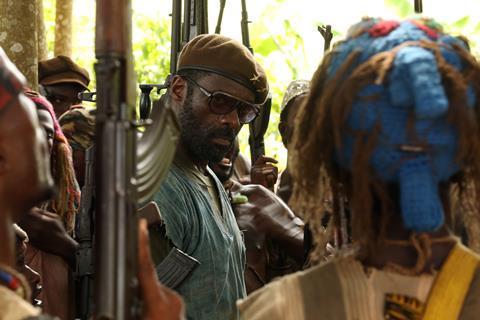 Beasts Of No Nation is a bold, ambitious production. The first original feature from Netflix, it will challenge the distribution sector's status quo when it makes an Award-qualifying premiere in select US markets on October 16 – the same day it is made available worldwide for download on the service. Written, directed and lensed by Sin Nombre's Cary Joji Fukunaga, it adapts the 2005 novel by the Nigerian-American author Uzodinma Iweala about an African child soldier who is ripped from his family by civil war and forced to fight for a Joseph-Kony-like warlord played by Idris Elba (who also produces). The 136-minute film was shot on location in Ghana with the clear intent of delivering an epic indictment on this evil which has plagued sub-Saharan Africa, in particular.
Elba has the chance here to create a deep performance – the charismatic, evil, eventually vulnerable commander – and he takes it
To that extent, it succeeds. Full of committed performances, particularly from Elba and the impressive young actor Abraham Attah, Beasts Of No Nation is a project of considerable integrity which makes for a consistently-engrossing, if over-long, viewing experience. It is grim, often harsh and occasionally trips over to nightmarish, Heart of Darkness territory. Like the central character of the Commandant, played so effectively by Elba, it also struggles to hold onto its power throughout. Its release is probably a well-judged commercial platform for this long-planned film, purchased by Netflix for a reported $12m; it might have been a challenge for wide cinema audiences.
While there are similarities here to 2008's Johnny Mad Dog and other recent films about African child soldiers, Fukunaga's film has its own voice, although it is not based on a real-life first-person account - Iweala wrote the book as a continuation of his Harvard thesis work on their stories. The author was careful to set his book in an un-named country, with factions of mercenaries swarming through the bush countryside, a whirling, surreal chaos punctuated by a first-person narrative with a singular cadence. That distinctive sing-song voice, stronger on the page than on the screen perhaps, belongs to mischievous young Agu (the Ghananian actor Attah, in his first screen role), who lives in a "buffer zone" between factions as the film starts out.
Whereas Iweala mixed the timelines of his narrative, Fukunaga opts for a linear delivery. Despite his charm and impishness, the viewer is always aware that Agu lives in a time and place of great violence, and when it finally erupts, it takes his entire family away in the most brutal manner (his mother and baby sister flee to the capital; his father and brother are murdered in front of him). And Agu is just a child: he runs desperately into the bush, where he can barely survive alone (he has already told his schoolteacher father that he believes lions live in a zoo).
The cycle of violence has commenced and Agu is quickly picked off by the Commandant (Elba), a deadly Fagin with a band of lawless young men and boys – child-like, vicious peacocks carrying totems who are treated with inhuman cruelty by the Commandant which they in turn dispense to the unfortunates they encounter. Here's where Fukunaga is at his strongest – he clearly conveys this army's cult-like conditions (in particular the terrifying indoctrination ceremony) and the favouritism – sexual and otherwise – shown by the Commandant to his chosen boys. To call them de-sensitised under-states their condition.
Agu finds a friend in the mute boy Striker (Emmanuel 'King Kong' Nii Adom Quaye), and they watch as the older boys murder and rape. Agu is told to kill a man, crossing a line over into a hell which is eventually relieved and amplified by the use of 'brown-brown' (cocaine mixed with gunpowder).
Throughout, Fukunaga (as his own DoP for the first time) trains the camera on the red skies and soil of Africa, the blood and the embers of the flames in the night-time terror the Commandant and his boys dispense. There's a set piece, if you can call it that, where Elba's character takes the boys to capture a bridge and exhorts them in a tribal dance, which is mesmeric, ratcheting up the hell with low bass notes, followed by some colour negative frames. This is an unexpected turn from an increasingly versatile Fukunaga (nothing from Sin Nombre or the restraint of Jane Eyre would have led viewers to expect Beasts of No Nation from this director, although True Detective might be more of a clue).
Elba has the chance here to create a deep performance – the charismatic, evil, eventually vulnerable commander – and he takes it. This is a strong performance from the British-born actor, and he clearly conveys the Commandant's mercurial, manipulative power, mostly wrought through words. Although the film has trouble maintaining its hold in the final hour, there is still a sequence where he is brought in front of his faction's 'Supreme Commander' (he must wait behind Asian businessmen) and the power-shifts reflected on the actor's face are entirely engrossing.
"The only way not to be fighting any more is to be dying," says Agu, in one of the film's final scenes, although the child in him has long since passed away. By the time the violence has spent itself out, there's almost nowhere for Fukunaga to go, nothing left that hasn't been already visually slammed home. All technical credits here are excellent, in particular costuming by Jenny Egan, Dan Romer's music, and Inbal Weinberg's production design, presenting an almost mythical odyssey through the bush into the towns and villages of a blighted land, set nowhere but everywhere in Africa where this lawlessness reigns.
Production companies: Primary Productions, Parliament of Owls
Contact: Netflix
Producers: Amy Kaufman, Cary Joji Fukunaga, Daniela Taplin Lundberg, Riva Marker, Daniel Crown, Idris Elba.
Screenplay: Cary Joji Fukunaga, based on the book by Uzodinma Iweala.
Cinematography: Cary Joji Fukunaga
Editor: Mikkel Nielsen, Pete Beaudreau
Production design: Inbal Weinberg
Music: Dan Romer
Main cast: Idris Elba, Abraham Attah, Kurt Egyiawan, Jude Akuwudike, Emmanuel "King Kong" Nii Adom Quaye