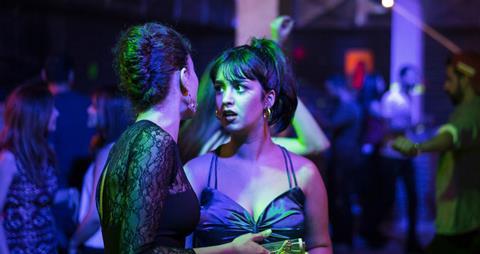 Dir/scr: Kaouther Ben Hania. Tunisia/France/Sweden/Norway/Lebanon/Qatar/Switzerland. 2017. 100mins.
An evening which starts with a carefree student party and selfies with friends descends into a Kafkaesque waking nightmare for 21-year-old Mariam (Mariam Al Ferjani). Loosely based on a real event, Kaouther Ben Hania's gruelling drama collates vividly immediate fragments of the aftermath of Mariam's rape by two policemen. It's not an easy watch. But, with its feminist spin on the continued battle for basic legal rights following the 2011 ousting of Tunisia's Ben Ali regime, it feels like an important one.
Anyone looking for strong female filmmaking voices from North Africa would do well to take note of this picture
Beauty And The Dogs is a forthright and accomplished film which deals with its controversial subject matter without flinching. Tautly plotted, it has a pace and tension which mitigates the exhausting spectacle of watching a vulnerable young woman getting bullied and browbeaten by a selection of utterly horrible men. The audience is so invested in justice for Mariam, the sheer relief when she finally stands up to those who would see her silenced should result in positive word of mouth.
Although a natural fit for festivals such as Cannes, where it plays in Un Certain Regard, the tough subject matter might present a marketing challenge for distributors hoping to connect the film with a theatrical audience; awards - which are not out of the question - may help. Meanwhile, anyone looking for strong female filmmaking voices from North Africa would do well to take note of this picture and of its very promising director.
Ben Hania divides the film into nine sections, each captured in a single shot, as Mariam attempts to negotiate the obstructions and hostility she meets when she attempts to file an official report. The first introduces her at the party; giggly, curvaceous and wearing a daring blue satin dress, Mariam enjoys herself on the dancefloor, sneaking glances at handsome stranger Youssef (Ghanem Zrelli) who can't tear his eyes away from her.
By the second segment, the skimpy dress has already become a source of misery. Battered and distraught, Mariam pelts into the frame, fleeing an unseen terror. Youssef follows close behind, attempting to comfort her. They seek help at a private clinic in order to get medical confirmation of her assault. But the dress leaves her exposed; every knowing smirk from the staff feels like a fresh assault to Mariam, who yanks at the fabric to try and cover herself.
Accompanied by Youssef, Mariam is sent to a public hospital and from there to one police station and then another. Her journey has something of the grinding slog of official indifference explored by Cristi Puiu's The Death Of Mr. Lazarescu; at one point a hospital receptionist breaks off to discuss the pressing matter of whether or not the coffee in the vending machine has been watered down.
Like Puiu, Ben Hania employs long, sinuous single shots to give the sense of Mariam's crisis unfolding in real time. In the central role, Al Ferjani is utterly compelling; when Mariam finally leaves the police station, unbowed, wearing her veil slung over her shoulders like a superhero's cloak, you want to punch the air in triumph.
Production company: Cinetelefilms; Tanit Films; Laika Films; Film I Vast; Shortcut Films; Integral Films & Literature; Chimney
International sales: Jour2Fête sales@jour2fete.com
Producers: Habib Attia, Nadim Cheikhrouba
Cinematography: Johan Holmquist
Editor: Nadia Ben Rachid
Music: Amin Bouhafa
Main cast: Mariam Al Ferjani, Ghanem Zrelli, Noomen Hamda; Mohamed Akkari; Chedly Arfaoui; Anissa Daoud; Mourad Gharsalli