Dir: André Téchiné. France, 2016. 116 mins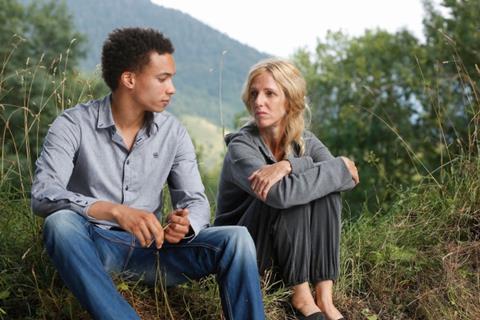 Whether working on a small canvas or exploring the more expansive scope of his ensemble pieces, veteran director André Téchiné can usually be counted on to provide a psychological and dramatic depth that make him essentially one of the great novelists of contemporary French cinema. Back on more stable ground following the awkward prestige-chic of 2014's true crime story In the Name of My Daughter, Téchiné's latest is a compact drama that nevertheless flourishes against a huge, imposing mountain backdrop.
Téchiné's controlled vision and superb direction of actors makes this a quietly potent proposition
Co-scripted by Céline Sciamma, director of Water Lilies and Girlhood, Being 17 manifestly benefits from her insight into the problems of young people searching for their social and sexual identities; this, combined with Téchiné's controlled vision and superb direction of actors, makes the new film a quietly potent proposition. While it won't massively expand Téchiné's regular audience, Sciamma's involvement, together with strong youth and gay angles, will certainly keep exposure prospects buoyant.
As the end credits note, the film is loosely inspired by New Wave, a 2008 TV film by former Téchiné actor Gaël Morel. The story takes place over a year, with one school term per 'chapter', in a small community in the Pyrenees. Sandrine Kiberlain plays Marianne, a doctor married to Nathan (Alexis Loret), an army helicopter pilot currently stationed in a Middle East combat zone. Their teenage son Damien (Kacey Mottet Klein) is a high school student, more cerebral than physical, and is in the throes of a simmering enmity with classmate Thomas (Corentin Fila), which soon comes to blows.
Withdrawn loner Thomas is the adopted son of a couple who run a remote mountain farm. You don't have to be a Téchiné scholar to guess at the underlying psychological causes of the two boys' enmity; suffice to say that Marianne's attempts to reconcile the two warring lads opens up a web of contradictory emotions for all concerned.
As well as showcasing a striking debut by sometime model Fila as the moody Thomas, the film makes an inspired choice in casting Kiberlain and Klein as mother and son, their gawky, beaky appearances rhyming perfectly. Young Swiss actor Klein made his mark as a developing talent in Ursula Meier's Home (2008) and Sister (2012), and here he's maturing into a compelling and brave actor, with his tough, emotionally nuanced rendition of teenage confusion. Kiberlain is as fine as ever, and clearly very relaxed in this setting, while Loret brings a bullishly male touch to the usually absent father.
Téchiné's regular DoP Julien Hirsch makes the film visually memorable, catching the grandeur and the challenging weather conditions of the Pyrenean locations over a year. The early winter sequences cloak the screen in a vastness of white, while the hotter hues of other seasons brings a heightened vividness to an otherwise realistic visual tone.
Production companies: Fidélité Films, France 2 Cinéma, Wild Bunch
International sales: Elle Driver, sales@elledriver.eu
Producers: Olivier Delbosc, Marc Missonnier
Executive producer: Christine de Jekel
Screenplay: André Téchiné, Céline Sciamma
Cinematography: Julien Hirsch
Production designer: Olivier Radot
Editor: Albertine Lastera
Music: Alexis Rault
Main cast: Sandrine Kiberlain, Kacey Mottet Klein, Corentin Fila, Alexis Loret