Dir: Rob Reiner. US, 2015, 97 mins.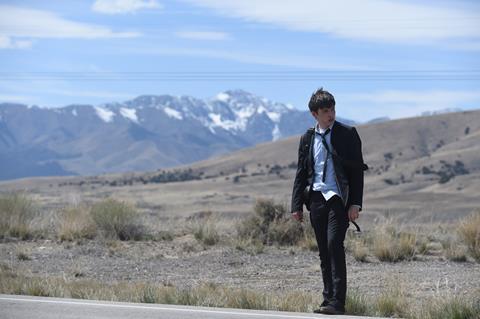 Hollywood and rehab have a long association, both on the screen and off. Rob Reiner is the latest to try to get Clean And Sober with Being Charlie, a highly personal affair which was co-written by Reiner's 22-year-old son Nick and is loosely based on Nick's own experiences in detox. Being Charlie stars Jurassic Park's Nick Robinson, stepping up shakily to leading man material, and while it's a competently made, intermittently pertinent and occasionally amusing, Reiner's low-key approach to a familiar theme lacks the heft or dazzle to distinguish Being Charlie in a crowded house.
Being Charlie lacks real gravitas as it skirts around the troubled lives of the California elite
Sparks on screen come mainly from Devon Bostick, who shines as the best friend and drug-buddy of the troubled if not entirely fascinating teen druggie Charlie Mills (Robinson). With support from Cary Elwes as Charlie's movie star-turned-politico dad David, Susan Misner as his mum, and Morgan Saylor (the daughter from Homeland) as his rehab love interest, Being Charlie occasionally flashes into focus, but not enough to save this Castle Rock Entertainment film from a probable VOD future, where Rob Reiner's name will guarantee interest despite a recent run of poor commercial form (And So It Goes, Rumor Has It).
It's clear that the process of filming Being Charlie was a therapeutic experience for the Reiner family, and their honesty is to be commended, at the very least, even if it doesn't make for an entirely gripping cinematic experience. Set rather specifically in a world of privilege, a milieu of troubled rich kids in moneyed Los Angeles – a Bel Air mansion and Malibu beach house figure prominently – Being Charlie is vaguely reminiscent of 1988's Less Than Zero, though there was no rehab in that noisy Brett Easton Ellis adaptation.
Knowingly referencing One Flew Over The Cuckoo Nest at the outset, Charlie Mills (Robinson) flees rehab in Utah for his luxury pad in Bel Air, only to be abruptly sent back again by his father David. With the threat of jail time looming, Charlie – who nurtures ambitions of being a stand-up comic – seems to be doing well 'inside', and starts a tentative relationship with Eva (Saylor), which clearly isn't going to be good for either of them. (Her character is jettisoned after it has served its purpose). In the meantime, his father David, the former star of a long-running pirate film franchise, is running for Governor of California and doesn't want his son's problems to get in the way of the race.
Chief amongst Being Charlie's attractions is its authentic-feeling. black-humour stay in rehab, while Bostick and Common as a wise drug counsellor also standout. Getting in the way, though, is the sense of the sense of this being an extended therapy session, which is never quite so compelling for those not directly involved.
For the fact that Charlie and David are based on Rob and Nick Reiner, both leading characters seem rather life-less in the chain of events that transpire, there to push an agenda of father-son issues which, given the fact that they're real, seem forced and wooden. Bostick livens the film up when he's in it, and when Reiner starts to look at the dark side of Los Angeles, the movie can look promising. Visually, there's not much here to provide relief either, as the film grinds its inevitable way to an accommodation between the two men. It's not glib, and the screenplay has clearly been worked on, but Being Charlie lacks real gravitas as it skirts around the troubled lives of the California elite.
Production company: Castle Rock Entertainment, Jorva Entertainment Productions, defiant Pictures
International sales: Creative Artists Agency
Producers; Rob Reiner, Johnson Chan, Stephanie Rennie, Simon Goldberg
Executive producers:
Screenplay Matt Elisofon and Nick Reiner
Cinematograpy: Barry Markowitz
Production design: Christopher R. Demuri
Editor: Bob Joyce
Music: Chris Bacon
Main cast: Nick Robinson, Morgan Saylor, Devon Bostick, Cary Elwes, Susan Misner, Common, Ricardo Chavira