Dir. Yariv Mozer. Israel/France/Germany. 2016. 55 mins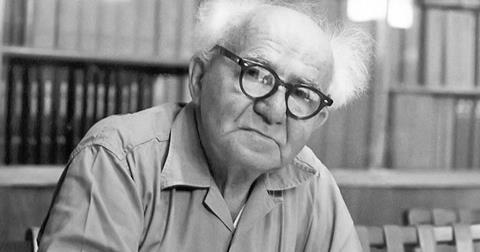 This documentary is the result of a fortuitous piece of cinematic archeology. While working on the restoration of a feature film about Israel's founder and first Prime Minister, David Ben-Gurion, the filmmakers stumbled upon a previously unknown six hour interview with Ben-Gurion himself.
He speaks of future peace for Israel, which, he says, would only be possible with Israel's withdrawal from all of the territories that it conquered during the Six Days War
Unfortunately, the sound had been lost, leaving just the tantalising footage of the then 82-year-old, speaking in 1968 from a kibbutz far removed from the political world he had relinquished when he stepped down from office five years before. The soundtrack was later discovered in the Ben-Gurion Archive in the Negev, where it had been donated by the original sound recordist who had worked on the interview.
This documentary has been crafted from this interview, together with other archive footage and conversations. It's a work of undeniable historical significance, although, due to its brief running time and the niche interest of the subject material, it's a film which will most likely find its audience with those who already have a political or academic interest in Israeli history. Television sales and speciality festival berths look possible.
Diminutive, with imperious bristling tufts of white hair on either side of his head, Ben-Gurion at 82 has a mind which is retains both its agility and the slightly maverick spirit which sent him from Poland to Palestine in the first place. Ben-Gurion recalls his early determination, despite being physically ill-suited for the kind of hard grafting on the land which he saw as integral to his Zionist mission. When he contracted malaria, his father begged him to return to Poland. "You know I will not leave this country" was Ben-Gurion's reply.
The film explores Ben-Gurion's political legacy. "You can never know you are not making a mistake. You do it because you think it is right," he says, conceding however that after the Sinai campaign, he got "a little drunk with that victory and said a little too much which I wouldn't say now."
Ben-Gurion, Epilogue gives details of the former leader's health regime at that time, which was overseen by Moshe Feldenkrais. The decidedly unsporty Prime Minister was delighted when he learned to stand on his head, and reportedly challenged the violinist Yehudi Menuhin to a headstand endurance competition. He also talks about the loss of his wife – Paula Ben-Gurion died four months before the interview was conducted. And he speaks of future peace for Israel, a peace which, he says, would only be possible with Israel's withdrawal from all of the territories that it conquered during the Six Days War.
Production company: Mozer Films ltd., Yael Perlov, Quark Productions
Contact: Yarivmozer@gmail.com
Producers: Yariv Mozer, Yael Perlov, Patrick Winocour & Guigon Juliette
Screenplay: Yariv Mozer
Editor: Yael Perlov
Music: John Keltonic
Featuring: David Ben-Gurion, Dr Clinton Bailey