Three years in the making, Andres Veiel's documentary about German artist Joseph Beuys takes its stylistic cues from its restlessly creative subject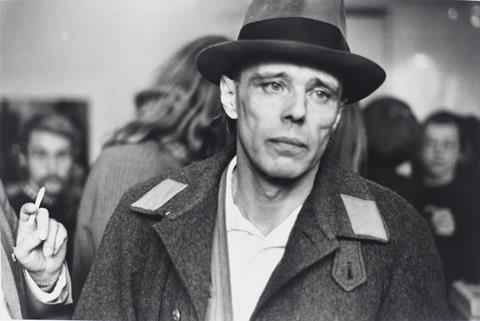 Dir: Andres Veiel. Germany. 2017. 107 mins.
There's a rescued scrap of archive footage from the late 1960s in this fascinating art documentary that shows German artist Joseph Beuys addressing a roomful of local dignitaries by making inarticulate grunts into the microphone. It's pure Beuys – on the one hand a cultural establishment that knows something is happening but doesn't know what, and on the other, an artist who believed that provocation was far more useful than explanation.
A rangy, unconventional ride…
Most art world insiders would rate Beuys as the most significant artist of the post-war period. If he's less in the public eye, than, say, Andy Warhol or David Hockney, that has to do with the fact that so many of Beuys's works were performances, happenings or simply ideas rather than collectable pieces (though the art market being what it is, galleries managed to make money out of Beuys in any case).
One could even argue that Beuys' life was his main workm and that's what makes this fine, thoughtful documentary by film and theatre director Andres Veiel such a pleasure to watch. Working engagingly with material culled from years of archive footage, it presents the work that was Joseph Beuys – as well as reminding us why this most political of contemporary artists is still relevant today, more than thirty years after his death. The film's Berlin Competition slot is a mark of its cinematic qualities – but this is still, in the end, an art documentary and will find its niche accordingly, in berths ranging from urban arthouse bookings to prestige TV and cable.
Three years in the making, Beuys takes some, at least, of its stylistic cues from its restlessly creative subject, eschewing a conventional, chronological biopic approach for a more impressionistic collage that makes only sparing use of talking heads interviews (the most illuminating of which are with Beuys's fiercely intelligent friend and curator Caroline Tisdall). More than 90% of the film consists of archive footage, still photos and audio recordings, some of them charting Beuys's own performances, like his celebrated 1965 work 'How to Explain Pictures to a Dead Hare', others deriving from TV interviews, round tables and news footage.
The most deconstructed, exhilarating part of the journey is the film's time-travelling first section, in which Beuys the man emerges from behind the familiar visual tokens – the Homburg he wore indoors and out on all but rare occasions, and those expressive, tragic eyebrows. After presenting the artist's most audacious work – the planting of 7,000 oak trees in and around the town of Kassel – Beuys the film does, finally, slip into birth-to-death mode.
But it's still a rangy, unconventional ride, one which touches on certain key Beuys legends – like his supposed rescue by Tatar tribesmen when shot down over the Crimea as a young German aviator in 1943 – without fetishising them. In the end, the film is just as interested in Beuys the thinker, activist and German Green Party founder member, the generous teacher, a man whose engagement with social issues and agit-prop attacks on the power of big money anticipate the ideas and methods of Occupy Wall Street and other recent grass-roots protest movements.
Production company: zero one film
International sales: Beta Cinema, beta@betacinema.com
Producer: Thomas Kufus
Cinematography: Jörg Jessel
Editor: Stephen Krumbiegel, Olaf Voigtländer
Music: Ulrich Reiter, Damian Scholl