Dir/scr. Mikhail Red. Philippines / Qatar, 2016, 116 mins.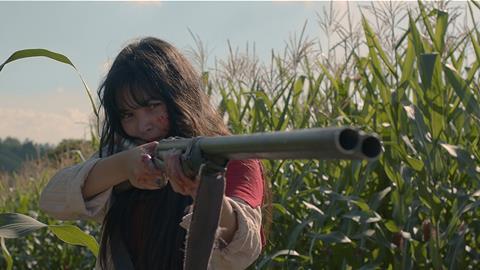 Human life is all-too cheap and expendable in Birdshot. The well-being of one of the Philippines' endangered and treasured national eagles, however, is a completely different matter. Indeed, in Mikhail Red's sophomore feature, harming the animal is an act worth marshaling official firepower and even killing for. In his follow up to 2013's Rekorder, the writer/director crafts a brooding, pondering thriller that dissects the hypocrisy of valuing one creature's existence while willingly ignoring or causing the deaths of others.
With images thrust to the fore and dialogue sparse, Birdshot is also marked by its insular performances,
Such a description may make Birdshot sound heavy-handed in ts commentary on the state of Red's homeland, and it sometimes is, but it's also an effort of haunting contemplation and troubled beauty. Both the strength of its underlying themes and its striking visuals should help the film venture beyond its Tokyo International Film Festival premiere, with its scenic Filipino farmland sights, many loaded pauses and soulful performances tailor-made for the festival circuit. Red previously received the best new director award at the 2014 Vancouver International Film Festival, ensuring that interest should be piqued for the 24-year-old helmer's latest stint behind the lens.
Here, the filmmaker not only directs but co-writes (with Rae Red) and edits (with Jay Halili) as he follows teenaged Maya (Mary Joy Apostol), her dad Diego (Manuel Aquino) and the two police officers — eager rookie Domingo (Arnold Reyes) and the rule-breaking Chief Officer Mendoza (John Arcilla) — who are soon on their trail. The cops' pursuit proves as determined as the feature they're in, albeit far less distinctive. Whereas Red toils to make every image and moment suit his overall vision, his law-enforcing duo follows a well-worn path.
In fact, their enthusiasm stems from necessity; after stumbling across a missing bus, sans passengers, in the middle of a local sanctuary, they're instructed to instead investigate the disappearance of a Philippine eagle from the same site. Though it takes anonymous threats of violence against his young family to convince Domingo to adhere to orders, he's soon eagerly taking Mendoza's lead and tracking down Maya and Diego. The fact that the father-daughter pair oversee the land surrounding the nature reserve instantly raises suspicion — and rightfully so. Of course, viewers have already witnessed the truth, and await the aftermath; following a quick self-defense lesson in using a gun from Diego, Maya shot the bird down in an effort to showcase her prowess, not realising exactly what she was targeting.
As Birdshot switches between two camps of characters grappling with their own version of doing the right thing, though often by not-so-upstanding means, Red makes one statement plain: there's a very fine line between predators and prey in his murky moral minefield. Every shot cinematographer Mycko David so luxuriously captures serves to reinforce this position, as eagles circle looking for their next meal, and people scurry, stalk and scamper through fields trying to avoid a dire fate. When audiences share Maya's vantage as she gazes up at the enormity of the world around her, or see Diego peering through prison bars that astutely illustrate the many limitations placed upon him, the movie's message couldn't be more apparent.
With images thrust to the fore and dialogue sparse, Birdshot is also marked by its insular performances, the central trio of Apostol, Aquino and Reyes charged with conveying their characters' inner thoughts and feelings through physicality rather than words. And, though their prior on-screen experience varies dramatically, it's a task all three perfect.
Still, in only her first feature credit and often only acting against an endearing canine companion, Apostol monopolises attention. Even when the film she's in proves repetitive to fill its 116-minute running time, or pushes the parallels between animals and humans a little too forcefully, turning away from her textured portrayal of a girl trapped by the all-consuming natural order is nigh on impossible.
Production company: PelikulaRED, Tuko Film Productions, Buchi Boy Films, CJ Entertainment
Contact: pamlreyes@gmail.com
Producer: Pamela L. Reyes
Executive producers: Fernando Ortigas, E. A. Rocha
Co-executive producers: Maricris Calilung, Ting Nebrida
Screenwriters: Mikhail Red, Rae Red
Cinematographer: Mycko David
Editor: Mikhail Red, Jay Halili
Music: Teresa Barrozo
Production designer : Michael Español
Cast: Mary Joy Apostol, Arnold Reyes, John Arcilla, Ku Aquino