Bae Jong-dae's solid debut tracks the fall-out after a fatal car-crash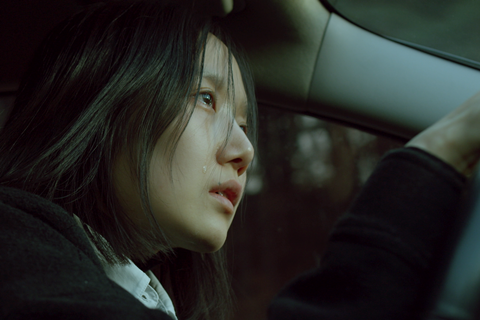 Dir/scr Bae Jong-dae. South Korea. 2020. 106 mins
Widowed by a car accident, Hee-ju (Kim Si-eun) remains deeply troubled by the death of her husband. She wants to move on and return to work, but when she realises that Young-nam (Yeom Hye-ran), the wife of the man seriously injured in the accident which killed her husband, is employed at the same facility, she is knocked off kilter. Hee-ju comes to believe that mistakes were made in the inquest and her dogged pursuit of the truth taps into collective guilt and a hint of industrial malpractice. This solid first feature explores the pain of the women who find themselves pitted against each other as enemies, but who have both suffered immeasurably following the accident.
A terrific performance from Yeom Hye-ran elevates the picture above the swamp of melodrama which threatens to sink it
Black Light screened at the Jeonju film festival, where it took home an acting prize for Yeom Hye-ran. Performances are certainly a strong point, carrying the picture in a third act in which the writing falters. Arriving in Macau having also screened at Tallinn Black Nights Film Festival, this film should continue on its festival journey, although any further play outside South Korea may be a challenge.
"Is it OK for you to be here?" asks Hee-ju's concerned colleague when she returns to the job that she left, six years before, to get married. It soon becomes clear that the colleague's concerns are valid. When Hee-ju spots Young-nam across the street, she drops her shopping and bolts, consumed with guilt and panic. At moments of stress, she tends to pound her head with her hand, a ritual of self-punishment which becomes increasingly frequent as the story progresses. The official statement decreed that it was Hee-ju's husband who caused the accident. And two years later Young-nam's husband remains in a coma; Young-nam, meanwhile is struggling financially and counting on the insurance money which will eventually pay out.
But the splintering notes of a piano score which hang above the film like a question mark cast suggest uncertainty in the future. The film's key characters Hee-ju, Young-nam and Young-nam's daughter Eun-young (Park Ji-hu) are repeatedly thrown together through a series of encounters, some coincidental, some deliberate, It is Eun-young who first sows the seeds of doubt in Hee-ju's mind. Unaware that she is talking to the wife of the dead man, she breaks down crying and claims that her father might have deliberately caused the accident, with the intention of taking his own life.
What follows is inelegant in terms of plotting – a motorway pile-up of confessions and revelations, about both Young-nam's husband and ultimately Hee-ju's as well. At times, it seems that almost everyone in the provincial town where the film is set is somehow complicit or touched by guilt in some way. And all are compelled to unburden themselves, one at a time, to Hee-ju. A terrific performance from Yeom Hye-ran elevates the picture above the swamp of melodrama which threatens to sink it. She fully captures the fraying desperation of Young-Nam, as her hope for her husband's recovery hardens into something bitter and comflicted.
Production companies: One Take Film, Film New Wave
International sales: M-Line Distribution sales@mline-distribution.com
Producers: Moon Young-hwa, Seo Ho-bin
Cinematographer: Cho Wang-seop
Editing: Kim Woo-hyun
Production Design: KimHui-jin
Music: Jawan
Main cast: Kim Si-eun, Yeom Hye-ran, Park Ji-hu