Dir: Tammy Davis. New Zealand. 2015. 96 mins.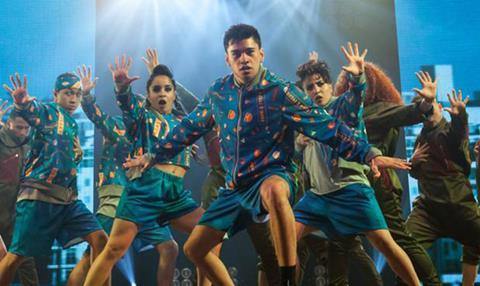 The dance movie travels to New Zealand in Born to Dance, giving an otherwise generic offering a much-needed dose of enthusiasm in the process. The majority of the film adheres to tried-and-tested elements, as seen in a narrative peppered with underdogs trying to succeed against the odds, rivalries between dance crews, a coming-of-age journey and a wrong-side-of-the-tracks romance. Thankfully, the energy of the cast and the spectacular choreography enliven what could have remained a blandly formulaic, feel-good showcase of moving and grooving.
Parris Goebel can't be underestimated in lifting Born to Dance beyond its standard story and message
Indeed, the efforts of Step Up All In performer and Jennifer Lopez, Nicki Minaj and Janet Jackson collaborator Parris Goebel can't be underestimated in lifting Born to Dance beyond its standard story, and in venturing past its just-as-standard message about pursuing a passion and believing in oneself as well. In a film concerned with characters who dance because that's who they are — as the screenplay is at pains to make plain — her distinctive numbers ensure their zeal transcends the often clumsy dialogue and always typical scenario. After premiering in Toronto and releasing in its homeland as well as Australia in 2015, expect the Tammy Davis-directed feature to receive a warm response to its feverish hip-hop routines when it brings its brand of strutting and swagger to Berlinale's Generation 14plus lineup in February.
Teenager Tu (Tia-Taharoa Maipi) is chief among the film's flurry of frenzied and fleet feet, his dancing prowess both an escape from the doldrums of his summer holiday job at a South Auckland recycling centre, and his preferred career path. Training with a group of pals who call themselves 2PK, he has his sights set on winning the national championships. Alas, his army sergeant father (John Tui) espouses other ideas about his future, giving Tu a six-week deadline to come up with a sensible plan for his life, or be forced to enlist in military service.
Enter a YouTube video of Tu's smooth moves that goes viral, attracting the attention of the country's reigning hip-hop stars. Led by the determined and ruthless Kane (Jordan Vaha'akolo) and seeking their fourth consecutive title, K-Crew invites Tu to audition for a coveted spot with the troupe. He follows his fondness for Kane's girlfriend, American dancer Sasha (Kherington Payne), as much as his fancy footsteps, hoping several of his dreams will come true; however making the lengthy trek to the North Shore for tryouts while keeping his antics from his dad and friends proves problematic.
Writers Steve Barr, Hone Kouka and Casey Whelan show few signs of trying to challenge the dance movie status quo, their embrace of convenience and convention as overt as the film's thumping P-Money-produced soundtrack. And yet, the movie's charms adhere to similar clichés in an amiable way, for what the mash-up of Step Up, Dirty Dancing and Billy Elliott lacks in originality, it makes up for in style and spirit.
In his feature helming debut, Black Sheep and Outrageous Fortune actor turned filmmaker Davis sensibly devotes as much of the movie's running time to its main drawcard of writhing, rhythmic displays as possible. The tight camerawork and close framing of cinematographer Duncan Cole, speedy pace enforced by editor Jeff Hurrell (Deathgasm), and keen eye of dance unit director Chris Graham (Sione's Wedding) are also crucial.
In fact, Davis' approach suits the cast perfectly, as most are performers rather than actors, and each sells their role through their dance floor skills more than their theatricality. Of the varied and clearly eager bunch, Maipi anchors the feature with a mix of charisma and awkwardness, though he's done few favours by the script's frequent wallowing in melodrama.
Real-life So You Think You Can Dance contestant Payne and Australian Idol winner Stan Walker meet comparable fates, the former's love interest a pleasant but thinly-sketched presence, and the latter playing Tu's drug-dealing buddy Benjy. Luckily, their shared dynamic still feels genuine, with their sincerity and zest — and the diversity of the film's characters — Born to Dance's other welcome addition to the well-worn genre.
Production companies: Vendetta Films, Severe Features, Storytime Films
International sales: Cinema Management Group, cmg@CinemaManagementGroup.com
Producers: Jill Macnab, Leanne Saunders, Daniel Story
Executive producers: Dene Anderberg, Phil Bremner, Edward Noeltner, Matt Noonan
Screenwriters: Steve Barr, Hone Kouka, Casey Whelan
Cinematography: Duncan Cole
Editor: Jeff Hurrell
Production Design: Shayne Radford
Main Cast: Tia-Taharoa Maipi, Stan Walker, Kherington Payne, John Tui, Jordan Vaha'akolo, Michael Metuakore, Onyeka Arapai, Richie Cesan.