Strong debut from Matt Palmer starring Jack Lowden and Martin McGann competes at Edinburgh before moving to Netflix.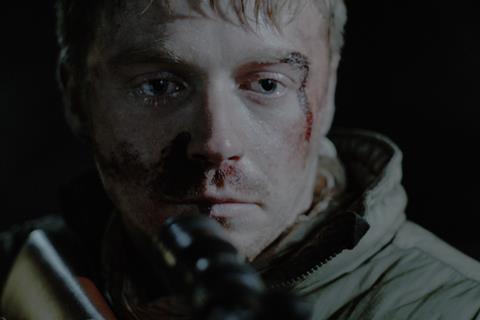 Dir. Matt Palmer. UK. 2018. 97 mins
Make one fateful wrong decision early on and risk facing an impossible choice in the final act: both the set-up and trajectory of Matt Palmer's breathlessly taut thriller may be familiar to genre fans, but there is no denying the grim momentum of this story. Two childhood friends, father-to-be Vaughn (Jack Lowden) and his brash buddy Marcus (Martin McCann), find themselves backed into a corner after a hunting trip to the rural highlands of Scotland is blighted by a tragic accident.
Palmer adeptly creates a suffocating atmosphere
This confident first feature receives its world premiere in Edinburgh, where it is eligible for the Michael Powell Award. Subsequently, it will be available to stream globally from June 29th on Netflix. Palmer adeptly creates a suffocating atmosphere, all glowering wood-panelled walls which seem to close in, and defeated-looking hunting trophies. The smouldering animosity of an impoverished small town towards two outsiders, combined with the contained tension as a precarious alibi collapses, one chance event at a time, means that the film should resonate with audiences looking for effective genre material.
Palmer makes his feature directing debut on the back of several well-received short films. The Island (2007) was a nominee for a Scottish Bafta award; The Gasman (2014) won best horror at the Limelight Film Awards. Of the key cast members, Jack Lowden, in the more sympathetic role of Vaughn, was recently seen in Dunkirk and played the young Morrissey in England Is Mine. Martin McCann previously found himself in similarly a hostile countryside environment in the lead role in The Survivalist.
On the first night of the trip, Marcus and Vaughn are too well-lubricated in the village pub to realise that they are trampling all over the sensibilities of the touchy locals. A brief flirtation with a pair of attractive girls provides a flashpoint, causing the rising tensions to ignite, but diplomatic elder statesman Logan (Tony Curran) defuses the situation. For a while at least.
The following morning, Vaughn is brutally hungover, and Marcus is jangling with cocaine and post-coital swagger. Neither is an ideal state in which to be handling a gun. And before long, the unthinkable happens. Vaughn trains his rifle on a deer, but realises, with a sickening lurch, that he has somehow shot a child. Marcus panics and the situation deteriorates. And from that moment on, the pair find themselves scrambling from lie to crumbling lie.
Nauseous with guilt, Vaughn argues that they should come clean. But Marcus has always been the dominant one in this friendship. And, as the owner of the gun, it is his name to which the bullets will be traced. Which is why, in one fraught scene, he physically manhandles his friend in order to chisel out the evidence from the dead child's head.
A score, which is subtly used at first, is gradually brought to the foreground as the locals' chilly bonhomie descends into outright malice. Ambient sound – the howl of wind, the creak of trees and a rumble which sounds light distant gunfire – is threaded into the music. Meanwhile, the nervy hand-held camera brilliantly captures the mindset of two men struggling to contain the biggest secret of their lives.
Production company: Wellington Films
International sales: Beta Cinema
Producers: Alastair Clark, Anna Griffin
Screenplay: Matt Palmer
Production Design: Miren Marañón Tejador
Editing: Chris Wyatt
Cinematography: Márk Györi
Music: Anne Nikitin
Main cast: Jack Lowden, Martin McCann, Tony Curran, Ian Pirie, Kate Bracken