Dir. Luca Guadagnino. Fra-Ita, 2017, 131 mins.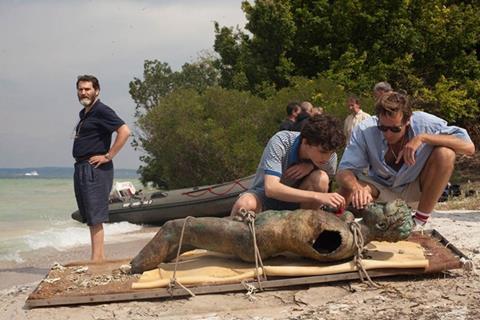 Call Me By Your Name is an intensely languorous seduction from Luca Guadagnino, set in 1983 "somewhere in Northern Italy", in a ripe, sun-dappled palazzo belonging to a casually multi-lingual American professor of antiquities, his wife and smart, intuitive, intellectually-precocious 17 year-old son, Elio (Timothée Chalamet). When 24 year-old graduate student Oliver (Armie Hammer) arrives for a six-week internship, young Elio collapses into love; it's a beautiful, supremely touching performance from Chalamet which gives this surprisingly safe story its moving purity.
Guadagnino tantalises, seduces, teases with a sensuousness which threatens to climax throughout
Call Me By Your Name wears its intellectual credentials on its sleeve; it's a film which sucks in references to art, literature, poetry, linguistics, Jewish identity, and exhales lengthy al-fresco lunches, meticulous production design and dripping over-ripe fruit, a luscious metaphor for the forbidden romance at its core. Adapted from André Aciman's memoirs, this hot summer flush of first love in a milieu vacated by Bertolucci's Stealing Beauty stakes its place in film history with Chalamet's Elio, buffeted by the all-too-real confusion, pain and ecstasy of falling in love.
Guadagnino's follow-up to 2015's A Bigger Splash (and the concluding part of a trilogy which started with I Am Love) may prettify the pill, but 131 minutes of picture postcard Italy is a challenge for wide commercial play, even with the director's art house cachet.
The film's moving conclusion – Elio's father, played by Michael Stuhlbarg, delivering painful wisdom coupled with an exquisitely-held closing shot – will help word of mouth, but this film will need to be marketed carefully. Prospects may be healthier in English-language-friendly markets (SPC pre-bought US rights prior to the Sundance premiere). Certainly, Italians are unlikely to react well to another reductive Guadagnino depiction of their countrymen as colourful village idiots.
One of Call Me By Your Name's unexpected pleasures is the recreation of 1983 in the Italian countryside: it might seem as if this is a timeless place (Mussolini on the walls, etc), but the costumes (swimming trunks, Talking Heads t-shirts), the music (The Psychedelic Furs), and the retro dancing is a pleasure and helps engage the mind when the film becomes snared in sun- and moon-dappled swims, bicycle rides, and aforementioned al fresco lunches and breakfasts. With all that entertaining and all those fruit trees to groom, it's lucky this affluent family has domestic staff on hand.
Oliver and Elio circle each other for, well, hours, as Guadagnino returns again and again to stress Oliver's earthy appetites – he gulps his food, sucks down eggs and throws back juice – and Elio's carnal desires, diverted into sex with his local girlfriend Marzia (a warm performance from Esther Garrell).
The summer seems endless, the camera prowls around, the temperature rises, and the viewer can be forgiven, with all this gorging sensuousness, for expecting the much-teased consummation to be rich in carnality. It's disappointing that Guadagnino shirks the moment, politely cutting to a shot of a tree. In a year in which gay love has broken through cinematically (Moonlight), gay sex is still avoided. (It's interesting to witness the difference between Call Me By Your Name and the frankly explicit British film God's Own Country.)
Guadagnino never disappoints when it comes to beauty or parading his credentials as an aesthete, whether that be via Sayombhu Mukdeeprom's visuals, or the piano-driven score so reminiscent of I Am Love, or quoting Montaigne in French. Timothée Chalamet plays the guitar and several versions of Bach on the piano with a precocity which makes his character so beguiling.
But there is always something here to look at or listen to, even when Guadagnino isn't so ostensibly showing off. He tantalises, seduces, teases with a sensuousness which, even if it doesn't climax in human flesh, bursts forth in a sequence involving a peach, which may irrevocably alter how viewers perceive this rich fruit going forward.
Production companies: RT Features, Frenesy Film Company, La Cinéfacture
International distribution: Memento Film Sales. US distribution: Sony Pictures Classics
Producers: Peter Spears, Luca Guadagnino, Emilie Georges, Rodrigo Teixeira, Marco Morabito
Executive producers: James Ivory, Howard Rosenman, Tom Dolby, Nicholas Kaiser, Lourenço Sant'Anna, Francesco Melzi d'Eril, Derek Simonds, Margarethe Baillou
Screenplay: James Ivory, Luca Guadagnino, and Walter Fasano, from the novel by André Aciman
Cinematography: Sayombhu Mukdeeprom
Production design: Samuel Deshors
Editor: Walter Fasano
Music: Sufjan Stevens
Main cast: Armie Hammer, Timothée Chalamet, Michael Stuhlbarg, Amira Casar, Esther Garel, Victoire Du Bois, Vanda Capriolo, Antonio Rimoldi