Woody Harrelson stars as the coach of a disabled basketball team in Bobby Farrelly's well-meaning, broad-strokes comedy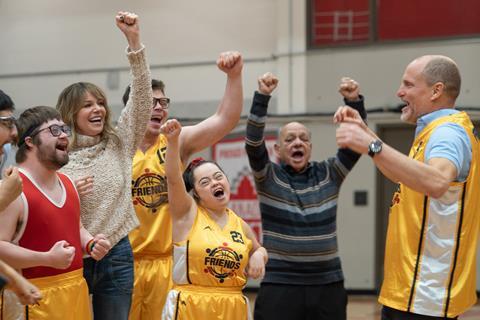 Dir: Bobby Farrelly. US. 2022. 124mins
An underdog sports comedy that puts the spotlight on actors with intellectual disabilities, Champions has a big heart but follows a familiar playbook too easily. Starring Woody Harrelson as a disgraced basketball coach trying to guide a Special Olympics team to glory, the solo directorial debut of Bobby Farrelly goes for broad laughs and a crowd-pleasing spirit, never mocking its disabled characters but, instead, celebrating their irreverent sense of humour and athletic skill. Unfortunately, that does not keep Champions from feeling patronising and cloying at times.
The solo directorial debut of Bobby Farrelly goes for broad laughs and a crowd-pleasing spirit
The film releases in the US on March 10, just in time for the annual NCAA college basketball tournament – one of the country's most beloved sporting events. Harrelson will be a commercial draw, as will a by-the-numbers narrative that delivers all the expected moments to cheer. Warm word-of-mouth but only lukewarm reviews should result in modest commercial returns.
Marcus (Harrelson) is a hotheaded coach whose violent temper has seen him fired on multiple occasions. Recently convicted of drinking and driving after losing his latest job, Marcus is court-ordered to work for 90 days with a local team of players with intellectual disabilities (nicknamed "The Friends") in order to avoid a prison sentence. Initially humiliated that he is being forced to take what he considers such a menial assignment, he soon comes to love these disabled athletes — including Johnny (Kevin Iannucci), whose sister Alex (Kaitlin Olson) looks after him, wanting to be sure Marcus treats these players with respect.
In films such as There's Something About Mary, directors Peter and Bobby Farrelly have cast disabled actors in supporting roles, wanting to give people with intellectual disabilities greater visibility and to remove harmful stigmas. (In addition, they produced director Barry W. Blaustein's 2005 Special Olympics comedy The Ringer.) So Bobby Farrelly's desire to tackle this material, based on the Goya-winning 2018 Spanish hit Campeones, should not be surprising — nor should his deeply affectionate portrayal of The Friends.
The disabled cast is uniformly strong, with Iannucci especially winning as sweet-natured Johnny, who has a habit of latching onto people — which makes Alex nervous because she has seen him get hurt before. Playing Darius, clearly the best athlete of the group, Joshua Felder gets laughs depicting a character who, inexplicably, refuses to play for Marcus. (When we find out the actual reason he is boycotting the team, though, it results in one of Champions' more touching scenes.)
But despite the filmmakers' noble intentions, The Friends ultimately get sidelined as Mark Rizzo's screenplay focuses more on Marcus' personal growth and his budding relationship with Alex – the pair hooked up on Tinder at the beginning of the picture, confident they would never see each other again. Harrelson and Olson sport an appealing flirty, sparring rapport, and she is particularly lovely once Alex becomes Marcus' moral compass, teaching an inherently selfish man the importance of caring about others. By comparison, Harrelson (who starred in the Farrelly brothers' Kingpin) exudes a roguish charm as this short-fused, bitter coach, but the character is drawn so simplistically that there is not much in the way of surprise.
Champions has plenty of likeable passages as Marcus bonds with his team. Mostly avoiding heavy-handed speechifying, the film preaches inclusiveness simply by letting its disabled characters be funny. Sadly, however, that doesn't preclude Farrelly from occasionally portraying The Friends in overly cutesy ways. This tendency — alongside a lazy habit to include ubiquitous pop hits on the soundtrack to cue emotion — diminishes the picture's cheerful, live-and-let-live attitude. And while a certain amount of predictability is expected in a sports film, Champions eventually gets bogged down in de rigeur plot twists that seem forced onto the proceedings rather than evolving organically from the characters' relationship to one another.
It's hard not to root for a mainstream picture that embraces disabled actors to this degree. But one wishes Farrelly's instinct to champion The Friends' bravery in fighting prejudice had translated into a film that was itself a little bolder.
Production company: Gold Circle Entertainment
International distribution: Universal Pictures
Producers: Paul Brooks, Scott Niemeyer, Jeremy Plager
Screenplay: Mark Rizzo, based on the Spanish film Campeones, by Javier Fesser, written by David Marques and Javier Fesser, story by David Marques
Cinematography: C. Kim Miles
Production design: Jean Carriere
Editing: Julie Garces
Music: Michael Franti
Main cast: Woody Harrelson, Kaitlin Olson, Kevin Iannucci, Joshua Felder, Matt Cook, Ernie Hudson, Cheech Marin