Kristen Stewart leads the latest all-girl trio for director and co-star Elizabeth Banks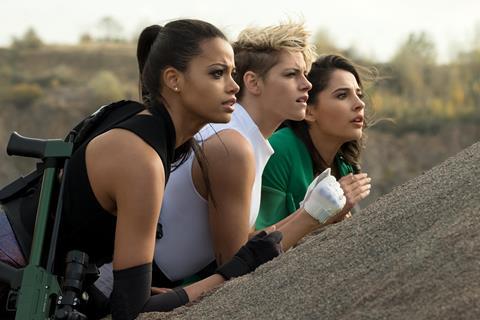 Dir: Elizabeth Banks. US. 2019. 119mins.
The resourceful heroines of Charlie's Angels adeptly cycle through wardrobes and disguises in their latest big-screen iteration, which makes it all the more unfortunate that this sometimes lively action-comedy is forced to dress up as just another studio blockbuster. Not quite thrilling or hilarious enough, writer-director Elizabeth Banks' take on the 1970s television series preaches empowerment and gender equality, and leads Kristen Stewart, Naomi Scott and Ella Balinska prove to be fun company. But this fizzy entertainment is yoked to a dull spy story which recycles genre tropes without adding much that is new to the mix
What's missing is that indelible big idea that would help elevate this Charlie's Angels beyond being another intellectual property resuscitation act
Sony releases Charlie's Angels on November 15 in the US, with a UK rollout following two weeks later. Stewart's celebrity should help draw viewers, and audience familiarity with the property — which included two film adaptations in the early 2000s — could be a boon. But weak advance buzz may suggest that the public isn't exactly clamouring for a reboot. The new film exists in the same universe as 2000's Charlie's Angels and 2003's Charlie's Angels: Full Throttle, except Drew Barrymore and her crew of Angels have been replaced by super-tough Jane (Balinska) and wisecracking Sabina (Stewart), who work for Bosley (Banks) as part of a global security agency. They meet Elena (Scott), a scientist instrumental in creating Calisto, a clean, sustainable energy source that, in the wrong hands, could spell doom. The women take Elena under the wing as they go after her evil boss Peter (Nat Faxon), who plans to sell Calisto on the black market.
Banks, who made her feature directorial debut with Pitch Perfect 2, gives Charlie's Angels all the requisite action sequences and comedy set pieces. But neither element is particularly inspired, largely relying on her stars' chemistry to liven up familiar story beats. Thankfully, Stewart, Scott and Balinska play off each other well, and their camaraderie gives Charlie's Angels a jolt when the plot lags.
Stewart has largely focused on art-house projects in recent years, so it's a pleasant novelty to see her serving as the sardonic comic relief in a studio tentpole. She doesn't seem entirely comfortable in the role, however, which is partly the fault of a subpar script that lacks sufficient great one-liners. After nuanced turns in Clouds Of Sils Maria and Personal Shopper, Stewart makes Sabina a bit too one-note, only occasionally finding a clever wrinkle in a pat character. (During one scene, Sabina stops to look longingly at a beautiful woman walking by, a tantalising hint of a whole other aspect of this spy that we never learn anything about.)
On a superficial level, Charlie's Angels can be appealing eye-candy: Banks sends the Angels around the globe to fabulous locales, often dressing the characters in terrific outfits and stupendous wigs. (Costume designer Kym Barrett goes to town on the chic dresses and stylish trench coats.) But it's noticeable that the director never lets her camera linger on the Angels, denying the sort of cringe-y male gaze that has often been part of the Charlie's Angels legacy. Instead, these women's smarts, action savvy, and sense of humour are prized. (It's no coincidence that the movie's first line of dialogue comes from Sabina, who tells a leering man, "I think women can do anything.")
It's disappointing, then, that the Angels' pursuit of the Calisto isn't very scintillating. Charlie's Angels mocks high-octane franchises like The Fast And The Furious, but then fails to come up with a plot that's comparably enticing. Predictable double-crosses and familiar action scenarios follow, although Banks seems more invested in these Angels getting to know one another. Scott, featured recently in Aladdin, makes for an adorable nerd as Elena, while Balinska shows off impressive moves as Jane, who can't wait for her next opportunity for hand-to-hand combat.
What's missing is that indelible big idea that would help elevate this Charlie's Angels beyond being another intellectual property resuscitation act. With Patrick Stewart adding a little class and sly wit as a retiring Bosley — and Luis Gerardo Méndez drawing big laughs as the Angels' too-perfect-to-be-true wellness guru and all-around self-care assistant — the new film has clever ideas and a dash of mischief. Too bad Charlie's Angels tries so hard to fit in — what makes the Angels great is that, despite all their deft disguises, they're unafraid to stand out.
Production companies: Brownstone, 2.0 Entertainment, Cantillon Company
Worldwide distribution: Sony
Producers: Doug Belgrad, Elizabeth Cantillon, Max Handelman, Elizabeth Banks
Screenplay: Elizabeth Banks, story by Evan Spiliotopoulos and David Auburn
Production design: Aaron Haye
Editing: Alan Baumgarten
Cinematography: Bill Pope
Music: Brian Tyler
Main cast: Kristen Stewart, Naomi Scott, Ella Balinska, Elizabeth Banks, Djimon Hounsou, Sam Claflin, Noah Centineo, Nat Faxon, Patrick Stewart