Janis Pugh's musical debut is a feel-good second-time-lucky romance set in small-town Wales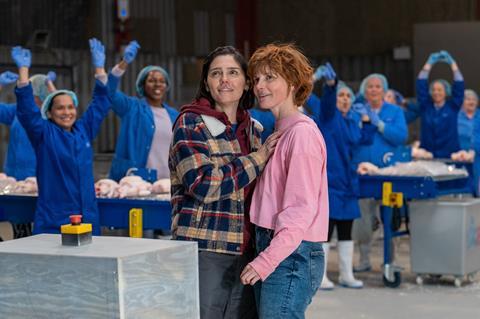 Dir/scr: Janis Pugh. UK. 2022. 101 mins.
Janis Pugh brings a fresh vision to a second-time-lucky romance in Chuck Chuck Baby. A story that threatens glum social realism takes flight on committed performances and a bold use of musical standards to convey the high emotional stakes at play. A bighearted, crowd-pleasing tale of love, liberation and female empowerment, it might well chime with the mood of post-Barbie cinemagoers. Careful handling could bring theatrical rewards, especially domestically.
Evolves into a big, against-the-odds swoon of a romance but is always underpinned by a gritty sense of oppression and hurt
Pugh was named among the Screen Stars of Tomorrow in 2008 and her partly autobiographical graduation film Blue Collars And Buttercups (2007) about a young woman working in a chicken factory was the starting point for this long-awaited feature debut.
Filmed in North Wales and Cheshire, Chuck Chuck Baby shows a real feel for its locations. Pugh uses the windy beaches and industrial landscapes to root the characters. Cramped streets oblige people to live check by jowl alongside neighbours who know all their secrets. Helen (Louise Brealey) faces daily reminders of her downtrodden existence. She still lives with boorish ex-husband Gary (Celyn Jones) and cares for his dying mother Gwen (Sorcha Cusack). The household now includes Gary's shrill young girlfriend Amy (Emily Fairn) and their baby son. Helen has been exiled to a bedroom that was once intended for the children she was never able to have. Her day release from the prison of her existence is a job at the local chicken factory, although Gary demands half her salary. "Well, I can't work and look after baby," he reasons.
Any sense of miserabilism in the plot is offset by Pugh's refreshing handling of the material. Cinematographer Sarah Cunningham picks out the unexpected glow in a colour palette subtly warmed by shades of pink and purple. The sun seems to constantly shine. The characters are vibrant and Helen has the support of the all-female workforce at the corrugated iron factory where they toil stuffing plucked chickens into plastic bags. Helen may be down, but she is not entirely out. Driving to work, she sings along to a radio blasting out Neil Diamond's anthemic 'I Am, I Said'. The soundtrack is peppered with songs that allow individual cast members and groups to sing along, expressing or unleashing the stirring emotions of their lives and loves. Subsequent tracks include Julie Felix performing 'Dirty Old Town', Little Anthony And The Imperials with 'Goin' Out Of My Mind' and Janis Ian's 'From Me To You'.
Things change with the return of Helen's teenage crush from 20 years ago. Joanne (Annabel Scholey) was once the girl who lived next door. Now she is home in the wake of her father's death. Her prickly presence provides the possibility of a second chance at first love.
Chuck Chuck Baby evolves into a big, against-the-odds swoon of a romance but is always underpinned by a gritty sense of oppression and hurt. This is a working-class community where the women live for the weekend and the ghosts of the past are never laid to rest. Helen's closest workmates – kindly Lynn (Emily Aston), caring Clare (Cat Simmons) and raucous Paula (Beverly Rudd) – reflect on the daily grind, surrendered dreams and feckless men who constantly disappoint.
Pugh confidently sets the tone of the film between the dawn of hope for Helen and her reluctance to accept that she might deserve something better. Brealey perfectly captures Helen's lack of self-esteem through her awkward, flinching gestures, weary resignation and shyness. Scholey conveys the tough facade that Joanne presents to the world and then reveals how much she, too, is a member of the walking wounded. The film is expertly cast. Jones embraces the caveman side of husband Gary, creating a monstrous figure of angry, spiteful inadequacy. Sporting a set of eyebrows that even Groucho Marx might envy, Fairn (Screen Star Of Tomorrow 2023) manages to secure a modicum of sympathy for the screeching, foul-mouthed Amy. Cusack lights up every scene in which she appears. All warmth and encouragement, Gwen is the fairy godmother of this musical romance and Cusack plays her with charm and grace.
As plaintive as a country western ballad, the gritty, feel-good Chuck Chuck Baby should delight romantics and introduce the work of Janis Pugh to a much wider audience.
Production companies: Artemisia Films, Delta Pictures.
International sales: The Yellow Affair. karolina@yellowaffair.com
Producers: Anne Beresford, Peggy Cafferty, Andrew Gillman, Adam Patridge
Cinematography: Sarah Cunningham
Production design: Caroline Steiner
Editing: Rebecca Lloyd
Main cast: Louise Brealey, Annabel Scholey, Sorcha Cusack, Celyn Jones