Israel's Oscar entry sees a group of very different Israeli women unite for a filmmaking course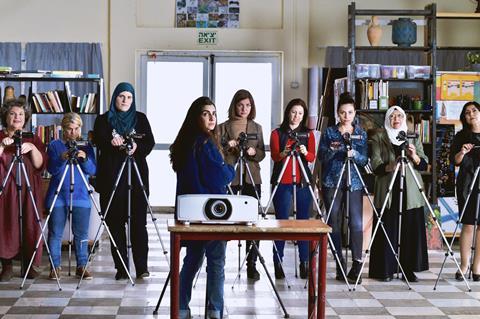 Dir/scr: Orit Fouks Rotem. Israel. 2021. 91mins
Translated into English, the Arabic word 'Sabaya' simply means women. Yet a slight mispronunciation can turn it into something altogether different; a prisoner of war. (It's the name ISIS gave to the Yazidi women they abducted from the Sinjar province of Iraq in 2014, and also the title of a 2021 documentary that followed attempts to rescue these women). This dichotomy is at the heart of Orit Fouks Rotem's understated, powerful film, which sees a group of nine Israeli women brought together by a weekly filmmaking class. While the film's narrative may run a familiar path from conflict to resolution, Rotem's light, authentic touch makes it an engaging journey.
The action never moves beyond a nondescript room in a municipal building, yet the drama is far from static
Having enjoyed a healthy festival run from a premiere at Jerusalem Film Festival — where it won Best Israeli Debut — to berths in Chicago, Sydney and Tallinn, Cinema Sabaya won Best Film and Best Director at the Awards Of The Israeli Film Academy. It is also Israel's official submission for the Academy Awards; an honour that should buoy attention. With its focus on women taking authorship of their own stories, it has much in common with big hitters like Women Talking and She Said, and this timely subject matter, together with its hugely engaging characters, should help Cinema Sabaya travel, particularly with the support of a specialist distributor or streamer.
It's an impressive feature debut from Rotem, who has made several shorts as well as a documentary series for Israeli television and taught filmmaking classes for Israeli women. This non-fiction sensibility is on full display in Cinema Sabaya which, at times, plays like a fly-on-the-wall documentary, with its handheld cameras — often wielded by the actors themselves — natural lighting and unpolished, expressive performances. Rotem's restrained screenplay is based on real life testimonies; there are no impassioned monologues here, just reluctant women slowly opening up and if not exactly taking a defiant stand for equality, then certainly finding their feet in the conversation.
The action never moves beyond a nondescript room in a municipal building in the city of Hadera, in northern Israel, in which a group of Arabic and Jewish women meet once a week to learn about filmmaking from Rona (Dana Igvy, excellent), an ambitious director from Tel Aviv. Yet the drama is far from static. We only glimpse the outside world though the video clips the women take as 'homework', but their hesitant sharing of feelings and experiences begin to paint a colourful picture of life as a woman in modern Israel.
That picture takes on different hues depending on your situation. The majority of these women work — Nasrin (Amal Murkus) is a lawyer, for example, while many of the others, including the glamorous Eti (Orit Samuel), quiet Souad (a standout Joanna Said) and divorced Russian immigrant Yelena (Yulia Tagil) have positions with the local council. Spiky 20-something Nahed (Aseel Farhat) is a student, longing to escape to Tel Aviv. Traditionally-minded Awatef (Marlene Bajali) is long retired. Despite their different backgrounds, all are constrained in some way; by overbearing husbands, demanding children, unhappy or abusive relationships and conservative religious traditions.
Crucially, the film doesn't shy away from exploring the schisms between these women themselves. They aren't immediately drawn together by some mythic, universal, one-size-fits-all idea of sisterhood; there are arguments about which language should be spoken — both Hebrew and Arabic are at various points throughout, credits are in Hebrew, Arabic and English — and disagreements about divorce and homosexuality. There are also passionate discussions about the wearing of the Hijab, and whether women should be stand up to their husbands. It's thanks to the quality of both screenplay and performances that none of these interactions feel staged.
And while all of these women come with their own preconceptions — the Jewish Eti speaks about her fear of Arab terrorists, for example, while the Arab women call them "freedom fighters" — they make room for their differences. In this safe space, they are finally able to find their voices and speak their truths.
Production company: Green Productions
International sales: Memento International
Producer: Maya Fischer, Gal Greenspan, Roi Kurland
Cinematography: Itay Marom
Production design: Hefi Bohem
Editing: Neta Dvorkis
Music: Karni Postel
Main cast: Dana Igvy, Joanna Said, Amal Murkus, Ruth Landau, Yulia Tagil, Marlene Bajali, Aseel Farhat, Orit Samuel, Liora Levi, Khawlah Hag Debsy