Debut from Kwon Man-ki shares top prize in Busan's New Currents section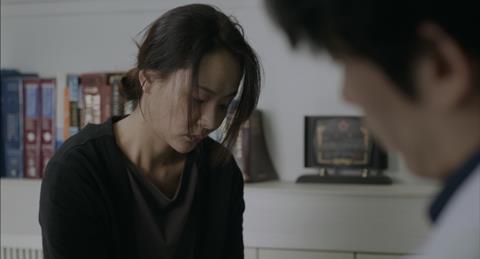 Dir. Kwon Man-ki. Korea. 2018. 104 Mins
A woman who has hit rock bottom and more or less taken up residence there, Jung-ju (Yoon Ji-Hye) works for a contract cleaning company by day, and at night, drinks to obliterate herself. She's tortured by grief over the death of her son five years before, and by guilt over a secret from her past. When an 18 year-old ex-convict joins cleaning company, Jung-ju recognises him with a jolt, and realises her own part in his current, lamentable situation. This confident first feature from Kwon Man-ki asks questions about redemption and motives we have for making amends.
A raw empathy for these damaged characters gives the film its emotional weight
A positive reception following the film's world premiere in Busan should ensure further festival interest – it goes on to show in Chicago. Subdued in tone, it may not be eye catching enough to make much of a mark on the arthouse circuit, but awards – Clean Up shared best film in the New Currents section of Busan with Savage – should help the film to connect with broader audiences.
Jung-ju's life feels like a perpetual penance for something. She keeps friendships at arms length, dismissively turns down offers of dates. She regularly attends church but drifts arounds the periphery of the community of worshippers, her eyes sliding towards the door as soon as someone tries to engage. On bad days, she replaces the holy spirit with something a little more basic, numbing herself with soju until she falls asleep on the couch. Her choice of clothes, in disconsolate grays and gloomy beige, is reflected in the glum colour palette of the film.
The bad days are set to increase with the arrival of Min-gu (Kim Dae-Gun), a scrawny teenage former convict, with cropped hair and the marks of a tough life already showing. Jung-ju recognises him immediately as the now grown up child that she and her ex-husband kidnapped for ransom twelve years before. She is shocked into silence, unable to bring herself to interact with him. This in itself causes tension, and Min-gu shouts in her face. It's only after he is forced to apologise to her that Jung-ju looks closer and sees the desperate boy whose circumstances are directly related to the kidnapping ordeal. To make amends, she offers him a place to stay – he is currently dossing in a filth-encrusted disabled toilet cubicle – and feeds him. Neither fully trusts each other, both learn not from conversation but from ferreting around in each other's possessions.
Jung-ru clearly sees Ming-gu as a surrogate for the child she lost, so a brief swerve into psycho-sexual territory is jarring and not particularly convincing. More effective, if a little on the nose, is the use of the cleaning work to represent Jung-ju's need to make atonement for the mess she created in Min-gu's life.
The trajectory of the story will not deliver too many surprises, nor will Kwon's low-key approach – score is restrained, dialogue understated. But there is a raw empathy for these damaged characters which gives the film its emotional weight. And, crucially, it closes with a hint of hope.
Production Company: Korean Academy Of Fine Arts
International sales: M-Line Distribution Sales@Mline-Distribution.Com
Producer: Hong Jong-Hyun
Screenplay: Kwon Man-Ki
Editing: Kwon Man-ki
Cinematography: Kim Pyung-Ki
Music: Ko Kyung-chun
Main cast: Yoon Ji-Hye, Kim Dae-Gun, Kim Su-hyun, Kim Ga-young, Kwak Ja-hyung, Lee Sun-joo, Yoo Jung-ho, An Min-young, Lee Do-hyung