A magnetic double act from Mathias Schoenaerts and Reda Kateb in a Paris-set crime thriller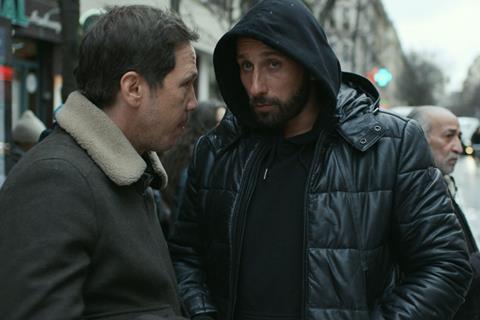 Dir/scr: David Oelhoffen. France. 2018. 111 mins.
Two magnetic performances anchor David Oelhoffen's (Far From Men) briskly-efficient crime thriller Close Enemies, from a brooding Matthias Schoenaerts and the internalised Reda Kateb. Together their chemistry elevates a familiar story about childhood friends-turned-foes from a crime-ridden neighbourhood, one of whom enters the drug-running game (Schoenaerts) while the other (Kateb) has joined the police.
There's a strong sense of authenticity to Close Enemies, from the neighbourhood in which it is set, to the low-level criminals and their masters who live there
Similarities with The Departed/Infernal Affairs or even Rivals (with Guillame Canet and Francois Cluzet), remade into Blood Ties, are evident, but the fresh twist here is that Close Enemies is set within the immigrant crime rings which snake out from the banlieues back to Morocco. Here, friendship and family is everything, and punishment is stark for those who transgress the codes of honour. It's a very small world. Punchily entertaining, and very seductively, claustrophobically shot and scored, Close Enemies is a stylish, hard-boiled Paris-set genre drama which should travel well, particuarly on SVOD. It premiered at the Venice Film Festival's where it played in Competition (like Oelhoffen's Far From Men), but has a strong commercial flavour (think 36 Quai des Orfevres).
There's an over-riding sense of authenticity to Close Enemies, from the neighbourhood in which it is set, to the low-level criminals and their masters who live there. Oelhoffen's longtime collaborator, DoP Guillame Defontaines (who also works with Bruno Dumont), shoots these tower blocks in tight confines, with smooth over-the-shoulder work. It's easy to feel how trapped the inhabitants are, and a score by Superpoze (Gabriel Legeleux) nicely emphasises the tension. There's also a lot of sequences shot at night, which cloaks the buildings even tighter together.
As Manuel, a father and gang member who is separated from the wife he still loves (Gwendolyne Courvenec), Schoenarts gives a believable, typically intense performance. Manu's life of crime and sense of kinship with his friends, especially his partner Imrane (Adel Benchérif) and his family, is based on a loyalty which turns out to be fragile: Manuel's acceptance into the Moroccan clan has its limits.
Driss (Kateb), meanwhile, is also estranged from his family, who turned their backs when he joined the police force. He has no compunction in using his ethnic background, and knowledge of the area and its inhabitants, to rise through the ranks of the drugs squad, but it's an uneasy position for him as well. He has forced Imrane into the role of informant, and when he dies in a botched deal which Manu survives, the former childhood friends encounter each other again in a hostile environment in which each is trying to clear their own name and conscience.
Rapper Sofiane Zermani (known as Sofiane) takes a significant role here as the other gang member who is wrong-footed when a job goes awry, and acquits himself well. His name will do no harm to the commercial prospects of Close Enemies when it releases in France on October 3, if Schoenaerts, Kateb and pacey-snakey plot weren't already enough to draw in the crowds.
Production companies: One World Films
International sales: BAC Films, sales@bacfilms.fr
Producer: Marc du Pontavice
Screenplay: David Oelhoffen
Editing: Anne-Sophie Bion
Production design: Stefanie Taillasson
Cine: Guillame Defontaines
Music: Superpoze
Main cast: Matthias Schoenaerts, Reda Kateb, Adel Bencherif, Sofiane, Nicolas Giraud, Sabrina Ouazani