'A cheerfully lurid mess'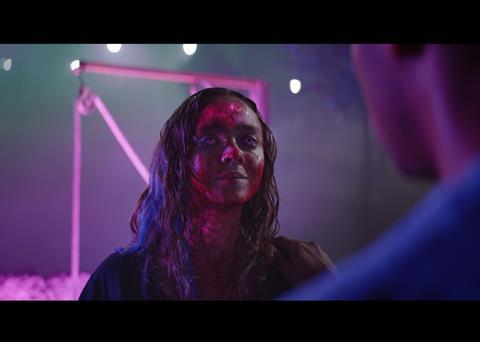 Dir. Richard Stanley. US. 2019. 111 mins.
South African-born Richard Stanley is the most notorious missing-in-action auteur in cult cinema. After two promising features, Hardware (1990) and the Namibian-set Dust Devil (1992), he seemed to have his breakthrough sewn up with dream project The Island of Dr Moreau, starring Marlon Brando, but after his firing, it came out credited to John Frankenheimer. For two decades, Stanley's repute hung on the bizarre anecdotes surrounding that film's shoot, as well as a handful of occult-themed documentaries; but now he has returned to fiction with a film that his oddball stamp all over it, an adaptation of a key story from the canon of revered chiller writer H.P. Lovecraft.
The dependable attraction of Nicolas Cage in genial hyperdrive
The result is a cheerfully lurid mess that goes goofily off the rails after a slow build, and will offer few surprises for adepts of Lovecraft or of screen schlock; but Stanley's auteur maudit reputation should draw considerable interest, while the dependable attraction of Nicolas Cage in genial hyperdrive will keep his fans smiling fondly. It won't, however, have the same genre/arthouse cross-over potential as recent super-outré Cage starrer Mandy, another offering from production houses XYZ Films and Elijah Wood's SpectreVision.
Nothing in the film quite matches the visual style of the opening minutes, a vista of mist-cloaked forest, eerily shot by Steve Annis, over which voice-over narrator Ward Phillips (Elliott Knight) provides us a baleful lead-in using the unmistakeable prose style of Lovecraft (Ward Phillips – Howard Phillips Lovecraft – see what they did?). Then we're in a sunnier part of Lovecraft's apocryphal New England, on the outskirts of Arkham, where hydrologist Phillips, taking specs for a planned dam, meets rebellious teen and amateur occultist Lavinia Gardner (Madeleine Arthur), busy casting a spell to preserve her mother Theresa (Joely Richardson) from the cancer affecting her.
Back at the Gardner homestead, Lavinia shares banter with stoner brother Benny (Brendan Meyer) and younger sibling Jack (affecting, game-for-anything Julian Hilliard, used to tangling with ghouls in Netflix's The Haunting of Hill House). Then there's Dad – Nathan (Cage), an affable galoot who's determined to make a go of farming alpacas – and who has an unresolved animus towards his own father that never quite coheres narratively, but provides justification for Cage to let rip once the madness gets under way.
Not that it does for a while – it's a full 40 minutes before the film provides its first grisly shock. In the meantime, all manner of weirdness starts brewing, triggered by the arrival of a glowing meteorite, including the shimmering of a supposedly unearthly colour (in fact, a rather fetching purple). Computer screens crackle, mobile phones misbehave, red flowers bloom, a rather winsome CGI insect with extra eyes crawls out of the family well, and the alpacas are acting oddly. Hermit Ezra (venerable hippie comic Tommy Chong) mutters dire warnings, and it's not long before Lavinia is reaching for her handy paperback copy of Lovecraft's fabled grimoire the Necronomicon.
Once the action properly gets under way, much fun revolves around Cage's unhinged performance and some of the juicy responses it triggers: when Nathan tells Lavinia not to worry about the trouble they're facing, that he'll handle it, her delicious rejoinder is, "Like you handled the alpacas?" However, the frenetic succession of unearthly manifestations increasingly feels like one damned thing after another, as if Stanley is pulling out every stop that he can, insouciantly unbothered about narrative economy. There's something nasty in the well, something nastier still in the barn, and some icky body fusion that will strike a chord with anyone who remembers the Lovecraft-inspired films of Stuart Gordon and Brian Yuzna.
Genre specialists will be best qualified to gauge whether the film is a knowing tribute to the straight-to-video horror cycle of the 80s and 90s, or whether Stanley's imagination is simply old-school tacky. The script, by Stanley and Scarlett Amaris (who collaborated on his 2013 docu The Otherworld), has a fairly slapdash sense of structure and ventures into questionable territory in exploiting cancer for symbolic effect; but it has its wit, and will please genre fans by taking no prisoners when it comes to nasty things happening to nice people.
The acting is characterful, with Hilliard and Arthur excelling, and Richardson enjoys herself going full-on Gothic. Cage brings an agreeably dorkish humour to Nathan's inevitable meltdown, although he's not quite as euphorically deranged as in Mandy. However, The New World's Q'orianka Kilcher plays an underdeveloped role that adds a somewhat undigested ecological tinge to the mix, while Knight, initially set up as hero, makes do with a somewhat marginal nice-guy part. Effects house User T-38 meanwhile lays on the hallucinogenic flourishes in a knowingly retro style, and Colin Stetson provides a textured score that Stanley unwisely slaps on with excessive gusto. There's impressive four-legged support, too, notably from the family dog; alpaca lovers, however, may balk at the SFX indignity foisted on these usually unruffled beasts.
Production companies: ACE Pictures Entertainment, SpectreVision, XYZ Films, BRO Cinema
International sales: XYZ Films, info@xyzfilms.com
Producers: Daniel Noah, Josh C. Waller, Lisa Whalen, Elijah Wood
Screenplay: Richard Stanley, Scarlett Amaris
Based on 'The Colour Out of Space' by H.P. Lovecraft
Cinematography: Steve Annis
Editing: Brett W. Bachman
Production design: Katie Byron
Music: Colin Stetson
Main cast: Nicolas Cage, Joely Richardson, Madeleine Arthur, Q'orianka Kilcher, Tommy Chong