Dir/ed. Kevin Smith. US, 2010. 109 mins.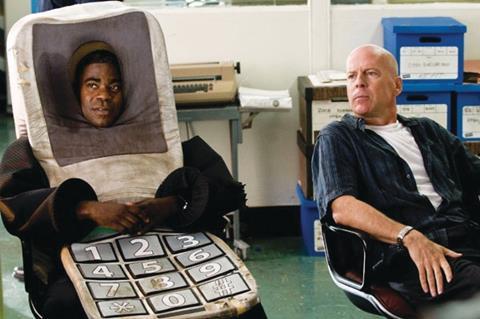 Tracy Morgan's antics and Bruce Willis' s dourness would seem to provide a solid foundation for a mismatched buddy-cop comedy, but the meandering, listless Cop Out proves that's simply not enough. This is a banter-driven comedy in which most of the banter simply falls flat. A promotional emphasis on its gleeful vulgarity will likely help the opening weekend box office, and Willis' star power will give this title an overseas boost, but this film should otherwise be paroled from theatres in short order.
After their latest undisciplined escapade, New York cops Jimmy Monroe (Willis) and Paul Hodges (Morgan) find themselves temporarily suspended without pay. When Monroe tries to sell a rare baseball card in order to pay for his daughter's upcoming wedding, it's nabbed by a goofball criminal (Seann William Scott) before he can get paid. The ensuing pursuit of the card finds the freelancing cops crossing paths with a murderous gang leader and a kidnapped beauty.
Cop Out is Kevin Smith's first directorial turn that he hasn't also written, but it's full of the sort of sex talk and juvenilia for which he is best known (its working title was A Couple of Dicks), including an extended monologue about bowel movements. But the script features too many scenes that play like improvisational exercises gone wrong, advancing the plot jerkily. At its core, the movie never really decides whether it wants to unfold in the real world, or on a plane of exaggerated reality.
Morgan's digressive asides, such an integral part of his small-screen appeal in 30 Rock, are a bad fit here, and Willis seems more bored than irascible.
Harold Faltermeyer's funky, synth-laden score conjures up very specific memories of Beverly Hills Cop's theme song, which, along with self-consciously evocative music choices, give the movie a decidedly nostalgic, '80s-leaning feel.
To sign up for Screen's weekly Reviews Newsletter with all the week's new releases, international openings and full festival reviews delivered free to your mailbox every Friday, please click HERE
Production company
Marc Platt Productions
Worldwide distribution
Warner Bros. Pictures
Producers
Marc Platt
Polly Johnsen
Michael Tadross
Screenplay
Mark Cullen & Robb Cullen
Cinematography
David Klein
Production design
Michael Shaw
Music
Harold Faltermeyer
Main cast
Bruce Willis
Tracy Morgan
Guillermo Diaz
Adam Brody
Kevin Pollak