Dir/scr: Oscar Ruiz Navia. Colombia-France. 2009. 95mins.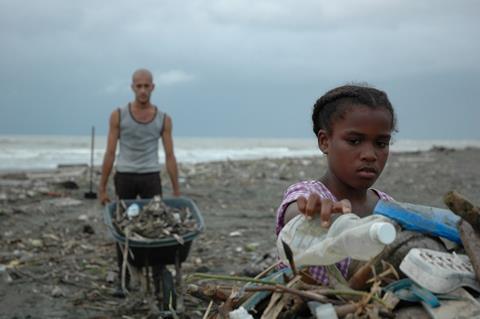 When a handsome young man named Daniel (Velez), on the run from some unexplained crisis in his home city, emerges from the jungle onto a path headed toward a remote Colombian beach, he takes us with him. The area is relatively unknown, home to black ex-slaves who live traditionally and never bothered with legal titles to their land.
Ruiz Navia shoots the cast of native, non-professionals with respect and empathy
The fact that Daniel's dilemma is never divulged signals Ruiz Navia's approach in this beautiful film about a culture almost never addressed in the cinema. The locals are the focus, not the white visitor searching for a boat to get out of there. Arthouse exposure seems assured for this successful fusion of narrative and ethnography, as well as a bright festival future.
Ruiz Navia shoots the cast of native, non-professionals with respect and empathy, using a lot of handheld camera and ambient sound (the ocean crashing into their endangered beach area, for example) to capture a unique culture. The drama is more about them than Daniel or another white man, Paisa (Castano), an exploiter who does have rights to the land on paper and wants to develop the area no matter what the cost is to the residents.
The residents of this area on the Columbian Pacific coast, called La Barra, are warm to outsiders, but hustle them as if it's second nature. Their leader, The Brain (Salazar Rivas), puts Daniel up in a hammock outside his shack in exchange for work around the house and rubbish collecting on the sand (not only have people disregarded the beach's beauty, but the fish have disappeared, a reality but also a plot device to keep Daniel in place while he waits for the fishing boats to return from their lengthy journey out to sea).
Although not a lot happens, Crab Trap is never boring. The Brain fights against the manipulation of his land and people by Paisa, whose blaring reggae music and beach fences are meant to intimidate the residents. Daniel remains pretty much a cipher throughout, only showing life when he wants to sleep with The Brain's beautiful young girlfriend (Hinestroza) and compassion when talking to her sweet, helpful daughter (Alvarez).
The natural setting is unsettling rather than comforting. There is no disjunction between the tough lives the impoverished people of La Barra lead and the threatening, and threatened, seaside location. Not only does Ruiz Navia restrain himself, he also displays the discipline of a fine as well as empathetic director. It's difficult to believe that this ambitious project is his first feature.
To sign up for Screen's weekly Reviews Newsletter with all the week's new releases, international openings and full festival reviews delivered free to your mailbox every Friday, please click HERE
Production companies
Contravia Films
Arizona Films
International sales
M-Appeal, Berlin
Tel: (49) 30 61 50 75 05
Producers
Diana Bustamante
Guillaume de Seille
Oscar Ruiz Navia
Gerylee Polanco
Cinematography
Sofia Oggioni Hatty
Andres Pineda
Editor
Felipe Guerrero
Production design
Marcela Gomez Montoya
Music
Gualajo
Main cast
Rodrigo Velez
Arnobio Salazar Rivas
Jaime Andres Castano
Karent Hinestroza
Yisela Alvarez