Dir: Scott Cooper. US. 2009. 111 mins.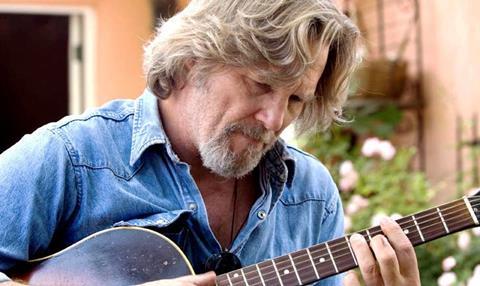 MTV Networks and its Country Music Television (CMT) offshoot supported this slow-burning character piece and, while Crazy Heart has the structure and some of the conventions of a TV movie, it is elevated to theatrical status by the accomplished direction of actor Scott Cooper and a performance by Jeff Bridges which could be his best.
Jeff Bridges is sensational as Bad Blake
Fox Searchlight picked up worldwide rights to the finished film in the summer and recently switched its release into the heart of awards season next month – a move which should pay dividends come red carpet time and at the specialised box office.
Produced by and co-starring Robert Duvall, the film is a first cousin of Tender Mercies, the 1983 movie for which Duvall won his Oscar playing a down-and-out country singer trying to get his life back on track. Bridges plays a version of that character here, a 57 year-old country star who has sunk to playing bars and bowling alleys in the American south while slowly killing himself through alcoholism and cigarettes. Like Tender Mercies, the film takes its time and dwells on its characters with an old-fashioned, unhurried pacing that will be an anathema to many.
The principal market for this picture is the US where country music and culture are strongest, but awards attention and a sterling cast which also includes Colin Farrell and Maggie Gyllenhaal should give Crazy Heart limited awareness in international territories. The original songs written by Stephen Bruton and T Bone Burnett and sung by Bridges and Farrell should help the film's marketing profile, particularly in America's heartland where CMT will no doubt work tirelessly to promote the film.
The film opens as Bad Blake (Bridges) drives into a small southern town to play a gig in a bowling alley. He checks in with the owner and hits the bottle straight away, so much so that he has to leave the stage during his performance later that night to throw up. He drives out of town at dawn the next day, leaving an aging female fan in his motel bed.
In the next town, he gets an interview request from a local journalist called Jean Craddock (Gyllenhaal on sweet and sexy form). Jean asks him questions which make him uncomfortable, about his past love affairs and his working relationship with reigning country superstar Tommy Sweet (Farrell), which he refuses to talk about. The two are attracted to each other and sleep together, and Jean introduces him to her son Buddy (Nation).
Invigorated by meeting Jean, he leaves to perform as an opening act for Sweet, who reveres Blake's talent and asks him to write new material for him, but Blake has hit a creative block and is unable to write new songs. He returns to his house in Houston and invites Jean and Buddy to visit him, but his drinking brings about a crisis which changes everything.
Duvall plays Blake's local Houston bartender and friend Wayne.
Crazy Heart is a story of redemption which has been told a thousand times before, but is infused with energy here by Cooper's dialogue and his work with the actors. Bridges is sensational as Bad Blake, not just because he throws his soul into singing the original songs, but because he embodies the complexities of the man so completely – both charming and obnoxious, talented but prone to self-destruction, loving but ruined by addiction.
To sign up for Screen's weekly Reviews Newsletter with all the week's new releases, international openings and full festival reviews delivered free to your mailbox every Friday, please click HERE
Production companies
Informant Media
Butcher's Fun Films
Worldwide distribution
Fox Searchlight/Fox International
Producers
Scott Cooper
Robert Duvall
Rob Carliner
Judy Cairo
T Bone Burnett
Screenplay
Scott Cooper
Based on the novel by Thomas Cobb
Cinematography
Barry Markowitz
Production designer
Waldemar Kalinowski
Editor
John Axelrad
Music
Stephen Bruton
T Bone Burnett
Main cast
Jeff Bridges
Maggie Gyllenhaal
Robert Duvall
Colin Farrell
Tom Bower
James Keane