Dir. Danis Tanovic, France/Bosnia and Herzegovina, 2016, 85 minutes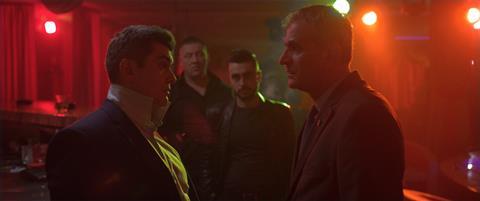 In Death In Sarajevo, the mourning of a century's wounds is put on hold as the class struggle is exhumed inside a luxury hotel. Danis Tanovic's film reconfigures and expands the play Hotel Europe by Bernard-Henri Levy, seizing on today's frustrations in the Bosnian capital to reflect on a hundred years of conflict and bloodshed among close neighbours.
These new structures are built on ground where blood ran, and every encounter reminds us how deep these historical roots are
Tanovic's allusive script is often clever in its observations about a troubled past shaping a troubled present. Yet as other European crises eclipse the lingering malaise in the former Yugoslavia, it's doubtful that Death in Sarajevo will generate much interest outside of that region or Tanovic's adopted France.
Past and present are interwoven in a Sarajevo hotel, when a world-weary French diplomat (Jacques Weber) checks in to give what promises to be a boring speech on the centennial of the assassination there of Archduke Franz Ferdinand by a Serb nationalist, Gavrilo Principe.
As the city prepares to mark the shootings that pushed the region into the First World War, low-paid workers in the hotel plan a strike. Like so many insurrections in this part of the world, the gambit looks doomed.
Tanovic's hotel shows its seams and its interior as the scenario takes the film far beyond the original play, a 90-minute monologue. The structure also becomes a big tent of symbols – the tower of Babel, the labyrinth, and the big unruly house of disparate elements that Yugoslavia operated as, more or less effectively, before its dissolution.
That said, Death in Sarajevo is anything but nostalgic. Corruption is shown to be rife in the city, and here gangsters rule the building from a strip club in the basement, a cute touch on the upstairs/downstairs formula. Omer (Izudin Bajrovic), the gloomy hotel manager, has no choice but to follow their orders, even though he's a nasty autocrat with his employees.
The multi-story grand hotel motif enables Tanovic to juggle several plot lines, including an interview on the rooftop between a local television chat host (Vedrana Seksan) and a young handsome Serb named Gavrilo Principe (Muhamed Hadzovic), coiffed in what looks like a 1914 hairstyle. If he can't defend the 1914 attack, who can?
Policemen protecting the visiting diplomat a few floors below have installed surveillance cameras, yet the spies are the least equipped to evaluate the information that they gather. They are also armed. If you haven't guessed, each story line is a spiral downward.
In his first film set in Sarajevo, Tanovic includes gleaming new buildings in the background of his rooftop shots, structures erected on bloated EU budgets which stand like overdressed ladies wearing too much makeup and clashing with the historical architecture that is still standing.
But these new structures are built on ground where blood ran, and every encounter reminds us how deep these historical roots are. Tanovic tries to liven the well-worn discussions with constant motion through the hotel corridors (and historians providing context, some of it valuable, from sunny rooftops). Still, this is what we've been hearing for years now, and the novel insight in the play-within-a-play of a strike – that governing is as much of a challenge as winning a war – isn't new.
You come out of Death In Sarajevo feeling that you've slogged through a familiar stretch of mud – filmed competently, but not memorably. The Bosnian cast shows an abundance of talent and spirit, even when characters are looking in the rear-view mirror so much of the time.
Production companies: Margo Cinema, SCCA/pro.ba
International sales: Match Factory info@matchfactory.de
Producers: Francois Margolin, Camo Amra Baksic, Adis Djapo
International sales: The Match Factory info@matchfactory.de
Screenwriter: Danis Tanovic (based on the play Hotel Europe by Bernard-Henri Levy)
Cinematographer: Erol Zubčević
Editor: Redžinald Šimek
Music: Mirza Tahirović
Production Design: Mirna Ler
Main cast: Jacques Weber, Snežana Vidović, Izudin Bajrović, Vedrana Seksan, Muhamed Hadžović, Faketa Salihbegović Avdagić, Edin Avdagić