Nice-guy Gru discovers he has a twin brother, Dru, in the latest Despicable juggernaut from Illumination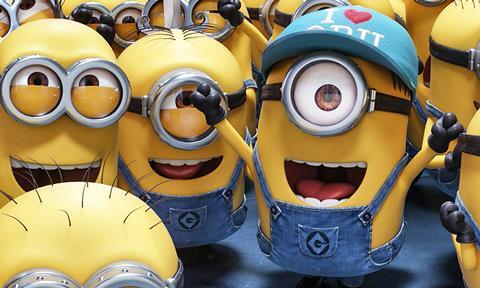 Dirs: Pierre Coffin, Kyle Balda. US. 2017. 90mins
Two Steve Carells most assuredly aren't better than one in Despicable Me 3, a winded sequel which is cloying when it isn't exhaustingly frenetic. The likable actor reprises his role as the villain-turned-nice guy Gru who, in this instalment, learns he has a twin brother, but there's frighteningly little pathos to that discovery. Whether it's the tiresome use of 1980s pop songs on the soundtrack or the endless gibberish of the Minions, this Illumination juggernaut makes a lot of noise without delivering much heart or humour.
The voice Carell gives Dru is but a drab variation of Gru's intentionally ambiguous foreign accent
Universal will release Despicable Me 3 at the end of the week, hoping to build on the success of 2013's Despicable Me 2 ($971m worldwide) and the 2015 spinoff Minions movie ($1.2 billion). With the fading Cars 3 its only direct competition — and Sony's The Emoji Movie is not arriving until the end of July — this animated childrens' movie seems well-positioned to be another box-office titan for Illumination.
As the film begins, Gru (voiced by Carell) and his new bride Lucy (voiced by Kristen Wiig) are kicked out of the Anti-Villain League for failing to apprehend the dastardly Balthazar Bratt (voiced by Trey Parker), who has stolen the world's most valuable diamond. Gru doesn't want to return to a life of evil, but he is tempted once he meets Dru (also voiced by Carell), his twin brother whose identity had been kept secret. Immediately hitting it off, the pair plot to steal back the diamond.
While never matching the emotional nuance or comedic sophistication of Pixar's films, 2010's Despicable Me had its share of sweetness, pairing the nefarious Gru with some adorable orphans who help him change his ways. That, alongside the tomfoolery of the kid-friendly Minions, gave this series a solid foundation. Unfortunately, Despicable Me 3 reveals just how flimsy the premise has become.
Where once Gru's supervillain-with-a-heart-of-gold dichotomy was appealing, his transition to a dutiful father and husband plays out blandly. In addition, Wiig isn't allowed to let loose as his wife, whose main plot function in Despicable Me 3 is to win over Gru's adoptive children, who have been reduced to cutesy moppets — especially the youngest, Agnes (voiced by Nev Scharrel), whose every syrupy utterance is meant to radiate heart-warming innocence.
When Gru encounters Dru, there's an initial tension between the brothers that Despicable Me 3 fails to maximize. Unlike the crabby, bald Gru, Dru is a charming, vivacious guy with gorgeous hair, representing everything that his brother isn't. But the screenplay too quickly resolves Gru's apprehension, making them fast friends who bond over their shared love of villainy. Their close connection is meant to cause Gru some internal conflict — is he really going to return to his bad old ways? — but the movie never seems that concerned with its own emotional through-line. (Also disappointing: The voice Carell gives Dru is but a drab variation of Gru's intentionally ambiguous foreign accent.)
As the film's villain, Parker incorporates some of the same gonzo enthusiasm he brings to characters on South Park, although Bratt's back story doesn't create room for inspired zaniness. A former child star whose show got cancelled, driving him to madness in which he believes he is his supervillain TV character, Bratt is permanently stuck in the '80s, which mostly means the creative team litters his scenes with dated songs and cheesy pop-culture references. Indicative of Despicable Me 3's execution, these are easy, broad jokes that take little imagination.
Because the Minions have became breakout stars, Despicable Me 3 gives Gru's yellow henchmen their own subplot, which involves going to prison and planning their escape. A little of these critters' unintelligible blather goes a long way, though. More irksome, they're at the centre of a joke that takes aim at Finding Nemo — a glib bit of homage that only illustrates how far out of Pixar's class Gru and his crew are.
Production company: Illumination, Chris Meledandri Productions
Worldwide distribution: Universal Pictures
Producers: Chris Meledandri, Janet Healy
Executive producer: Chris Renaud
Screenplay: Cinco Paul & Ken Daurio
Editor: Claire Dodgson
Music: Heitor Pereira
Website: www.despicable.me
Main voice cast: Steve Carell, Kristen Wiig, Trey Parker, Pierre Coffin, Miranda Cosgrove, Steve Coogan, Jenny Slate, Dana Gaier, Nev Scharrel, Julie Andrews