Dir. Chen Sicheng, 2015, China, 136mins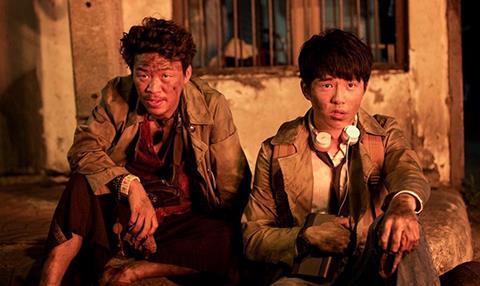 Chen Sicheng follows up romantic anthology Beijing Love Story (2014) with this high-energy crime caper in which a down-at-heel detective in Bangkok's Chinatown goes on the run after being implicated in a murder-robbery case. With his gifted cousin (Liu Haoran) at his side, Tang Ren (Wang Baoqiang) must prove his innocence before he is taken down, either by rival police squads vying for a promotion, or the murder victim's fellow gang members.
Director Chen Sicheng is clearly influenced by the recent big and small screen incarnations of Conan Doyle's master sleuth
Slick production values and stylish directorial flourishes help make Detective Chinatown an effective and entertaining buddy cop comedy, but a running time well in excess of two hours, coupled with an overly convoluted denouement may work against it. Also, Wang's gratingly over-the-top performance could potentially alienate audiences not attuned to this style of histrionic local humour. In China, Detective Chinatown has taken $110 million at the box office since its 31 December release date, and debuted this past weekend in selected North American cities courtesy of China Lion Film Distribution.
In the film's opening moments, Qin Feng (Liu) flunks his police entrance interview and is packed off to Bangkok to stay with distant cousin Tang Ren, apparently a top flight cop in the city's Chinatown district. On arrival, Qin Feng discovers his relative is actually a hopeless law enforcer, all but ostracised by his fellow officers. When Tang Ren appears in security footage from the scene of a murder involving a thief from a gold heist, he becomes a prime suspect in the case.
Rival cops Huang (Chen He) and Tang Ren's own squad leader Kon (Xiao Yang) head out after him, while the rest of the dead man's gang is also on his tail - as the gold they stole in the robbery has also gone missing. Fortunately for Tang Ren, his young cousin, though debilitated by shyness and a stutter, is actually a shrewd and insightful detective. Well-read in famous literary works of detective fiction, not least the cases of Sherlock Holmes, Qin Feng is able to read a crime scene infinitely better than his experienced cousin, as well as employ powers of intellectual deduction.
Clearly influenced by recent big and small screen incarnations of Conan Doyle's master sleuth, director Chen illustrates Qin Feng's abilities with a swooping, speed-ramped camera, super-imposed clues that jump off the screen and other visual tricks to highlight firing synapses and little grey cells working overtime. More traditional action set pieces, including car chases, scraps and scuffles are also handled confidently, and edited with an energetic fluidity by Tang Hongjia and Wang Nan.
After his recent high-profile turns in Benny Chan's Kung Fu Jungle and Chen Kaige's Monk Comes Down The Mountain, it is disappointing that Wang Baoqiang doesn't have another opportunity to showcase his martial arts skills here. But beyond the physical limitations imposed on the character, the real problem is just how annoying Tang Ren can be. His default energy level seems to be a manic, high-pitched shriek, whether he is playing mah jhong, on the run from the law or even attempting to woo his beautiful landlady Xiang (Tong Liya).
Cheng Jiake, Liu Kai and Bai He's screenplay clearly wants us to warm to Tang Ren as the film plays out, and sequences late on, in which he reveals his troubled past and motives for leaving China, clearly show Wang's range as a dramatic actor. Qin Feng's transformation, conversely, from a social pariah with a crippling stutter to master criminologist in the space of a week, is credible within the heightened context of the film.
While Detective Chinatown could have explored its Bangkok setting in more detail, particularly how the Chinese officers operate in conjunction with their Thai counterparts, Chen gets plenty of mileage from his locations and there's a vibrant visual exoticism that energises the production. The large supporting cast of cops, goons, suspects and informants is given little time to develop beyond being pawns in Tang Ren and Qin Feng's escapades, meaning the multiple twists at the film's climax feel overcooked and lacking in dramatic weight. Fortunately the chemistry between the leads keep the momentum through to a street parade singalong credits sequence and the suggestion of a possible sequel.
Production Companies: Wanda Media Co., Shanghai Shine Asia Film Culture Media Co.
International Sales: Wanda Media Co. Beijing
Producers: Jerry Ye, Wang Haipeng
Executive Producer: Zhao Fang
Screenplay: Cheng Jiake, Liu Kai, Bai He
Cinematography: Du Jie
Editors: Tang Hongjia, Wang Nan
Production Design: Li Miao
Action Director: Wu Gang
Main Cast: Wang Baoqiang, Liu Haoran, Tong Liya, Chen He, Xiao Yang, Zhang Zifeng, Chin Shih-chieh