A made-for-TV thriller bursts onto the big screen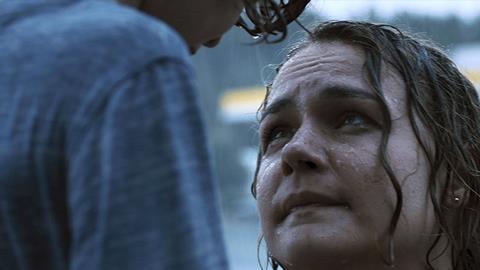 Dir: Nina Vukovic. Germany. 2017. 80mins
Two lives collide with devastating results in German filmmaker Nina Vukovic's impressive debut feature. Fusing themes of desire and revenge in a tale of a spurned mistress who impulsively decides to take her lover's young son on an ill-advised road trip, Vukovic makes the most of the film's intimate scale to deliver a neat, tightly-wound thriller.
An atmosphere of paranoia settles over proceedings from the get-go
Following its spring screening on German TV channel ZDF, and its theatrical premiere at the Munich Film Festival, the film's accessible story and arresting visual style should see it do well on the international festival circuit, particularly in horror-focused events and strands. It should also catch the attention of dedicated genre fans, and seems a natural fit for word-of-mouth success on VoD.
Detour opens with a disorienting prologue, which melds images of birds in flight, a woman lighting a match, a young boy asleep and a man having a nightmare; an effective visual portent for the unease to follow. From there, however, the film unfolds as a straightforward narrative of two halves, the first following a young woman, Alma (Luise Heyer) as she attempts to journey to Berlin with seven-year-old Juri (Ilja Bultmann).
It transpires, through one of several well-placed flashbacks, that Juri is the son of Jan (Alex Brendemuhl), Alma's married lover, and that Alma is absconding in a knee-jerk attempt to punish Jan for refusing to leave his wife. Low on cash, Alma and Juri hitch a ride with Bruno (Lars Rudolph), a tightly-wound newspaper deliveryman whose van is full of caged birds. "Those that are born in a cage think that flying is a disease," he says; one of several lines delivered with enigmatic menace. Indeed, as Bruno's smalltalk becomes increasingly intense, Alma soon realises her folly and arranges to meet Jan at a local service station.
And it's in the grimy, impersonal confines of the neon-lit services that the real meat of this story plays out. As the socially awkward Bruno slowly reveals — or, rather, becomes unable to mask — his true colours, so emerges a character fuelled by rage toward those, like Alma, who have the means to live comfortable lives, and who seem to believe themselves somehow superior. An obvious attraction to Alma makes him an unstable prospect indeed and, by the time Jan arrives at the film's midway point, things have clearly taken a very sinister turn.
Much of Detour's tension comes from Vukovic's restrained pacing and the pressure-cooker atmosphere she creates within the small scale of her made-for-German-TV feature; one of four films commissioned by ZDF for their 'Hour Of Evil' series. Characterisations and performances are well-pitched; that Alma, Jan and Bruno all share duplicitous personalities, to varying degrees, means that an atmosphere of paranoia settles over proceedings from the get go. Rudolph is a particular stand-out as Bruno, a man whose personal demons are constantly threatening to break free. And the wide-eyed Bultmann acts as an effective dramatic barometer of innocence lost, the camera framing his frightened face in several tight close-ups.
Indeed, together with Leonard Petersen's unsettling score and some immersive sound design, cinematographer Tobias von dem Borne's strong camera work effectively ratchets up the suspense. Early sequences within the sweaty interior of Bruno's van convey the increasing volatility of the situation, and contrast neatly with later shots that soar over the nondescript trucks in the service station's car park; a stark reminder of the transient anonymity of the setting. Production design is also good, with seemingly insignificant items — a packet of mints, a pocketed corkscrew — taking on a resonance without being over-egged.
While the same can't be said for Detour's somewhat obvious climax, this is nevertheless an accomplished debut that marks Vukovic out as an exciting new name in European cinema.
Production companies: Siamanto Film, ZDF, Deutsche Film- und Fernsehakademie
International sales: TBC
Producer: Benjamin Talsik
Screenplay: Nina Vukovic, Benjamin Talsik
Cinematography: Tobias von dem Borne
Production design: Uli Friedrichs
Editors: Benjamin Talsik, Nina Vukovic
Music: Leonard Petersen
Cast: Lars Rudolph, Luise Heyer, Alex Brendemuhl, Ilja Bultman