Dir. Adam Rifkin. USA, 2016. 90min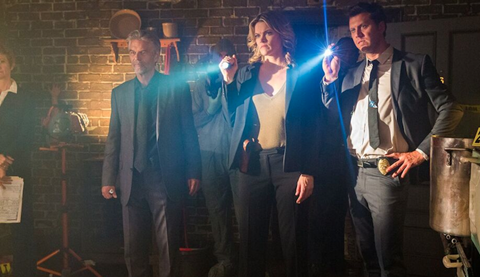 An extraordinarily clever - yet wickedly accessible - exercise in runaway metafiction, this represents itself as a 'director's cut' (though it's more like an internet fan edit) of apparently middling Se7en knock-off serial killer thriller 'Knocked Off', with voice-over commentary from Herbert Blount (screenwriter Penn Jillette). Adam Rifkin, the real director of Director's Cut, appears as himself, trying to direct the crowdfunded 'Knocked Off' as major investor Blount constantly shoots behind-the-scenes footage he interpolates into the finished product.
Explores fresh ground in finding horror and laughs in the way media can be co-opted by fans and remixed for varying purpose
Aptly, 'Knocked Off' is about a serial killer who imitates famous crimes by restaging them with new victims. But Director's Cut - which is loosely inspired by the 1982 quickie The Last Horror Film - shows how jolly yet creepy Blount disrupts the shoot by stalking and eventually abducting leading lady Missi Pyle in order to fashion his own version of the film, which photoshops him in as a leading man and has her play scenes opposite him at gunpoint.
The 'Knocked Off' sections are credibly ordinary and slick, with Harry Hamlin, Hayes MacArthur, Lin Shaye, Marshall Bell, Nestor Carbonell and Gilbert Gottfried gamely playing as if they were in a direct-to-VOD time-waster. The contrived love affair between cops Winters (Hamlin) and Mabel (Pyle) which enrages the jealous Blount, is as formulaic as the guessable yet ridiculous whodunit angle (perhaps borrowed from nothingy 2005 thriller The Lost Angel).
The on the nose pastiche is amusingly skewered by the stalker's commentary (as he projects his fantasies onto Pyle and points out continuity errors, fudged plot points and non sequitur cameos). Teller, Jillette's silent magic act partner, is hauled in as a red herring suspect and pressured to talk, only for Blount to comment 'this is an in-joke' before he opens his mouth. A funny strand involves the perils of crowdfunded movies as Rifkin grudgingly hands out dialogue to numerous 'producers' who have paid to appear onscreen - with a stunt- and effects-filled one-take massacre ruined by Blount's terrible delivery of his only scripted line.

Quite remarkably, Jillette creates a memorably grotesque villain in the mostly-unseen Blount - whose skewed priorities are apparent as he slows down and freeze-frames ordinary shots of Pyle while fast-forwarding through an elaborate Charles Manson sequence and noisily chomping snacks over dialogue scenes. A self-deluded comic creation, Blount becomes genuinely sinister in the home stretch as he snatches Pyle and works more and more damage on the film to fulfil his fantasy.
It's a black comic riff on Misery and King of Comedy, with up-to-the-minute technology, and explores fresh ground in finding horror and laughs in the way media can be co-opted by fans and remixed for varying purposes. The fact that the tall, longhaired, gravel-voiced, flamboyantly-dressed magician stands out in a crowd so much that he's the worst possible film extra or stealth pursuer is funny, but Blount is unpredictable enough to be occasionally pathetic or chilling.
Rifkin has a background in exploitation (directing Psycho Cop Returns and The Invisible Maniac as 'Rif Coogan' during the VHS boom) and mainstream screenwriting (Small Soldiers, Mouse Hunt). His auteur ventures (The Dark Backward,The Chase, Detroit Rock City) have a shared universe revisited here (via the fictional Blump products). He often casts B-movie veterans alongside stars from the adult entertainment industry, who here include Bree Olson (from The Human Centipede III), Lexi Love and Sophie Dee.
Production Company: Clink Productions
Sales: Peter Golden golden@goldenew.com
Producers: Peter Adam Golden, Penn Jillette, Adam Rifkin
Executive Producers: Pete Adam, Mark Ambinder, Cyan Banister, Martin Erich Bauer, Daniel Ford Beavis, David Croxville, Frank Deville, Gillian Hormel, Mike Koenigs, Richard Koenigsberg, Aki Korhonen, Jeremy Long, James D Messina, Anna L Moskel, Daniel A Murphy, Kirsty Pitchford, Randy Pitchford, Bill Prady, Brian Quattrini, David S Richards, Eric Thirteen, David A Tiangco, Matthew Trainer, Andrew Wimsatt, Brad Wyman, Bill Zanker
Screenwriter: Penn Jillette
Cinematography: Scott Winig
Editor Dan Flesher
Music Kevin Blumenfeld
Production Designer Brett A Snodgrass
Main cast Penn Jilette, Missi Pyle, Harry Hamlin, Hayes MacArthur, Lin Shaye, Gilbert Gottfried, Teller, Dave Anthony