Kelly Macdonald puts in a magnetic performance as an unhappy woman searching for a spark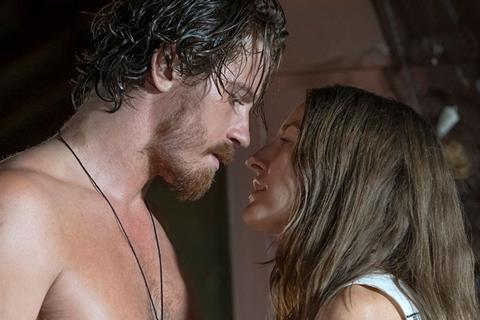 Dir: Gregor Jordan. UK-Aus. 2019. 104mins
Georgie (Kelly Macdonald) finds herself marooned in a life which has bled her dry of her identity. She has little love for the man she lives with, lobster fisherman Jim (David Wenham). Then she meets Lu (Garrett Hedlund); an outsider, just like her. Their relationship is spontaneous and not as discreet as she had believed. For much of the film, there is half a country between them but, even when Georgie and Lu share the screen, there's a curious emotional distance which means that this theoretically torrid romance never fully ignites.
Kelly Macdonald, nailing the Australian accent persuasively, brings a mercurial magnetism to her role
Directed by Gregor Jordan and adapted by Jack Thorne from Tim Winton's Booker Prize shortlisted novel, this would seem on paper to be a sure fire arthouse heavy hitter. But while Jordan's infatuation with the landscape of Western Australia gives the film plenty of texture and atmosphere, the characters are underdeveloped, the story sparse. The popularity of the 2002 book should boost the picture's profile, but it may struggle to achieve the word of mouth momentum necessary to do more than moderate theatrical business.
Part of the problem is the fact that, while the book establishes Georgie as a daring and complex woman – one who rebelled against privilege to be a nurse, to crew a yacht, to survive a shipwreck – we are introduced to her in the film at her lowest ebb. She is slotted uncomfortably into Jim's household, failing to replace his children's late mother, failing to win acceptance from the tight knit community of White Point. Curt. Jim's is the kind of domineering personality which dictates the terms in a relationship. And Georgie has lost the thread of her own opinions. She spends her time staring wistfully at the horizon, sleeping off the boredom on the sofa and swimming naked at night when time, finally, is her own.
It's during one of these aquatic excursions that she first encounters brooding, damaged Lu, who comes from a family of folk musicians busking a living playing their brand of acoustic 'dirt music' in the bars of the coast. But Lu laid down his guitar when a tragedy robbed him of his closest relatives. Songs from the past, all ragged vocals and tugged heartstrings, are effectively woven into a score which is otherwise a little well laundered for a film titled Dirt Music.
Tragedy is as ingrained in the story as the red outback dust which gives the film its colour palette cue. Hints of the events which robbed Lu of his beloved niece haunt his dreams, in jagged flashback fragments. But the full story doesn't emerge until a character delivers an unprompted confession in the third act.
Notwithstanding a screenplay which sometimes struggles to capture the wild poetry of the source material, there are moments which channel something reckless and untethered. Lu's encounters with the outsider folk on the frayed edges of society are vividly drawn. And the reliably excellent Kelly Macdonald, nailing the Australian accent persuasively, brings a mercurial magnetism to her role.
Production company: Wildgaze Films, Aquarius Films
International Sales: Cornerstone Films office@cornerstonefilm.com
Producers: Finola Dwyer, Amanda Posey, Angie Fielder, Polly Staniford
Screenplay: Jack Thorne
Production Design: Michael Carlin
Editing: Pia Di Ciaula
Cinematography: Sam Chiplin
Music: Craig Armstrong
Cast: Kelly Macdonald, Garrett Hedlund, David Wenham, Julia Sarah Stone, Aaron Pedersen