A mockumentary about Amir Asgharnejad's media campaign for a soft drink takes effective aim at fake news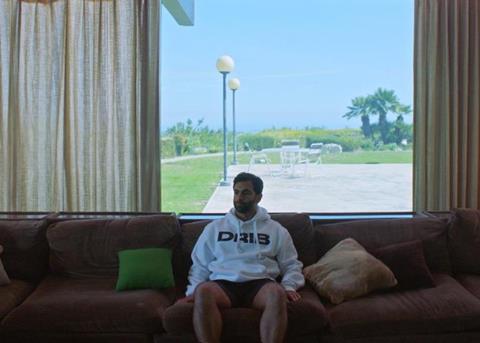 Dir. Kristoffer Borgli. Norway, 2017, 90 minutes
DRIB the hybrid mockumentary takes its name from a fictitious energy drink, but false news is at its core, and that couldn't be more topical. This no-budget spoof of violent gonzo promotional culture is in your face, as the saying goes, and the blood is all part of the punch-line.
The laughs here, and there are a lot of them, come from Amir's character as a self-promoter who's willing to fake anything — until he isn't.
Kristoffer Borgli's DRIB should be a hit at festivals, and might even have a window onto theatrical release, although it seems bound for the transgressive television market. Its repeat public is the under-thirty crowd, yet media coverage of its burlesque of false news could expand that range.
DRIB is built around the performance artist and comedian Amir Asgharnejad, an Iranian brought up in Norway who has taken to provoking violent scenes that become popular videos on the web. He's a con man who can fool credulous journalists, and he agrees to be in Borgli's debut feature about his business adventures in America, provided that he can play himself in the lead.
This shake-well-and-serve approach to outrage (with a dose of Jackass) takes Amir to Los Angeles, where's he's hired to market DRIB, an energy drink that rejects a healthy message for one of self-destruction. (Borgli's film is based on an actual violence-inspired ad campaign that paid Amir and later changed course. The product's name was changed to DRIB to avoid litigation, Borgli has claimed in an interview.)
The film then grafts Amir's instinct for creating fights onto the business of hype, with Brett Gelman (Lemon) as a ruthless ad exec with a porous patina of unctuousness. Gelman's spasms of anger are as entertaining as Amir's fights. Adam (Under the Skin) Pearson, playing himself and interrogated by Amir about his distinctive face, helps keep things weird.
The laughs here, and there are a lot of them, come from Amir's character as a self-promoter who's willing to fake anything — until he isn't. We watch him jumpstart a You Tube presence with an attack on a club bouncer in Norway with a baseball bat. Outmuscled, the slight Amir loses that one, but he wins web celebrity. From there we get the mantra of DRIB – that it's painful to be hit with a baseball bat, but it's a lot more painful not to be famous.
Borgli works in the no-style style of the studio/office reality show, with drama coming in serial confrontations. Without giving too much away, one of those battles comes in what was planned as a simulated fight between Amir and an unsuspecting young black actor, who expected a harmless gig. Each of those encounters has its own drama, but you're left wondering why DRIB is a feature film, and not a series. The longer the format, the more DRIB begins to look like an extended TV comedy.
Beyond the fighting, DRIB lampoons the marketing of products to a public that wants to see those fights. Conversations about casting fake combat are as cynical as anything else in show business, and the strategy shifts among upper management about the exploitation of the fights drive that point home.
Amir and Borgli have precursors in mockumentary fakery, like Mads Brugger of Denmark, who made The Ambassador (2011) about pretending to be a Liberian diplomat in the Central African Republic. Brugger had far more cinematic style, but didn't have a corporate energy drink as a partner like Amir. Sooner or later, we can expect that firm's name to come out. The contest then will be whether it's the company or Amir and Borgli who will exploit that news more effectively. DRIB Deux? DRIB Duel?
Production companies: Bacon Pictures, Steakhaus Productions, Lovechild, Norwegian Film Institute
International sales: Trust Nordisk info@trustnordisk.com
Producers: Magne Lyngner, Riina Zachariassen, Steakhaus
Screenplay: Kristoffer Borgli
Cinematography: Havard Andre Byrkjeland
Editor: Patrick Larsgaard
Music: Felicita
Main cast: Amir Asgharnejad, Brett Gelman, Annie Hamilton, Adam Pearson, Joe Hartzler, Alexandra Marzella, Hugo Armstrong, Maurice Williams, Benjamin Van Diepen, Andy Lauer, Dean Chekvala