Cynthia Erivo stars in Anthony Chen's sensitive, understated third feature, set on a Greek island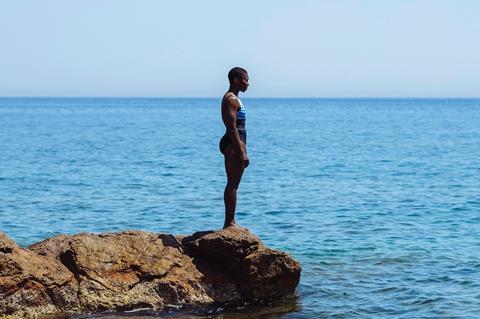 Dir: Anthony Chen. France/UK/Greece. 2022. 93mins
There is a thin line between security and chaos in Drift. The third feature from Anthony Chen, following his Cannes Camera d'Or-winning debut Ilo Ilo and Wet Season, which played in Toronto's Platform, is a typically sensitive, understated tale of trauma and the healing balm of friendship. Moving, well-judged performances from Cynthia Erivo – who also joins a roster of producers which includes Peter Spears (Call Me By Your Name, Bones And All, Nomadland) – and Alia Shawkat carry the emotional weight of a drama that can feel hampered by its own unruffled restraint.
Can feel hampered by its own unruffled restraint
Alexander Masik's 2013 novel 'A Marker To Measure Drift' is the basis of this film, which begins on a Greek island. Pale holidaymakers toast in the noonday sun, splash in the tranquil sea and enjoy their pleasures, observed by a woman who seems invisible to their eyes. Jacqueline (Erivo) strolls along the beach, lingers at a stall of souvenirs and sits at a cafe nursing a coffee. She seems to be hiding in plain sight.
So much of our understanding of Jacqueline comes from the physicality of Erivo's performance. This is a woman whose wary eyes scan the crowds. She flinches when anyone comes too near, shrinks from physical contact and picks at her nails to convey a constant sense of anxiety. She cloaks herself in the comfort blanket of assumed identities, telling a policeman that she is a journalist on holiday from London, assuring others that she has a husband waiting for her back at their hotel. In reality she is sleeping in cave on a makeshift bed, washing her clothes in the sea and struggling to earn a few Euros offering massages to tourists.
It is clear Jacqueline has survived something awful but Drift is slow to reveal what has happened. A delicate, daisy chain of flashbacks conveys the affluent, settled life she had in England with her girlfriend Helen (Honor Swinton Byrne) – all of that changed during a visit to her family in war-torn Liberia (scenes that were also filmed in Greece). There is a vague sense of irony in the realisation that her life was once as carefree as those of the tourists who now surround her
Drift never entirely satisfies your curiosity about the character or her circumstances. We don't know in which year the film is set, how Jacqueline managed to flee LIberia or why Helen seems to have so little interest in her fate. The flashbacks grow more insistent, however, leading to the revelation of what happened to Jacqueline and her family in an increasingly unstable country. There is a sketchy, underpowered feel to the events in Liberia that leaves them struggling to convince. It could be that Chen is playing a more subtle game, choosing to reflect Jacqueline's perspective of events rather than imposing his own – it would make sense for Jacqueline to now romanticise her time in a sun-dappled England and to minimise the memories of the horrors she endured in Liberia.
What Chen does successfully convey is Jacqueline's life now – the uncertainty, the numb drift through endless days, the hiding in the shadows of night time streets and the crippling reluctance to make human contact. Erivo gives Jacqueline the quality of a wounded animal, limping through life and waiting for the next blow to fall. Alia Shawkat's rootless American tour guide Callie provides the perfect contrast. She, too, is a survivor but Shawkat makes her a truly sunny, engaging figure; open, friendly and unthreatening. Her instinct is to offer unconditional help but she respects the need to keep her distance and earn Jacqueline's trust. Shawkat makes her as welcome as the warming rays of morning sunshine.
Sharing themes with Chen's previous features, Drift matures into a story of the special bond between two individuals. Their growing comfort with each other allows hope to emerge from the darkest of days.
Production companies: Paradise City Productions, Heretic, FortyNineSixtyFilms
International sales: Memento International Sales. sales@memento-films.com
Producers: Peter Spears, Emilie Georges, Naima Abed, Anthony Chen, Cynthia Erivo, Salome Williams
Screenplay: Susanne Farrell, based on the novel by Alexander Masik
Cinematography: Crystal Fournier
Production design: Danai Elefsinioti
Editing: Hoping Chen
Music: Re Olunuga
Main cast: Cynthia Erivo, Alia Shawkat, Ibrahim Ba, Honor Swinton Byrne