Baz Luhrmann returns to Cannes with his 'lavish, passionate and overblown' biopic of The King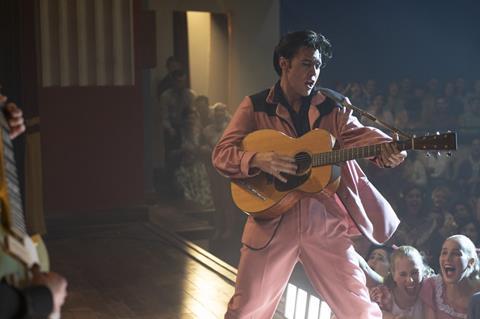 Dir: Baz Luhrmann. Australia/US. 2022. 159 mins.
Elvis Presley was an explosive performer, his sexual dynamism excited young people while scandalising their parents during the 1950s. Baz Luhrmann honours that legacy with Elvis, which is as lavish, passionate and overblown as one would expect from the maker of Moulin Rouge! Austin Butler plays Presley with stunning force during the film's electric concert segments, which recapture what was so vital and undeniable about The King Of Rock 'n' Roll. But this biopic's attempts to go beneath the surface of Presley's iconic stature prove less convincing — just as Luhrmann's decision to tell this story from the perspective of the singer's infamous manager Colonel Tom Parker, portrayed with oily charm by Tom Hanks, ends up being only intermittently rewarding.
If Elvis suffers from a familiar Luhrmann weakness — style outpacing substance — the concert sequences effortlessly illuminate why Presley remains a revered musical figure
Premiering at Cannes, which has been the launching pad for several of Luhrmann's pictures — including his last film, 2013's The Great Gatsby — this Warner Bros. release opens in the UK and US on June 24. Butler isn't a household name yet, but Presley certainly is, and no doubt his legions of fans will be intrigued — even if some of them may not approve of the liberties the ever-impish Luhrmann takes with the material. In a summer without many sure-fire blockbusters, Elvis could do strong business, potentially catering to both younger and older crowds.
Near the end of his life, an ailing Parker (Hanks) tells the viewer about his long partnership with Presley (Butler) — how the onetime circus promoter discovered the singer as he was starting out, helping him become a sensation. Through Parker's eyes, we watch Presley anger moral watchdogs by gyrating his hips suggestively on stage, fall in love with future wife Priscilla (Olivia DeJonge), and try to remain relevant once new musical styles and his own demons conspire to derail his stardom.
Like Parker, Luhrmann is a natural-born showman, and over the course of its two-and-a-half-hour runtime, Elvis overwhelms us with a flood of opulent images stitched together through rapid-fire editing and a restless soundtrack that fuses blues, rock, country and rap. (The film cares not a whit about Presley purists who will be annoyed that The King's songs are sometimes cross-pollinated with hip-hop textures.) With ample enthusiasm, Luhrmann seeks to visualise Presley's titanic impact on popular culture, and the film's kinetic approach often succeeds, homing in on the artist's startling sex appeal and hypnotic hold over an audience.
But Butler isn't very successful in suggesting what Presley was like off stage, in part because Elvis' screenplay tends to zip through crucial moments in his life without offering much insight. (His tempestuous romance with Priscilla, who he met when she was 14 years-old, is especially under-developed.) And as fun as it is to see Hanks portray someone this ethically slippery, the Oscar-winner hidden behind impressive prosthetics, the complicated relationship between promoter and performer fails to be as fascinating as one might hope. Elvis only occasionally hints at their codependent bond, and while viewers should consider Parker an unreliable narrator, that conceit doesn't provide a fresh way to think of Presley — or the ways in which music managers often pull the strings for their world-famous clients.
No surprise that the film looks wondrous, with Catherine Martin's costumes and production design — the latter aided by Karen Murphy — paying homage to Presley's heyday from the 1950s to the 1970s, from Memphis to Las Vegas. Cinematographer Mandy Walker shines during the concert scenes, stripping the shows of musty nostalgia and transforming them into vibrant, urgent experiences. If Elvis suffers from a familiar Luhrmann weakness — style outpacing substance — the concert sequences effortlessly illuminate why Presley remains a revered musical figure, Luhrmann and Butler delivering one euphoric set piece after another.
Hanks humanises Parker somewhat, exploring his need to belong and his penchant for reinvention. (For those unfamiliar with Parker's background — and his eventual downfall — Elvis teases such revelations until the finale.) It is rare to see Hanks playing someone so conniving and cajoling, and the veteran star seems to relish his own Parker-like opportunity to live inside a new skin. In some ways, it makes sense that Luhrmann would want to tell this story from Parker's POV: after all, like The Colonel, we are mere mortals standing in awe of Presley's ferocious talent. But because Elvis is ultimately pitched as a tragedy, it is one that is oddly distant. The icon is celebrated, but the man remains at a remove — he leaves the building without Luhrmann fully taking his measure.
Production companies: Bazmark Films, The Jackal Group
Worldwide distribution: Warner Bros.
Producers: Baz Luhrmann, Catherine Martin, Gail Berman, Patrick McCormick, Schuyler Weiss
Screenplay: Baz Luhrmann & Sam Bromell and Baz Luhrmann & Craig Pearce and Jeremy Doner, story by Baz Luhrmann and Jeremy Doner
Production design: Catherine Martin, Karen Murphy
Editing: Matt Villa, Jonathan Redmond
Cinematography: Mandy Walker
Music: Elliott Wheeler
Main cast: Austin Butler, Tom Hanks, Olivia DeJonge, Helen Thomson, Richard Roxburgh, Kelvin Harrison Jr., David Wenham, Kodi Smit-McPhee, Luke Bracey