Dir: Meera Menon. US. 2016. 100mins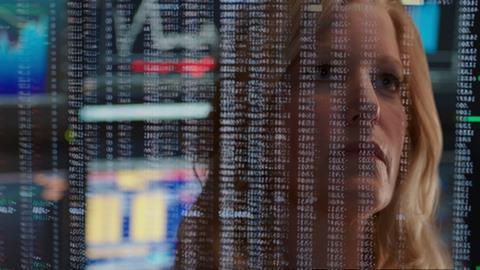 Taking place in a man's world seen through the eyes of women, Equity is a smart Wall Street thriller which is most engaging when it's exploring the obstacles facing its female protagonists specifically because of their gender. Director Meera Menon's second feature may not have the same consistently adrenalised forward momentum as superficially comparable films such as Margin Call, but it's surprisingly emotional, matter-of-factly depicting the wolves forever circling a brash, brilliant female investment banker and the other women in her orbit. In the process, Equity crafts a nicely subdued critique of the invisible obstacles many women must confront on a daily basis that their male counterparts never need bother with.
We feel the story on an intimate level that transcends the immorality of Wall Street to address the systemic gender inequality across American society
Playing as part of Sundance's US Dramatic competition, Equity was picked up by Sony Pictures Classics before its premiere. It seems likely the company anticipates that Equity's look at Wall Street shenanigans will resonate with audiences who are embracing movies such as The Wolf Of Wall Street and The Big Short, the latter poised to be a formidable Best Picture Oscar candidate. There aren't big names in Equity — the film stars Anna Gunn, best known for her Emmy-winning role on the acclaimed TV series Breaking Bad — but good reviews and the topical subject matter should attract viewers.
Gunn plays Naomi Bishop, a senior investment banker at a major Wall Street firm who's about to roll out the IPO for a hot new tech-security company. But on the eve of the public offering, there are several hurdles she must overcome, including the defection of a malcontent employee from the company with access to confidential information and the ambitious, possibly traitorous machinations of Naomi's own second-in-command Erin (Sarah Megan Thomas).
Working from a screenplay by Amy Fox, Menon (Farah Goes Bang) does a serviceable job alongside cinematographer Eric Lin and production designer Diane Lederman in presenting the sleek, seductive world of big-money Manhattan trading, the milieu's volatility, excitement and danger accented by an anxious electronic score from Alexis & Sam that takes its cues from comparable composers like Clint Mansell and the team of Trent Reznor and Atticus Ross.
But Equity's paranoia gets an extra jolt from a conscious but mostly understated acknowledgment of the female characters' disadvantage in this testosterone-driven environment. Naomi is trying to shake off the failure of a previous IPO, the popular perception within her industry being that she "rubbed the clients the wrong way," which feels like code for the fact that they couldn't handle working with an assertive woman. But we also see how being unmarried and childless in her mid-40s quietly weighs on her as well — not to mention the fact that her male boss isn't going to give her the promotion she deserves, telling her patronisingly that "this isn't your year."
Menon and Fox don't offer these details to serve as excuses for Naomi — rather, they're simply persistent, stinging irritations that Naomi (and the audience) notice at every turn. And she's not alone in facing such nuisances. Erin, who's beautiful and younger than Naomi, is annoyed that she's not taken seriously by some men because of her gorgeousness, while at the same time she's fearful that an unexpected pregnancy may delay her rise up the firm. And then there's Samantha (Alysia Reiner), a US prosecutor (and a college friend of Naomi's) who is investigating Naomi's investment banker boyfriend (James Purefoy) for possible misconduct — that is, of course, when she's not trying to find time for a marriage and six-year-old twins at home.
The back stories add compelling texture to what is an enjoyable but by no means ferociously absorbing narrative. Menon keeps the story rolling along at a good pace as double-crosses and surprises unfurl, but nothing involving the IPO rollout or its consequences really blindsides the viewer. That's not a critical failing, though: rather than being glued to the plot points, we're invested in what they mean to these characters and why certain individuals will end up betraying others. We feel the story on an intimate level that transcends the immorality of Wall Street to address the systemic gender inequality across American society.
Gunn impresses as Naomi. Except for a few awkward moments, the actress resists the urge to make the character a carbon copy of the chest-beating alpha-males we've seen in films like The Wolf Of Wall Street and Wall Street. The performance is far too nuanced for that, Gunn showing us how Naomi has to avoid expressing her feelings around the male-centric firm lest she be perceived as weak or "emotional." Gunn can give a single look a withering power, and she's a master of conveying conflicting sentiments without uttering a word, which has probably been a crucial skill her character has developed working on Wall Street.
Reiner and Thomas, the film's producers who helped develop Equity's story with Fox, are also good at suggesting different sides to their characters, creating empathy for people who may, in fact, contribute to Naomi's downfall. Equity is a very human thriller with a grim moral: the backstabbing on Wall Street may be self-evident and criminal, but the larger societal ills remain widespread and tacitly accepted.
Production companies: Broad Street Pictures
Worldwide rights: Sony Pictures Classics, www.sonyclassics.com
Producers: Alysia Reiner, Sarah Megan Thomas
Executive producers: Candy Straight
Screenplay: Amy Fox, story by Sarah Megan Thomas, Alysia Reiner and Amy Fox
Cinematography: Eric Lin
Production design: Diane Lederman
Editor: Andrew Hafitz
Music: Alexis & Sam
Website: www.facebook.com/equitythefilm
Main Cast: Anna Gunn, James Purefoy, Sarah Megan Thomas, Alysia Reiner