Dir. Richard Linklater, USA, 2016, 116 minutes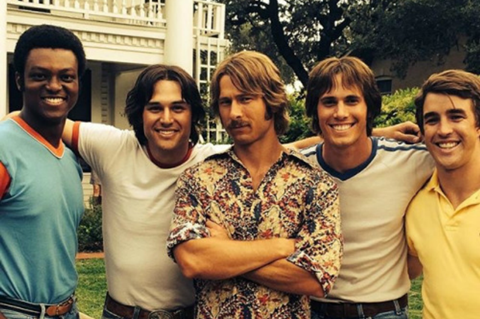 Everybody Wants Some!!, Richard Linklater's sequel to 1993's Dazed and Confused, is a visit to the house of a Texas university baseball team fuelled by its players' libidos. It's a period movie from the days of guiltless sex in the early 1980's - this isn't Boyhood, it's care-free boy hormones.
If you can take the testosterone, you'll have a good time
The testosterone level is high as college athletes compete for conquests, and non-stop frat boy obscenities can make it feel more like Goodfellas than Field of Dreams. Yet Linklater has captured the voices of youths who have ridden a sport into a university. His rebound from Boyhood recreates a time and place before political correctness had a name.
Unlike the transgressive Dazed and Confused, which seemed determined to outdo Fast Times at Ridgemont High, Everybody Wants Some!! has the spirit of Animal House in Texas. Profiting from sequel status will be a challenge, since the fans of Dazed will now be in their forties, with children the same age as this new film's characters. Yet Linklater's audience is out there in indie circles, not least because of Boyhood, and it is likely to be loyal.
We meet the film's protagonist, wholesome Jake (Blake Jenner), just as he arrives in the baseball team's house. The fresh-faced cast is a dirty dozen, with a lothario in charge (Tyler Hoechlin), plus a bearded pothead pitcher (Wyatt Russell), and a dimwitted thrower from rural Texas with an accent to match (Will Brittain). A third would-be ace pitcher, Finnegan (Glen Powell) has a belligerent ego to rival the speed of his fastball.
All the boys (mostly new-names except for Powell) share one thing, an intense sexual drive, and we're soon on to Texas bars where women are to be found and seduced. There's even some romance for newcomer Jake, but most of the comedy's momentum is in the chase.
Dazed and Confused was a launching pad for newcomers like Matthew McConaughey, Milla Jovovich, Adam Goldberg, Ben Affleck and Parker Posey. As long as Blake Jenner changes his 80's hair-style, he can expect some leading man offers. Yet the actor with the most to gain from Linklater's comedy is Glen Powell, who plays the vain headbanger Finnegan with the energy of a sinister Robin Williams that fits the Van Halen song in the film's title.
In Dazed the football bullies roamed a high school with paddles to beat defenseless freshman, yet in Everybody Wants Some!!, the baseball Alpha males torment each other. They devise a novel torture for younger players, fastening them to the outfield fences with duct tape and targeting them in batting practice — a Texas inquisition blending the modern and the medieval.
Echoing the memorable all-night party in Dazed, Linklater stages a soiree given by acting students, with plenty of pro-forma actor-ish silliness. Naturally the baseball players follow Jake there, and end up with some of the pretty girls. That drunken romance offers the film's comic cocktail at its best — gonzo and charming. But the night of beer and pot leaves us with a question. Does Linklater the artistic filmmaker identify with the harmlessly pretentious theater students, or with the drunken athletes who steal their women?
DoP Shane F. Kelly maximizes the light in indoor and outdoor scenes, making you feel as if you're watching comedy in the over-glow of television of the early 1980's. Linklater also threw down the gauntlet for his production designer, Bruce Curtis, setting his players' hunt for girls in parking lots which required fleets of cars from that era. The film meets the automotive challenge so well that its publicists could almost promote it to car enthusiasts. That task will be easier than promoting its Rat Pack ethos to women.
No audience goes back to the 1980's for the cars, and certainly not for the clothes, or the hair, which can look as bad as the worst yearbook pictures. But Linklater does connect you with the fun that he must have had in those days. If you can take the testosterone, you'll have a good time.
Production companies: Annapurna Pictures, Detour Filmproduction
International sales: Annapurna Pictures Samanthad@annapurnapics.com
Producers: Megan Ellison, Ginger Sledge, Richard Linklater
Executive producers: Sean Daniel, John Sloss, Stephen Feder
Cinematographer: Shane F. Kelly
Editor: Sandra Adair
Production design: Bruce Curtis
Music supervisors: Randall Poster, Music Supervisor: Meghan Currier, C
Main cast: Will Brittain, Zoey Deutch, Ryan Guzman, Tyler Hoechlin, Blake Jenner, J. Quinton Johnson, Glen Powell, Wyatt Russell