Film director Agnes Varda and photographer JR team for a heartwarming road trip through France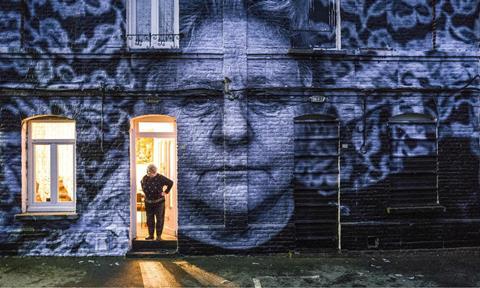 Dirs/scr Agnès Varda, JR. France. 2017. 89mins
There may be an age difference of 50 years between Agnes Varda and photographer/muralist JR, but you wouldn't know it from their collaboration on Faces Places, playing Out of Competition in Cannes. The duo share a puppy dog energy and curiosity about the world that is evident in every frame of this utterly charming road movie documentary. As they travel across France, an ode to their friendship blossoms into a joyful celebration of the urge to create art and the duty to celebrate life. Festival programmers and arthouse distributors will find it irresistible.
Invested with a real sense of joy, Faces Places is also something of a lament for a fast disappearing France
Part of the film's appeal lies in the obvious affection between these two kindred spirits, both creatures of impulse. The playful tone is set from the very beginning; as Varda and JR speculate on a story that would explain how they first met — perhaps in a bakery, on the dance floor or even through a dating site — they already sound like old lovers. JR's irreverence is also a constant challenge to anyone foolish enough to regard Varda as an elderly grand dame of the nouvelle vague, as proven in a scene in which they re-enact a moment from Godard's Bande-A-Part as JR goes careering through the Louvre pushing a delighted Varda in a wheelchair.
Travelling in JR's photographic truck, the pair are constantly offered proof of Varda's belief that you often meet amazing people by sheer chance. Visiting small communities, villages and farms from Aubin to Bonnieux and Pirou-Plage, they discover that everyone has a story to tell. They hear tales from the last inhabitant in a row of miners' cottages that is scheduled for destruction; from a solitary farmer; from a postman who was indispensable to his community; and from a trio of dockworkers and their wives.
Every encounter becomes the inspiration for a giant photograph that is then plastered to a wall, a tower, a farm wall or the most prominent and unexpected position within a landscape. A ghost town of never completed housing is reanimated, for one afternoon, by massive photographs plastered to abandoned structures. A photographer friend from Varda's youth is briefly immortalised on a massive bunker lodged in the sand.
Invested with a real sense of joy, Faces Places is also something of a lament for a fast disappearing France. There is a sense of time passing and vanishing lifestyles. Varda confesses that her thoughts frequently turn to death, and the film becomes more mournful as the duo visit the cemetery where Cartier-Bresson is buried and, especially, during an ill-fated visit to her reclusive old friend Jean-Luc Godard.
JR remains the perfect travelling companion throughout, and Varda is only ever annoyed by his refusal to remove his trademark sunglasses and reveal his beautiful eyes to her. It is the smallest point of friction in a tender collaboration and an engaging, warm-hearted journey that never overstays its welcome.
Production companies: Cine-Tamaris, JRSA, Rouge International, Arte France Cinema, Arches Films
International sales: Cohen Media Group lmackiewicz@cohenmedia.net
Executive Producer: Rosalie Varda
Cinematography: Romain Le Bonniec, Claire Duguet, Nicolas Guicheteau, Valentin Vignet
Editor: Agnès Varda, Maxime Pozzi Garcia
Music: M ( aka Matthieu Chedid)
Featuring: Agnès Varda, JR