A 'Rosemary's Baby' for the modern age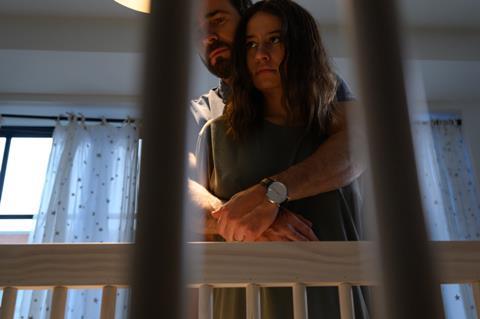 Dir: John Lee. US. 2021. 92 mins.
Billed as a modern retelling of Rosemary's Baby, False Positive certainly shares a great deal of thematic DNA with Roman Polanski's 1968 chiller about a pregnant woman consumed with paranoia about her unborn child. What it lacks, however, is that film's slow-burn subtlety, preferring to take a rather more blunt-edged approach to its depiction of the real-world horrors of a ruthlessly patriarchal society. Nevertheless, a sharp screenplay and strong performances give this life as a watchable thriller, rather than just a mere pastiche.
False Positive leans heavily into the psychological trauma of this emotional and physical maelstrom
Making its debut at Tribeca before heading straight for Hulu in the US on June 25, False Positive should attract attention thanks to the presence of cast members Ilana Glazer (best known for Comedy Central's hit show Broad City), Justin Theroux and Pierce Brosnan. It will be familiar territory for genre aficionados, but its subject matter is likely to give it an edge of intrigue that will entice curious viewers.
Glazer is front-and-centre as New Yorker Luciana who, in a nod to the film's explorations of conformity and control, prefers to go by the more mainstream Lucy. Living in a plush Manhattan apartment with her surgeon husband Adrian (Theroux), and flying high in her marketing job, Lucy is nevertheless consumed by the desire to be a mother. When they struggle to fall pregnant naturally, Adrian suggests they pay a visit to his medical school professor Dr John Hindle (Brosnan), now a pioneering fertility specialist.
In his pristine, high-tech clinic, Dr Hindle has perfected a successful and much-lauded technique of artificial insemination and — after we witness Lucy undergoing the treatment in intentionally uncomfortable detail — she falls pregnant with twin boys and a single girl. Encouraged to consider 'selective reduction' in order to ensure a successful birth, Lucy decides to sacrifice her sons to ensure the health of her daughter, whom she names Wendy after her late mother. But as this longed-for pregnancy progresses, she is plagued by increasingly paranoid thoughts.
The mania of motherhood is nothing new in film, particularly in genre cinema, and False Positive leans heavily into the psychological trauma of this emotional and physical maelstrom. As Lucy's concerns develop into full-blown fear, she is dealt the same fate as many on-screen women before her; haunted by noises in the dark, enduring horrifying dreams, embarking on wild-eyed rants and becoming increasingly isolated from the world around her.
It's made clear that, despite the rote gaslighting from those around her, Lucy is far from delusional, or suffering from so-called "mommy brain". Sequences in Dr Hindle's office are heavy with dread as bloodcurdling screams issue from behind a heavy door marked "lab"; blonde nurses with giant syringes (including Gretchen Mol's disturbingly efficient Dawn) waft about with a Stepford Wives air. Yet there's no escaping the fact that much of the film's tension hangs on Lucy's increasingly deranged behaviour — which likely has as much to do with prenatal depression as with events unfolding around her — and her breakdown is played for entertainment.
But it's likely that's entirely the point of the screenplay, co-written by Glazer and director John Lee. Indeed, the film is at its best in its less-schlocky moments when it's explicitly skewering the horrors of a society in which women are expected to "have it all" — undertake their biological duty, hold down a successful career, maintain a polished appearance — and do it with grace and demure gratitude. It also isn't afraid to point the finger at Lucy herself, who doesn't initially understand that her own expectations of pregnancy and motherhood come from a position of privilege and wealth. A challenging encounter with an African-American midwife lays bare the limitations of Lucy's own supposedly liberal progressiveness.
False Positive's most profound commentary is about how men attempt to dominate women's bodies — from the seemingly innocuous comments of Lucy's co-workers to the overbearing behaviour of her husband, coercion masked as affection. Effective cinematography from Paweł Pogorzelski (Hereditary, Midsommar) sees Lucy surrounded by men in almost every scene; a shot in which Adrian is standing at the head of Lucy's bed so that we can see his head and chest and her lower body is a neat visual shorthand for the film's entire ethos. And if Dr Hindle may turn out to be something of a monster, there's nothing whatsoever supernatural about his obsessive desire for control.
Production company/international sales: A24, elpin@a24films.com
Producers: John Lee, Ilana Glazer, Jonathan Wang
Screenplay: John Lee, Ilana Glazer
Cinematography: Paweł Pogorzelski

Editing: Jon Philpot
Production design: Jason Singleton
Music: Lucy Railton, Yair Elazar Glotman
Main cast: Ilana Glazer, Justin Theroux, Pierce Brosnan, Gretchen Mol