Dir: Marina Zenovich. US. 2016. 102mins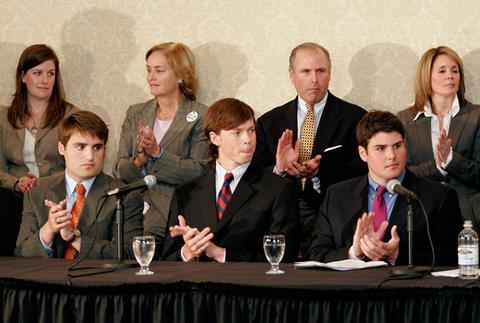 Detailing a high-profile rape case in which the rush to judgment significantly outpaced the calm gathering of facts, the smoothly riveting Fantastic Lies lays out the sexual assault scandal that ensnared and smeared the Duke University men's lacrosse team in 2006, triggering nationwide scorn even though the players were ultimately exonerated.
Even for those familiar with the story, Fantastic Lies is gripping
Produced by ESPN Films, whose 30 For 30 sports documentaries have been a sturdy franchise for the cable network, director Marina Zenovich's overview has the same slick efficiency and polished production values that viewers have come to expect from the series. Rarely revelatory but compulsively watchable, Fantastic Lies nicely rehashes the thorny racial and class issues that the case brought to light — and which continue to fester.
After its premiere at South By Southwest, Fantastic Lies will air on ESPN on March 13, exactly 10 years to the day of the infamous incident that began the legal firestorm against the lacrosse team. Stateside interest should be significant, especially for sports fans who either love or hate Duke University's track record for athletic excellence.
As the film begins, we're taken back to 2006 when Duke's lacrosse team, on the cusp of a new season in which they hoped to win a national championship, were hit by accusations that they had sexually assaulted a stripper hired for an off-campus party. Because the team members were white and attending one of America's most prestigious schools, and the stripper, Crystal Mangum, was an African-American single mother attending a far-less impressive college, the case quickly attracted national attention, igniting a firestorm of criticism from different advocacy groups.
Zenovich, who has directed two films about Roman Polanski's sex scandal, follows the template established by recent popular true-crime series Serial and Making A Murderer, incorporating talking-head interviews from those who were involved with the case to provide intimate commentary on the proceedings. Even for those familiar with the story, Fantastic Lies is gripping, as Zenovich re-creates the enraged national consensus at the time that these entitled, arrogant athletes were hiding behind their privilege after doing horrifying things to a poor young black woman.
Once establishing that mood, Fantastic Lies then succinctly reveals its series of surprises: not only were the Duke players innocent, an aggressive district attorney was violating legal ethics in the hopes of getting a conviction and impressing black constituents. Zenovich cannily shifts our loyalties over the course of Fantastic Lies, initially playing into our assumptions about racial inequality and encouraging our sympathy for Mangum before pulling the rug out from under us and making us realise that we'd been prejudging the Duke players unfairly.
To be sure, there's more than a small element of manipulation in this technique. While Fantastic Lies never comes out and vilifies Mangum, who we're told later in the movie has emotional problems, the documentary doesn't discourage the viewer from feeling angry and betrayed by her initial story of being raped. Zenovich perhaps too neatly makes the case that these cruelly maligned athletes were railroaded, failing to show the full complexity of why Mangum lied to police and what the realities are in America's rigid class structure. What Mangum did was wrong, but the documentary doesn't have the necessary time to be curious enough to explore the myriad economic and social factors that could have prompted her actions.
Those quibbles aside, Fantastic Lies works first and foremost as a good yarn sharply told, the high stakes involved in the court case accentuated by dramatic figures and colourful personalities, including a young defence lawyer who had to step up at a crucial moment and the parents of the accused who watched helplessly as their sons were crucified in the press.
Most pointedly, Fantastic Lies serves as a warning against jumping to conclusions, even when we think we're coming to the aide of the less-fortunate. The sheer volume of invective levelled at the Duke athletes was in some ways a collective articulation of the frustrations felt towards America's most wealthy and well-connected, who seem to live in a rarefied world away from the rest of us. Zenovich meticulously reveals how righteous indignation can be cathartic — but also how it can be susceptible to faulty, potentially harmful assumptions.
Production companies: ESPN, Lightbox
US television distribution: ESPN, www.espn.go.com/30for30/, contact Jennifer.J.Cingari@espn.com
Producers: P.G. Morgan, Marina Zenovich
Executive producers: Jonathan Chinn, Simon Chinn
Cinematography: Wolfgang Held, Thorsten Thielow
Editor: Greg Finton
Music: Jeff Cardoni