Catherine Deneuve stars in the latest drama from André Téchiné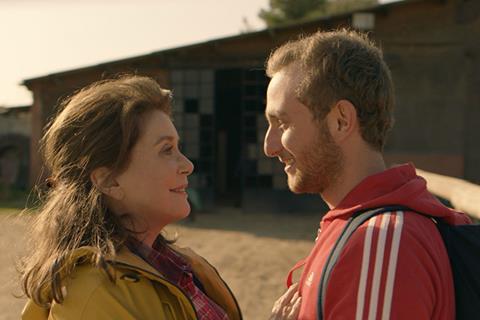 Dir. André Téchiné. France. 2019. 103 mins.
André Téchiné is one of the more productive, but also more variable directors in French cinema – someone who, at his best, can create complex realist dramas with novelistic depth, but whose work can sometimes also feel superficial. Téchiné's return to Berlin following 2016's fine Being 17 – with feature Golden Years in between – is one of his thinner offerings, despite a sturdy lead by Catherine Deneuve and a sharp performance by Kasey Mottet Klein, also in Being 17. Farewell to the Night is a well-meaning but awkward response to a theme that is inescapably vital at the moment, Western youth jihadism, but that here comes across as the hanger for a mundane problem drama. Téchiné's prestige will afford some festival action, but this is well below his peak.
Téchiné's approach is even-handed but heavy-handed too.
Set in the Pyrenees over several days of spring 2015 (the film is divided into chapters marking the days), the film introduces us to Muriel (Deneuve), who runs a farm and riding school, and who is first seen confronting two natural phenomena that will play a heavy metaphoric role: the intrusion of a wild boar into her orchard (at one point seen ominously staring her down), and an eclipse that plunges the countryside into darkness, the only magical touches in an otherwise four-square realist drama.
Muriel is soon visited by her university-age grandson Alex (Klein), apparently headed for work in Canada. In reality, he has other plans. Alex and his girlfriend Lila (Oulaya Amamra) - who helps Muriel out and also works at a local retirement home – have espoused the cause of Islamic fundamentalism, and plan to go to Syria to become jihadis. Alex, too proud to ask Muriel for the money he needs, instead forges a cheque. Wise to his plans, Muriel tries to change Alex's plans, enlisting the help of reformed jihadi Fouad (Kamel Labroudi) to set the boy straight.
The question of what inspires young people to turn jihadi is an increasingly prevalent theme in cinema, most recently in Mohamed Ben Attia's Tunisian drama Weldi, while the specific theme of Islam's appeal to secular non-Islamic youths was provocatively treated in Thomas Bidegain's Les Cowboys (2015). Téchiné's approach is even-handed but heavy-handed too. It's clear that middle-class white kid Alex has turned to Islam partly at Lila's prompting, and partly because he is a bundle of unresolved neuroses, convinced that his estranged father was responsible for his mother's death.
Téchiné makes it pointedly clear where our sympathies should lie – an earnest jihad retreat attended by Alex, Lila and comrade in faith Bilal (Stéphane Bak) is contrasted with French secular conviviality at its most buoyant, with glasses raised and a young girl happily dancing to a Sia number. He also has Muriel's North African manager Youssef (Mohamed Djouri) point out that jihadism sullies Islam. But the film could too easily be read as a one-dimensional statement that plays into European paranoia about modern Islamism –which feels odd coming from a director who has very much engaged with North African culture, notably in 2001's Loin.
Deneuve is effortlessly compelling as an unflappable embodiment of tough love – and perhaps, symbolically, of enduring traditional French values – and Klein, so strong in Being 17 as well as Joachim Lafosse's Keep Going, brings ample nuance to Alex's tormented confusion and brusque detachment. Oulaya Amamra, breakthrough star of Houda Benyamina's Divines, is also strong, playing on Lila's emotional and cultural contradictions, and cinephiles will appreciate a small but peppery role from veteran director-actor Jacques Nolot.
But the script, by Téchiné and director-to-watch Léa Mysius (Ava) – also a collaborator with Arnaud Desplechin – feels laborious and schematic, while the over-vivid palette of Julien Hirsch's photography bring the colours a thoroughly distracting boiled sweet quality.
Production companies: Curiosa Films, Bellini Films, Arte France Cinéma, ZDF/Arte, Legato Films, Films Boutique
International sales: France TV Distribution, sales@francetv.fr
Producer: Olivier Delbosc
Screenplay: André Téchiné, Léa Mysius
Cinematography: Julien Hirsch
Editor: Albertine Lastera
Production design: Carlos Conti
Music: Alexis Rault
Main cast: Catherine Deneuve, Kasey Mottet Klein, Oulaya Amamra, Stéphane Bak