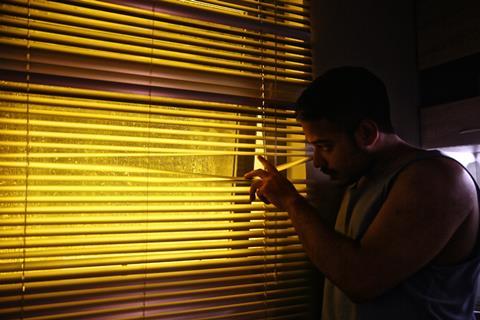 Dir Dominic Bridges. UK. 2017. 79 mins.
A claustrophobic black comedy which initially seems surreal but becomes disturbingly more credible as its bizarre situation is explored, director Dominic Bridges' debut feature demonstrates that there are few horrors an audience will not tolerate – indeed, will encourage – if the victim involved is suitably odious. In this case, the hapless smoothie whose entire life unravels during a non-supernatural haunting is a fast-talking, duplicitous estate agent.
A very smart mix of just desserts horror comedy and housing crisis editorial
The story, devised by Bridges ( a director on the sit-com Shelf-Stackers) and scripted by Rae Brunton (of the Outpost mini-franchise), is delightfully nasty in the manner of the horror comics of the 1950s and Amicus film anthologies of the 1970s; an odious character receives an ironic comeuppance. It has rather more depth, however, thanks to a committed lead performance from Mim Shaikh as low-rent agent Hussein, whose typical sharp practice had deadly consequences for wraith-thin contortionist Spaniard Orlan (Javier Botet) who has now insinuated himself into the hidden spaces of Hussein's flat — behind a wardrobe, in cupboards, under the bed or the sofa — and creeps about unnoticed to wreck his personal and professional relationships, pollute his personal grooming products and undermine his health.
The 1989 thriller Hider in the House gives a label to a sub-genre of human hermit crab/cuckoo movies, which includes the 1974 TV movie Bad Ronald and 2011 Hammer film The Resident. In such films, sinister stalkers lurk in crawlspaces or the gaps between the walls, spying on homeowners and legitimate tenants, invariably escalating to psychopathic violence. Freehold (originally titled Two Pigeons) may well stand as the best of this cycle, in that it never tips over into cliché knife-wielding attacks, relying instead on an escalation of minor torments like unplugging a charging phone, loading a girlfriend's laptop with gay porn links, sprinkling toenail cuttings in the bed, mixing bleach into the shampoo and leaving the toilet unflushed.
The spindle-limbed, double-jointed Botet is usually hidden under make-up playing spectres or monsters – his creature credits include [REC], Mama, Crimson Peak, Alien Covenant and It – but here gets to show his face and deliver a disturbing, but affecting performance. The only other performer with a substantial role is Mandeep Dhillon, who is interesting as Hussein's girlfriend Mel; chilly enough to be a suitable partner for the goal-oriented hustler but not a complete harridan, and very funny when getting near the end of her patience with what seems to be insane behaviour from her boyfriend.
A very smart, tart and to-the-point mix of just desserts horror comedy and housing crisis editorial, Freehold also benefits from an anti-hero who becomes increasingly sympathetic as his life turns into a nightmare. The character performs a rap under the end credits, finally expressing an anger at racial stereotyping and the pressure to compete which makes him almost as much of an outsider in Britain as his tormentor.
Production companies: Mallinson Film Productions, Something We Believe In,
International sales: Tricoast marcy@tricoast.com
Producer: Matt Hichens
Executive producers: Andrew Boswell, John Doris, Christopher Reynolds
Screenplay: Rae Brunton
Cinematography: Ben Moulden
Production Design: Richard Selway
Editor: Owen Oppenheimer
Music: Tom Vek
Main Cast: Mim Shaikh, Javier Botet, Mandeep Dhillon, Michael McKell, Kola Bokinni