A trio of Finnish women search for satisfaction in Alli Haapasalo's second solo film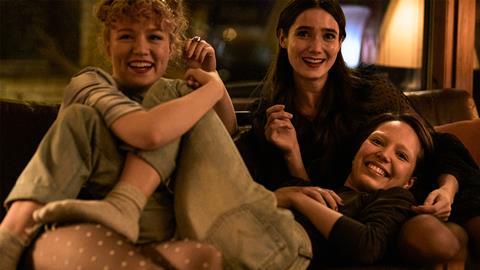 Dir. Alli Haapasalo. Finland. 2022. 100 mins.
Positive energy, emotional honesty and a trio of strong central performances are the chief attractions of Girl Picture, which focuses on passion and desire as it dips in and out of the lives of three Finnish teenagers over the course of three consecutive Fridays. The second solo outing by director Alli Haapasalo, after 2016's Love And Fury, is written with a candid freshness by Ilona Ahti and Daniela Hakulinen, although they sometimes struggle to keep all its moving parts in balance.
The film has its world premiere at Sundance before heading to the Generation 14plus section at Berlin, where it seems likely to catch the eye of other festivals looking to programme films for older teenage audiences. The winning performances and Haapasalo's careful attention to them help to compensate for the sometimes frustratingly fragmented nature of the storytelling.
While this is structured as an ensemble piece, Mimmi (Aamu Milonoff) is at Girl Picture's heart. Forthright and intelligent, she is also quickly established as a bit of a hot-head, although her equally smart friend Rönkkö (Eleonoora Kauhanen) is always there for her. The pair swap gossip at the smoothie joint where they work and the writers have some fun with the punning drinks on offer, including It Takes Two to Mango and Lime of Passion. This is where the pair cross paths with ice skater Emma (Linnea Leino), a dedicated athlete on the verge of going to the European championships if she can just perfect her triple lutz.
There's an immediate spark of attraction between Emma and Mimmi – with the two actors bringing just the right combination of shyness and heat to the encounter – and the pair, who are both completely at home with their own sexuality, fall into a passionate relationship. Rönkkö, meanwhile, is just trying to find the perfect spark with a guy, as her bedroom encounters – although all consensual – never quite end with the bang that she longs for.
Shot in squared off 1.33:1 ratio by Jarmo Kiuru which lends it additional intimacy, the film treats the women's emotional terrain seriously as it gradually reveals their individual hopes and fears around relationships and commitment. Haapasalo generates a satisfying erotic kick in the bedroom scenes between Mimmi and Emma without becoming overly explicit and even though Rönkkö just can't get no satisfaction, you never fear for her safety, as often happens in this sort of coming-of-age film.
It's the writers' ambition that catches them out as, by trying to tell multiple stories within a single film with a trim running time, they have to make sacrifices in terms of plot. Oddly for a film that features three main characters, there are hardly any scenes where the three all interact and while domestic background is offered for Mimmi and Emma, including some enjoyable moments of Emma out on the ice, Rönkkö is short-changed by comparison. Rönkkö's story, in general, often feels like a short film that we keep flitting in and out of rather than an integrated part of the wider narrative. The film is also so focused on the trio's relationship ins and outs that, beyond Emma's skating, there's little sense of what they all want more generally out of life, with the director often taking up the slack in terms of storytelling by moving the story along with montage.
The intended audience will no doubt find it affirming to see the positive bedroom scenes between Emma and Mimmi and also find the trio's self-doubt issues very relatable, but more everyday moments would be welcome, especially when they have as much innate joy as the one between Rönkkö and Mimmi getting ready for a night out. Ultimately, it's a testimony to the complex characters and nuanced performances that we are left wanting more.
Production company: Citizen Jane Productions
International sales: LevelK, debra@levelk.dk
Producers: Leila Lyytikäinen, Elina Pohjola
Screenplay: Ilona Ahti and Daniela Hakulinen
Production design: Laura Haapakangas
Cinematography: Jarmo Kiuru
Editing: Samu Heikkilä
Music: Jan Forsström
Main cast: Aamu Milonoff, Eleonoora Kauhanen, Linnea Leino, Sonya Lindfors, Cécile Orblin, Oona Airola