Julianne Moore shines as a woman searching for happiness in modern LA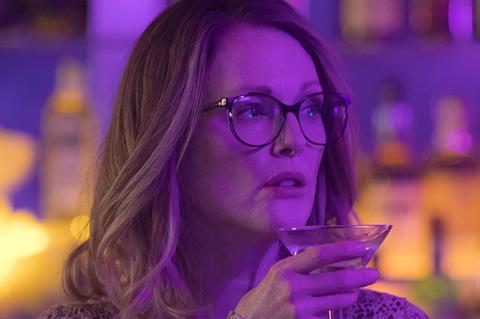 Dir/Scr Sebastian Lelio. US-Chile. 2018. 102mins
The track record for directors remaking their own films does not inspire great confidence. Anyone care to recall The Vanishing or Funny Games? Yet Sebastian Lelio triumphantly bucks the trend with Gloria Bell. The American version of his 2013 Chilean hit Gloria works as a precision-engineered showcase for Julianne Moore. Her nuanced, smiling-through-the-tears personification of middle-aged indomitability wins her a place amongst Lelio's growing gallery of fantastic women, and could also earn awards consideration.
Moore's performance means that we are with Gloria every step of the way
Astute and witty, Gloria Bell should attract arthouse audiences drawn to rousing tales of multi-faceted female characters. Moore's presence can only broaden the appeal of a character who previously made Paulina Garcia an international name.
One is the loneliest number in this bittersweet account of a feisty older woman fighting against invisibility and irrelevance. Gloria (Moore) faces the world with a smile on her face and a song in her heart. She is divorced and trying to live her best life. No longer essential in the lives of her children, she spends many an evening dancing the blues away in Los Angeles' singles clubs.
Moore makes Gloria a very sympathetic figure, but there is a brittle tension in her performance. Gloria is a little too apologetic, too willing to bend to the needs of others. Her drab wardrobe and large glasses suggest someone who doesn't want to attract attention to herself. There is a slight air of desperation, a neediness that leaves the impression she could be on the verge of a nervous breakdown. The lonely life looks to become a thing of the past, however, when she catches the eye of the recently divorced Arnold (a sweetly vulnerable John Turturro), but the tentative relationship begins to test how much she values herself and what she really wants from life.
Gloria Bell could almost be a musical as the character drives to work, heartily singing along to vintage pop anthems. The musical choices on the soundtrack very pointedly mark the arc of her new relationship as we are lead through 'A Little More Love' to 'No More Lonely Nights' and then 'Love Is In The Air'. There is also a fairytale, almost magic realist flavour in the use of Caesar's Palace in Las Vegas as the larger than life setting for a romantic weekend and in an eye-catching colour palette that stretches from the pink filters of a swirling dance floor to the yellow hues of shuttered bedroom and a neon-flooded escalator.
Lelio's exploration of Gloria's often melancholy existence stretches through the smallest domestic moments to the harsh glare of public occasions. A deliciously awkward birthday party for her son Peter (Michael Cena) is one of the film's comic high points, whilst a climactic wedding becomes the setting for a celebration of Gloria's newfound sense of empowerment.
Moore's performance means that we are with Gloria every step of the way, sharing in the little victories and the jolting setbacks. Her hard won belief in herself and undimmed appetite for life make for a joyous finale that is impossible to resist.
Production companies: Fabula, FilmNation Entertainment
International sales: FilmNation Entertainment nyoffice@filmnation.com
Producers: Juan de Dios Larrain, Pablo Larrain, Sebastian Lelio
Production design: Dan Bishop
Editing: Soledad Salfate
Cinematography: Natasha Braier
Music: Matthew Herbert
Main cast: Julianne Moore, John Turturro, Michael Cera, Caren Pistorius