Dir/scr. Guðmundur Arnar Guðmundsson. Denmark/Iceland, 2016, 129 mins.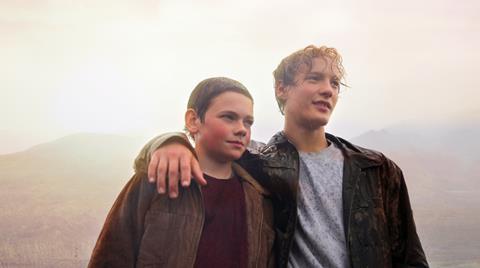 Affecting as well as perceptive in how it intimately depicts the awkward blossoming of youth, Heartstone wades into the crowded coming-of-age genre with just the right amount of confidence, compassion and clear-eyed style.
Guðmundsson's astute, empathetic approach to his youthful protagonists, their unaffected interactions and the complex issues that they navigate, should boost Heartstone's international release prospects.
After earning a special mention at Cannes in 2013 for his short film Whale Valley, and then developing this, his debut feature script, through the festival's Cinéfondation, first-time writer/director Guðmundur Arnar Guðmundsson is justifiably confident in his approach. And with Victoria and Rams cinematographer Sturla Brandth Grøvlen providing visuals that flit between expansive rural vistas and enquiring close-ups of the feature's teenage characters, the same can be said for style.
Heartstone is a tale filled with all the usual milestones and moments of youth, set in a remote coastal village where smashing fish against a dock, trying to evade cheeky taunts, stepping through sheep carcasses and secretly sleeping over at girls' houses rank among the main summer pastimes of best friends Theo (Baldur Einarsson) and Christian (Blær Hinriksson).
When the oft-inseparable pair aren't escaping their respective family tensions, general small-town boredom and the scrutiny of living in an insular community through the usual adolescent tomfoolery, they're embarking upon individual quests of romantic and sexual exploration that threaten to drastically change their bond.
As familiar as that narrative may sound, the underlying story is loosely inspired by the filmmaker's own childhood — and it's no suprise that this tender, touching effort that bows at Venice Days as Iceland's first film to compete at the festival, before making its way to Toronto. Fans of Celine Sciamma's Water Lilies, Tomboy and Girlhood will spy similarities in Guðmundsson's astute, empathetic approach to his youthful protagonists, their unaffected interactions and the complex issues that they navigate, which should boost Heartstone's international release prospects.
Indeed, as the smaller, less physically developed but more bullish Theo attempts to eschew the mocking of his older sisters (Jónína Þórdís Karlsdóttir and Rán Ragnarsdóttir) and the malaise of his single mother (Nína Dögg Filippusdóttir) by wooing the pretty Beth (Diljá Valsdóttir), his becomes a journey not just of discovering his identity, but of finding a way to reconcile both external judgement and internal conflict.
As the lankier, more reserved Christian tags along, primarily due to his growing feelings towards his pal and partly to avoid his physically abusive father's (Sveinn Ólafur Gunnarsson) condemnation, he too is forced to search for his true self within a climate of harshness.
Their intertwined plights unravel amidst picturesque surroundings that seem particularly inviting courtesy of Grøvlen's vivid imagery, but can quickly turn unforgiving, with Heartstone seething with turmoil despite such idyllic appearances. With Theo and Christian's contrasting traits as crucial as the many other juxtapositions Guðmundsson highlights — in his nature-filled setting, in the differences between his key male figures and their female counterparts, and in the passing of childhood as the onset of maturity takes hold — both characters prove thoughtful and multifaceted. They're engaging, sincere and fully-realised creations that remain tentative about their ever-changing existence, and yet are still driven to forge their own path.
Of course, much of their effectiveness comes down to casting, with feature debutants Einarsson and Hinriksson excelling in their central roles. Eachs bring an unaffected naturalism to the intricate material. Valsdóttir and Katla Njálsdóttir, as Beth's offsider Hanna, follow the duo's leads to offer an equally authentic, albeit condensed, portrait of female friendship. And though the film's older actors are given less screen time to flesh out their broken adults, they provide valuable support, including Danish star Søren Malling in a small but pivotal part.
If Guðmundsson struggles with anything in his initial full-length outing after winning more than 50 awards for his five short films, it's with length. Thankfully, though its 129-minute duration is certainly felt, editors Anne Østerud and Janus Billeskov Jansen ensure the feature's running time never becomes wearying — only as patient as its potent, poignant tale demands.
Production company: SF Studios Production, Join Motion Pictures
Sales: Films Boutique, giorgia@filmsboutique.com
Producers: Anton Máni Svansson, Lise Orheim Stender, Jesper Morthorst, Gudmundur Arnar Gudmundsson
Executive Producers: Lars Bjørn Hansen, Lars Bredo Rahbek
Cinematography: Sturla Brandth Grøvlen
Editors: Anne Østerud, Janus Billeskov Jansen
Music: Kristian Selin Eidnes Andersen
Production Designer: Hulda Helgadóttir
Costume Designer Helga Rós V. Hannam
Cast:Baldur Einarsson, Blær Hinriksson, Diljá Valsdóttir, Katla Njálsdóttir