Dir. Nanfu Wang. China, USA. 2016. 84mins.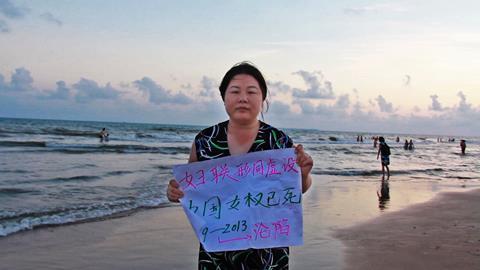 "That's me, with the camera." The voice of first time director Nanfu Wang plays out over cameraphone footage of a young woman with a flowery dress and a white knuckle grip on a digital SLR. The phone captures a group of men glancing and whispering. "Those guys are watching me because of the camera." There's a scuffle, some muffled threats, a cry of "Get the camera!" Then Wang's voiceover explains, "What follows is the story I captured before they took the camera from me." It's a powerful set up for a real life thriller which uncovers the campaign of harassment meted out to Chinese women's rights activist Haiyan Ye, aka Hooligan Sparrow.
"Don't make such a fuss, it could have been murder"
While the film is neither as polished as Laura Poitras' Citizenfour, nor as culturally heavyweight as Ai Weiwei: Never Sorry by Alison Klayman (who executive produced Hooligan Sparrow), there's a kinship with both which should translate to a share of the same audience. Plus Wang's film has a grass roots, on-the-ground urgency: nervy, paranoid camerawork gives a sense of the realities of life on the sharp edge of activism.
This talking point film, which was supported by the Sundance Institute, Britdocs and Bertha Dochouse, should generate plenty of interest on the festival circuit. It's particularly suited to events programmed with a human rights focus. Due to the unflattering portrayal of the Chinese government and associated authorities, a domestic theatrical release is highly unlikely. However documentary-specialist distributors in other territories might benefit from the newsworthy nature of the subject matter.
Wang is a part of the documentary throughout. The film is as much her own story as it is that of Haiyan Ye. Returning to China after spending two years in the US, Wang contacted the high profile, and highly controversial activist and was invited into Haiyan Ye's inner circle almost immediately.
Like the artist Ai Weiwei, who has supported her campaigns with personal appearances and with artworks, Haiyan Ye is well aware of the power of social media. Wang's camera and her pledge to document the unfolding events were clearly her passport into the world of the Hooligan Sparrow.
Haiyan Ye's techniques – she once worked in a brothel, offering sex for free to migrant workers as a way to draw attention to the plight of sex workers in China – are extreme but they are calculated to connect the issues she targets with as wide an audience as possible.
At the time when Wang first met with Haiyan Ye and her supporters, they were preparing to stage a demonstration against a school principal who was accused of the sexual abuse of several of his pupils, aged between eleven and fourteen. In typically forthright fashion, Haiyan Ye posed with a poster which read, "Principal: get a room with me. Leave the kids alone." The photograph went viral. But even before the issue became an internet event, there was an ominous rumble of interest in Haiyan Ye's activities.
The authorities that Sparrow protested against responded with muscle. Wang's camera peers nervously from the window as hired thugs gather around her apartment. Haiyan Ye was attacked while on the phone to a reporter – Wang includes the audio recording of the assault in the film. Her office was ransacked. The response from the police - "Don't make such a fuss, it could have been murder," was chilling. And , like many of the activists who protested with her, Haiyan Ye was arrested and held without trial.
Supporters flooded in to help secure her freedom. But at least some of these, Wang suggests, were government stooges. There is, at times, a sense of audience manipulation – Wang encourages us to doubt key characters. However, this is presumably intended to capture the heightened sense of vulnerability that she felt as a filmmaker on the frontline of protest.
Production company: Little Horse Crossing The River
International sales: Submarine josh@submarine.com
Producers: Nanfu Wang, Andrew Cohen, Alison Klayman
Screenplay: Nanfu Wang, Mark Monroe
Cinematography: Nanfu Wang
Editor: Nanfu Wang
Main cast: Haiyan Ye, Yu Wang
Music: Nathan Halpern, Chris Ruggiero