Dir/scr. Ben Young. Australia, 2016, 108 mins.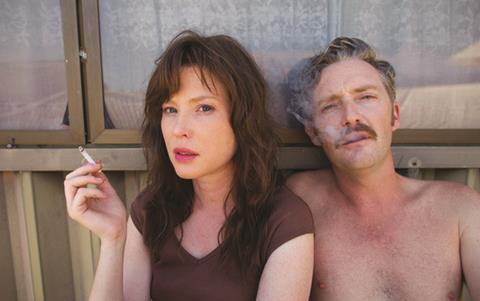 The sinister side of suburbia isn't a novel topic of contemplation in Australian cinema; as Animal Kingdom and Suburban Mayhem have proven, the danger that lurks in ordinary rows of average-looking homes is becoming as common a fascination as the menace of the outback. However, something particularly unsettling skulks beneath the sun-lit surface of thriller Hounds Of Love. Making his first feature after a string of shorts and music videos, writer/director Ben Young parlays his gripping peek at the perils waiting behind closed doors into more than just another crime-oriented effort.
Hounds of Love marks Young as a filmmaker to watch, though he's not the feature's only standout
Premiering in Venice Days, Young's debut finds inspiration for its domestic discontent in a range of real-life local and international cases (nodding to its true-crime stimulus, an early scene references the famed, still-unsolved disappearance of Australian prime minister Harold Holt in the 1960s). It also follows in the footsteps of Justin Kurzel's internationally acclaimed Snowtown, mainly in its masterfully discomforting aesthetics. That Hounds of Love confidently emerges from its thematic predecessor's shadow should help its global fortunes at festivals and beyond, with an Australian release already planned for early 2017.
Set in Perth in 1987, the film focuses on the aftermath of a murderous couple's abduction of a teenager on a steamy summer evening. Though their actions thrust the story forward, it's the complicated motivations of female perpetrators of horrific deeds — especially those committing their acts as part of a destructive, manipulative partnership — that remain Young's specific source of interest.
As Evelyn White (Emma Booth) peers at high school netball players with her husband John (Stephen Curry), successfully lures one into their car to escape the scorching Western Australian heat, and later dutifully makes coffee and toast in the aftermath of an unseen altercation, the imbalance of power at their heart of their long-term relationship is painfully apparent.
When the duo comes across 17-year-old Vicki Maloney (Ashleigh Cummings) sneaking out of her mother's house one night, their latest kidnap-and-kill plan comes with unexpected consequences. Suspecting the many problems plaguing her captors, and attuned to marital issues following her parents' (Susie Porter and Damian de Montemas) recent split, Vicki fights for her life by trying to expose their disharmony.
In what partially becomes a portrait of the extremes one will go to in the name of the titular emotion, Hounds of Love unpacks Evelyn's predicament, including her yearning for John's affection and attention, as well as the impact of her separation from her children; however there's no doubting where the film's sympathies reside. She's victimised, but, in a feature that doesn't shy away from blood, violence and a disturbing late-stage animal attack, she's not its victim. Young's script fleshes out the complexities of the situation, yet doesn't sugarcoat or simplify them.
That doesn't stop the first-timer from relying upon heavy-handed mirroring, especially in his use of canines, or peppering the plot with a few convenient developments. Thankfully, with the assistance of his technical team, Young's convincing command of tone helps overcome any traces of narrative obviousness. Whether gradually panning over slow-motion shots of standard suburban life or trapped within beige and pastel interiors, cinematographer Michael McDermot's exacting images evoke an uneasy mood, spliced together with maximum tension by editor Merlin Eden.
Similarly, the anxiety-inducing strains of Dan Luscombe's score, intertwined with period-appropriate tracks such as the Boys Next Door's Shivers and Joy Division's Atmosphere, serve to heighten the feature's relentless sense of pressure.
Indeed, in its style as well as its psychological focus, Hounds of Love marks Young as a filmmaker to watch, though he's not the feature's only standout. His trio of leads has rarely been better, turning their characters' three-way tussle into a compelling dissection of primal desires for control, validation and survival. Booth brings as much vulnerability as intensity to Evelyn, humanising her reactions but never excusing her choices. Cummings plays the resourceful, ravaged prey with a balance of distress and determination, while, cast against type in a role worlds away from his career-sparking turn in amiable comedy The Castle almost two decades ago, Curry's unnerving performance leaves a distinctive imprint.
Production company: Factor 30 Films
Sales: Urban Distribution International, delphyne@urbandistrib.com
Producer: Melissa Kelly
Cinematography: Michael McDermott
Editor: Merlin Eden
Music: Dan Luscombe
Production Designer: Clayton Jauncey
Costume Designer: Terri Lamera
Cast:Emma Booth, Stephen Curry, Ashleigh Cummings, Susie Porter, Damian de Montemas, Harrison Gilbertson.