A hardscrabble life in Sicily is illuminated by Michele Pennetta's heartfelt doc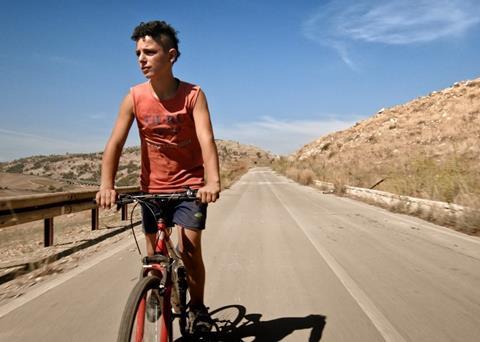 Dir. Michele Pennetta. Switzerland, Italy. 2020. 80 mins
This lovely, heartfelt observational documentary finds a melancholy harmony between the two lives, both young men who find themselves discarded before they have had a chance to make a mark on the world.
A teenager on the awkward, ungainly cusp of adulthood, Oscar scrapes a living with his brother and father by picking through fly-tipped junk for scrap metal to sell. Nigerian immigrant Stanley cooks his memories of home into the food he shares with his roommate Blessed and sweeps a church in return for groceries. Oscar and Stanley's lives interact only once, but they share a similarly hardscrabble, hand-to-mouth existence lived on the periphery of Sicilian society.
The empathy of the filmmaking is undeniable and is present in every intimate frame
The third of Michele Pennetta's films to explore the underbelly of Sicily, Il Mio Corpo follows 'A iucata, a short which won a Leopard of Tomorrow prize at Locarno 2013, and Pescatori di Corpi, which weaves together the lives of illegal fishermen with a Syrian migrant who lives on a boat. While not as emphatically timely as something like Gianfranco Rosi's Fire At Sea, the film does share Rosi's eye for revealing character details and a lyrical approach which finds beauty in the most unlikely of places. Pennetta's accomplished film should find a receptive audience on the festival circuit and establish him as a talent to watch.
In the opening shot of a film which brings a wide-screen drama to the dusty no man's land of Sicily's interior, Oscar and his brother rattle around in the inside of their father's truck. Exhausted, Oscar sleeps, and his almost-adult face softens into that of a child. The truck, his father says, as he pats it affectionately, is "our breadwinner." Unable to resist taking a dig at his two oldest boys, he adds. "Not you." Oscar, in particular, seems to be the target of his father's ire. "Why were you born without a brain?" he carps as his son struggles to haul the rusted husk of a washing machine up a sheer face of sun-baked scree.
The family tension smoulders and sparks, flaring up in a remarkable mealtime scene in which the sons, shifting uncomfortably, wordlessly speak volumes about what must have been a thoroughly miserable childhood caught in a parental war zone. "If she loved you," says the father their mother, "she would have come back." The boys escape the airless ill will of their overcrowded family home and cycle, freewheeling downhill into the town below. The camera accompanies them, in a blissful fluid single shot, capturing a momentary broadening of horizons and a glimpse of freedom.
Elsewhere on the island, Stanley's fractious affection for his friend Blessed is an anchor in his drifting days. While Stanley has a two-year visa, Blessed is still waiting to hear whether his application for asylum will be granted. It's a source of stress between them. Shortly after Blessed's request is rejected, he vanishes from Stanley's life and from the film. A heartbreaking shot shows Stanley staring at the empty bed in the sparsely decorated room they shared.
The intersection between Oscar and Stanley's worlds is, we assume, scripted: a night time encounter which sees Oscar, lost by his father and brother during an after hours scrap hunt, curl up and sleep in Stanley's bed in a derelict house, while Stanley silently watches over him. The tacit kinship we glimpse between them might be projection on the part of the audience; but the empathy of the filmmaking is undeniable and is present in every intimate frame.
Production companies: Close Up Films, Kino Produzioni
International sales: Sweet Spot Docs, anna@sweetspotdocs.com
Producers: Joëlle Bertossa, Flavia Zanon, Giovanni Pompili
Cinematography: Paolo Ferrari
Editing: Damian Plandolit, Orsola Valenti
Screenplay: Michele Pennetta
Featuring: Oscar Prestifilippo, Stanley Abhuumen, Roberto Prestifilippo, Marco Prestifilippo, Blessed Idahosa