Expat Cuban filmmakers Heidi Hassan and Patricia Perez Fernandez reconnect through a series of video letters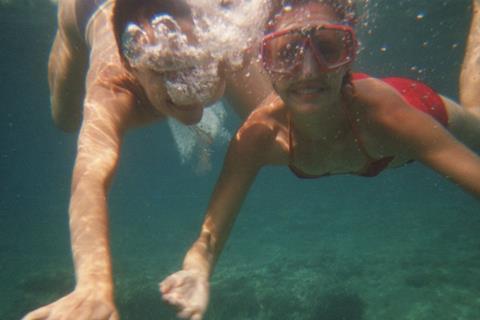 Dirs: Heidi Hassan, Patricia Perez Fernandez. Spain-France-Switzerland-Cuba. 2019. 80mins
The immigrant experience, and the issue of global population displacement, is explored with an intimate touch and a lyrical tone in this deeply personal documentary from filmmakers Heidi Hassan and Patricia Perez Fernandez. Having both left their native Cuba for Europe, and having not seen each other for years, the two re-open the lines of communication via a series of video letters. As they fill in the gaps of their lives, and share their reasons for leaving their country — and each other — so emerges a moving portrait of lives shaped and reshaped by uncontrollable circumstance.
The filmmakers expertly plot the journey of their lives, both together and apart
Having won Best Feature-Length Documentary at IDFA, In A Whisper should certainly attract further festival attention, particularly from events focused on non-fiction and female-centred narratives. While its non-traditional structure may make wide theatrical play unlikely, it could find an audience on streaming, where positive word-of-mouth would extend its reach.
Hassan and Perez Fernandez have been friends since childhood, a bond that was cemented by a shared love of swimming. (Water, both as a place of churning danger and calm salvation, is a recurring visual motif). As adolescents, they turned their love of cinema into a filmmaking pursuit; old video footage shows them making a short about a reclusive woman who is literally winched from her home, exploring the ideas of femininity and responsibility which will define their own lives.
This collaborative relationship was cut short, however, when Hassan made the decision to leave the increasingly claustrophobic social confines of Cuba for a new life in Europe; eventually settling in Geneva and marrying a fellow Cuban ex-pat. While Perez Fernandez was left reeling by this, she later came to realise she herself could no longer stay in Cuba and relocated to Spain. Her journey has been more tumultuous, taking in a variety of menial jobs and a failed marriage. That the two have both been unsuccessful in their attempts to become mothers is just one of the many things that continue to connect them.
The other is an overwhelming homesickness for Cuba; not, as they acknowledge, for the place that it is, but for the ideological promises that were drilled into them as youngsters. The idea that they were the generation to move the country forward is one that they both struggle to let go, and this overwhelming sense of nostalgia informs their work. They are also united in their obsession with documenting everything; for Hassan, it serves as a personal record — perhaps for the children that she is so desperate to have; for Perez Fernandez, there's the sense that she is trying to express emotions that she cannot put into in words.
While both women have very different visual styles — Hassan is more observational and contemplative, while Perez Fernandez daubs the screen with fast cuts and frantic imagery — In A Whisper pulls these two halves together into a coherent narrative whole. Working with fellow editor Diana Toucedo, the filmmakers expertly plot the journey of their lives, both together and apart, without losing the power of either voice. And while they never actually meet during the course of their film, there is a sense that, through their rekindled friendship, they may finally achieve a sense of homecoming that has eluded them all these years.
Production company: Matriuska Producciones, Perspective Films
International sales: Habanero Film Sales acalvino@habanerofilmsales.com
Producers: Daniel Froiz, Delphine Schmit
Editing: Heidi Hassan, Patricia Perez Fernandez, Diana Toucedo
Cinematography: Heidi Hassan, Patricia Perez Fernandez
Music: Olivier Militon, Patricia Cadaveira