Dir. Roland Emmerich. US, 2016, 119 mins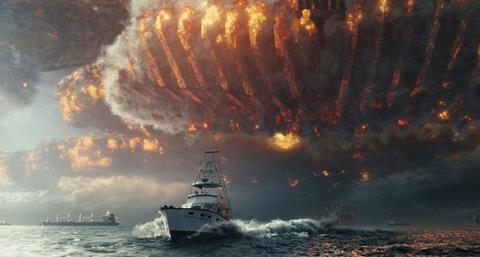 Unable to leave a 20 year-old, $817m, sleeping franchise lie, German writer/director/producer Roland Emmerich has reanimated his 1996 hit Independence Day, ready for a global assault which commences this weekend. As wilfully cheesy and cheerfully nonsensical as the first, Resurgence's two distinguishing features are the absence of original star Will Smith – of small consequence in such an over-populated cast – and the blinding glare of Hollywood's newfound love for Asia, with Angelababy and Chin Han, playing her father, enjoying brief moments of Mandarin-language dialogue before Kuala Lumpur falls on top of London. Literally.
Cheese aside, it's ultimately hard to resist a film which is so confidently self-knowing
Best approached with a sense of humour, Emmerich's practically patented brand of tongue-in-cheek disaster movie, from 2004's The Day After Tomorrow to 2013's White House Down, may come as a (mercifully brief) two-hour antidote to the heavy weather of recent Marvel and DC adaptations – and with its tractor beam set on Asia, Resurgence can only improve on the original's commercial performance. Critics will not respond well, but all signs point to a London Has Fallen-style trajectory followed by healthy ancillary. And another sequel, of course (already announced), probably without a 20-year wait, given press materials are already enthusiastically referring to a "Independence Day Universe".
Harking cheekily back to the original Star Trek and all its TV iterations, this is a stealth assault on that audience before Paramount's Star Trek Beyond opens on July 22, with family-friendly names such as Jeff Goldblum, Bill Pullman and Judd Hirsch to anchor older audiences while Liam Hemsworth, Maika Monroe and Jessie Usher take care of younger crowds. Charlotte Gainsbourg, Angelababy and Deobia Oparei are there for foreign markets, and the aliens themselves will look remarkably familiar for connoisseurs of…the Aliens franchise. In other words, this is as calculated a commercial arsenal as any Towering Inferno of its day and just as patchily entertaining.
In the 1996 original, MIT satellite engineer David Levinson (Goldblum) assisted pilot Steve Hillier (Will Smith) to help President Whitmore (Bill Pullman) defeat a fleet of hostile aliens on July 4, Independence Day. On the very 20-year-anniversary of this proud victory, the Earth is threatened again by the same evil, slimy space invaders, and the various principal players in the first film must come back to creaky life to assist in its defence. The peril, of course, is heightened: last time, the mothership was one-quarter of the size of the moon – now "it's 3,000 miles in diameter!"
There's also a slew of new characters to define, meaning Independence Day: Resurgence hops around its cast with an ADD gusto which ultimately becomes part of its occasionally-evasive charm. While the purposefully multi-ethnic and globally-inclined casting may feel itself to be revolutionary, in reality it's a page ripped out of the original Star Trek TV show, as is the idea that the invaders work as a hive (ie the Borg), with those humans who were exposed to the original invasion force now part of the Queen Bee's consciousness.
With Levison examining strange extra-terrestrial occurrences in Africa accompanied by a psychiatrist played by Gainsbourg, the new US president (Sela Ward) must grapple with this latest invasion on her own. Whitmore is mentally debilitated, but his former fighter-pilot daughter (Monroe) is now a White House speechwriter. There's an "international legacy squadron" of pilots, led by Dylan Hellier (Usher, playing the son of Will Smith's character) and Rain (Angelababy), while over on the moon, their former colleague, rebel bad-boy orphan pilot Jake (Hemsworth), kicks his heels.
More and more cast members flood in - more than aliens, for the greater part of the film - from Judd Hirsch as Levinson's father, to Vivica Fox returning as Hellier's mother and the comedy comatose scientist Brackish Okun (Brent Spiner), to, eventually, a schoolbus full of lost children. Undoubtedly, there's too much going on here, but the fast switches do help disguise Emmerich and co-writer/producer Dean Devlin's thin premise.
And it's ultimately hard to resist a film which is so confidently self-knowing. As the aliens commence their global destruction – which includes a trademark Emmerich tidal wave - Goldblum quips "they like to get the landmarks" just before the London Eye hones into view (and shortly before Kuala Lumpur falls on top of it). There's a profoundly silly white ball, an emissary from a now-extinct "nice alien" planet, which is hilariously chatty and expositional. The ever-reliable Goldblum, who has been honing this schtick since Jurassic Park at the very least, now has a wildly improbable role as the head of the global space defence programme, and "palpable" sexual tension with the bizarrely-cast Gainsbourg.
Independence Day: Resurgence doles out the action and effects work in carefully measured, incremental doses, which give the film a cumulative tension almost despite itself. Even if it's hokey and jokey, this is a loud, effects-driven piece, with a driving score. For fans of Roland Emmerich disaster movies, it both hits all the marks, while delivering nothing new. Yet in today's global marketplace, that should be enough to deliver the commercial payload.
Production companies: 20th Century Fox, Electric Entertainment
Producers: Roland Emmerich, Dean Devlin, Harald Kloser (Music)
Executive producers: Ute Emmerich, Carsten Lorenz, Larry Franco
Screenplay: Roland Emmerich, Dean Devlin, Nicolas Wright, James A. Woods, James Vanderbilt
Cinematography: Markus Forderer
Editor: Adam Wolfe
Production designer: Barry Chusid
Visual Effects Supervisor/Co-producer: Volker Engel
Music: Thomas Wander
Main cast: Liam Hemsworth, Jeff Goldblum, Bill Pullman, Maika Monroe, Travis Tope, William Fichtner, Charlotte Gainsbourg, Judd Hirsch, Deobia Oparei, Jessie Usher, Sela Ward, Brent Spiner, Vivica A. Fox, Angelababy