Dir: James Schamus. US. 2015. 110mins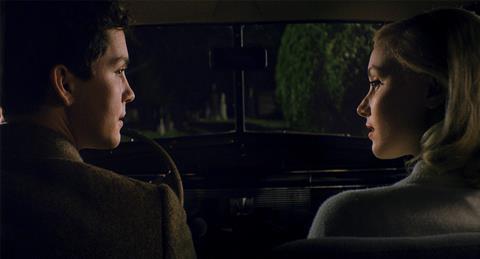 A college freshman doesn't come of age so much as slam into the strangeness of adulthood and first love in Indignation, a minor-key drama enriched by a genuinely off-kilter tone that borders on angry paranoia. Based on Philip Roth's 2008 novel, the directorial debut of long-time screenwriter and producer James Schamus exudes a tasteful reserve, but actor Logan Lerman cuts through the seeming gentility in a performance that seethes with his character's burgeoning arrogance and cynicism.
Indignation doesn't have a plot so much as a series of incidents that combine to showcase the quietly boiling discontent our young hero feels.
After debuting at Sundance and playing at the Berlinale's Panorama sidebar, Indignation was picked up by Summit for US distribution, where they will undoubtedly trumpet the film's connection to Roth, also playing up Schamus' track record as a close collaborator with Ang Lee and as the co-founder of Focus Features. No marquee names populate the cast, so good reviews will be essential for this proudly peculiar period drama that isn't an easy sell for art houses.
Lerman plays Marcus, an exceptionally bright young man who, in the 1950s, leaves New Jersey to go to college in Ohio where he is one of the campus's few Jewish students. Focused entirely on getting into law school, he nonetheless becomes bewitched by a beautiful blonde named Olivia (Sarah Gadon), whose sexual assertiveness both attracts and repels him.
Indignation has all the earmarks of a prestige picture — respected source material, excellent production design, a sombre voiceover — but the film's overly refined air is a bit of a feint. In fact, this university's seemingly comforting conservatism and well-adorned facilities soon prove to be a stifling, unwelcoming environment for Marcus, who appears to have picked up some of the anxiety and mistrust that riddles his butcher father (Danny Burstein).
That atmosphere of unease permeates Indignation from the start. With the fear of being shipped off to the Korean War an ever-present danger, Marcus sees college not just as a stepping-stone to a career but also as a way to avoid the draft. (Early on, we see what appears to be a nightmare of Marcus behind enemy lines. And one of the film's first scenes finds Marcus at a classmate's funeral after he was killed in combat.)
Schamus, who adapted Roth's script, seeds the film with these anxieties so delicately that they seem to transfer over to college for Marcus, whose attraction to Olivia is mitigated by his fear of being inexperienced with girls. When their first date ends with Olivia giving him an impromptu blowjob in a car, Marcus reacts not with elation but confusion, starting to obsess about how many other men she's done that with.
Indignation doesn't have a plot so much as a series of incidents that combine to showcase the quietly boiling discontent our young hero feels. A remarkable sequence between Marcus and the school's headmaster (Tracy Letts) — highlighted by a debate about whether the young man's father runs a butcher shop or a kosher butcher shop — crackles with the sort of striking, combative dialogue that is a Roth speciality. The narrative isn't being pushed forward, per se, but Schamus' no-fuss directorial style helps to weave a blunt cultural snapshot of 1950s America as Cold War paranoia, suffocating conformity and a blossoming youth rebellion are all conspiring to turn the country into a powder keg.
Granted, the film covers thematic ground that's hardly unique: life away from home, the scary/exciting proposition of new love. But Indignation keeps subverting our expectations. The sexual interplay between Marcus and Olivia is less romantic and more blasé than we might imagine, while the relationship between Marcus and his parents has a refreshing edginess. (Playing the boy's mother, Linda Emond is dynamite in a scene near Indignation's end in which she tells Marcus in clear terms why he has to avoid women like Olivia.)
Lerman's portrayal of Marcus is knowingly stilted: He has conceived the character as intellectually superior to his peers (and perhaps even the headmaster), and Marcus makes no apologies for his haughty demeanour. Audiences have seen precocious brainiacs on screen many times before, but they're usually adorably quirky. Not so with Marcus: Lerman gives him a palpable anger we can only surmise comes from enduring anti-Semitism, not to mention the fact that he's actually an atheist, finding the college's Christian leanings utterly nonsensical and even insulting.
The only thing that seems to please Marcus is Olivia, whom we'll soon learn is a troubled soul. But, again, Indignation doesn't paint her with the usual brushstrokes. Gadon plays Olivia not as an enigmatic beauty but as a pretty young woman who sees in Marcus a person of real depth — and, one suspects, she hopes he sees the same thing in her. Like Olivia, Indignation has a benign, even familiar surface — but underneath are hints that nothing is quite right.
Production companies: RT Features, BFB Entertainment, X-Filme Creative Pool, FilmNation Entertainment, Likely Story, Symbolic Exchange
US distribution: Summit Entertainment
International sales: FilmNation Entertainment, info@filmnation.com
Producers: Anthony Bregman, James Schamus, Rodrigo Teixeira
Executive producers: Caroline Jaczko, Avy Eschenasy, Stefanie Azpiazu, Lourenço Sant'Anna, Sophie Mas, Woody Mu, Logan Lerman, Lisa Wolofsky, Jonathan Bronfman
Screenplay: James Schamus, based on the novel by Philip Roth
Cinematography: Christopher Blauvelt
Production design: Inbal Weinberg
Editor: Andrew Marcus
Music: Jay Wadley
Website: www.twitter.com/IndignationFilm
Main Cast: Logan Lerman, Sarah Gadon, Tracy Letts, Linda Emond, Danny Burstein, Ben Rosenfield