A psychological thriller set in contemporary Istanbul sees a TV editor grapple with her mysterious past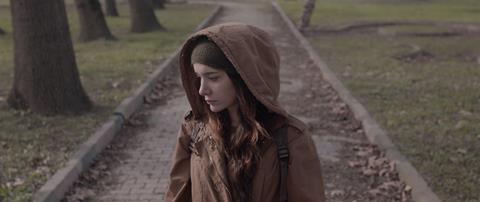 Dir/scr Ceylan Ozgun Ozcelik. Turkey, 2017. 94 mins.
A courageous premise makes for an undercooked psychological thriller in the former Turkish TV film-show presenter Ceylan Ozgun Ozcelik's debut feature. Casting its lot defiantly with the liberal, free-speech minority in Erdogan's Turkey, the film turns a shocking true-life incident of the 1990s that was a test of the country's human rights record into a lukewarm genre piece about a TV editor going quietly mad as she struggles to resurrect deep-buried memories of her parents in a big old Istanbul apartment.
We never really empathise with Hasret, who feels more like a vehicle for a metaphor than a compelling thriller lynchpin
The bravery at the heart of the exercise will surely propel Inflame (Kaygi) to further festival and film-society dates, but it's difficult seeing further play for a film that falls frustratingly between the stools of arthouse drama and psycho-thriller genre piece.
The uneven but promising first half hour is the best thing about Inflame. Young documentary editor Hasret (Algi Eke) works for a fictional Turkish TV channel with the Orwellian slogan "What you see is the truth, what you hear is the truth". Following a staff reshuffle, she's reassigned to news, and witnesses at first hand how the fragile value blazoned in the network's slogan is manipulated through regime-friendly ticker news summaries and the splicing of interviews with government ministers and dissidents. Each evening, Hasret returns to the old-town apartment where she lives alone since her parents died – in a car accident, she believes, at some unspecified past time.
The overdosed thriller sound design, in which creepy bass notes merge with traffic noises, screeches and an insistent pneumatic drill, flag up the fact that all is not right in Hasret's flat, or head, or both. She confides to a rather anodyne, ineffectual male friend, Mehmet (Cevik), that she's plagued by a recurrent nightmare, and by an Anatolian folk tune that comes into her head while strolling in a nearby park – where she is also, briefly, caught up in a mob of demonstrators. Buried memories, connected in some way to the mystery of how her parents really died, are aroused by the photos and notebooks that Hasret unearths in the apartment after quitting her job, along with the Anatolian lute that her father – a folk musician – once played.
Ozcelik and her DoP Ladczuk frame an Istanbul cityscape in which empty, rubble-strewn lots and the stark metal skeletons of tower blocks in construction stand in for Turkey's memory gaps and Newspeak way of rewriting and rewiring the past. But in the film's over-long final act we're confined, with Hasret, to that lugubrious apartment where, by now, she can smell burning without quite being able to identify the source – one of series of tired thriller/horror tropes that are given a timid airing. And whether the fault is in the casting, the character or the performance, we never really empathise with Hasret, who feels more like a vehicle for a metaphor than a compelling thriller lynchpin.
Production companies: Istanbul Film Production, EHY Film Production, Filmada
International sales: m-appeal, sales@m-appeal.com
Producers: Adnan M. Sapci, Sadik Ekinci, Emre Oskay, Ceylan Ozgun Ozcelik, Armagan Lale
Cinematography: Radek Ladczuk
Editor: Ahmet Can Cakirca
Production designers: Kerem Ardahan, Sila Karaca
Music: Ekin Fil
Main cast: Algi Eke, Ozgur Cevik, Asiye Dincsoy, Selen Ucer