Tagalog-language SXSW Jury prize-winner is set inside Canada's Filipino community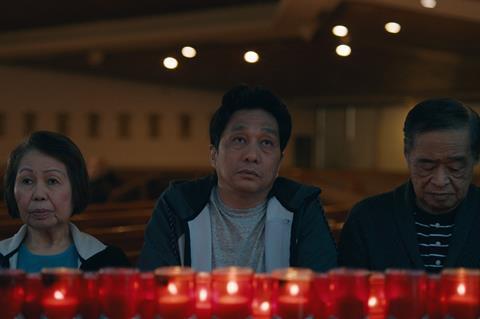 Dir/scr: Martin Edralin. Canada. 2021. 94 mins.
Unassuming, like its central character, Martin Edralin's debut feature Islands tells a small story in an overlooked but large, far-flung community – that of Filipino expatriates. Joshua (Rogelio Balagtas) lives in Canada with his ageing parents, having swapped his life as a dentist at home for janitorial work in their adopted country. But what next as they all grow older? Edralin's film aims to talk about life and loneliness in that bubble as the tight-knit family unit shrinks inexorably.
There's a cheerful pragmatism to the characters and the film itself
Carefully-paced, with the occasional burst of cha-cha to raise the pulse, Islands is a touching, authentic Tagalog-language film which should gain attention both within the large Filipino diaspora, as well as festivals looking for new voices (it won a Jury prize at SXSW for Balagtas' performance). There's a cheerful pragmatism to the characters and the piece itself, a reflection and distillation of the caring, musical, religious community in which it is set. Deliberate and unhurried, Islands is also the type of quiet film that happily watches a microwave as it warms chicken adobo for a full minute.
The world around the family unit is gradually growing smaller – older son Paolo has left to marry and bring up his own children, so it's only Joshua and his increasingly frail parents at home. It's a comfortable life for him too, waking up to a full breakfast and packed lunch, while his parents only go as far as the local Asian food store these days Once a week, they all head off to a seniors dance class, where the terminally shy Joshua sits it out. Dad Reynaldo (Estaban Comilang) is a former Elvis impersonator who insists on wearing the full Vegas outfit, deadpan, throughout Christmas Day, shades and all.
Joshua is pious and Jesus is everywhere in his life (although he turns the iconography in his room around to face the wall when he masturbates alone at night). He prays, sincerely, not to be so shy, yet he can't help but rebuff any attempt at friendship on the part of his colleagues. It's a huge blow when his mother suddenly passes away, and Joshua gives up his job in an attempt to care for his increasingly debilitated father, although his domestic skills leave everything to be desired.
His first cousin, Marisol (Sheila Lotuaco), previously only mentioned through long-distance phone calls to the Middle East where she works as a carer, arrives for her aunty's funeral and, eventually, stays on to help Joshua. She's everything he's not – warm and outgoing and good at cooking. So it's hard for him to figure out his feelings as his 50th birthday draws close.
Writer/director Edralin (2014's award-winning short Hole) carefully examines this almost hermetically-sealed unit – there are very few exterior shots in his film – which is suddenly rocked by a departure and arrival. DoP Diego Guijarro's lens hones in on carefully composed tableaux which are often striking, whether in a church or at an airport or dance floor. But mostly, Islands is set inside an anonymous suburban house, where the sunny Filipino food and customs and language carry on regardless of the outside weather. It's so comfortable in here – how will Joshua reach out to connect?
Again, like its protagonists, Islands refrains from sweeping statements about immigration, racism, or the tough nature of Filipino life overseas – a highly-educated populace working for low wages paying off family obligations at home, mostly by caring for others. It's all here, though, and, in their first big-screen performances, Balagtas and Lotuaco prove more than capable of conveying Edralin's nuanced script.
Production companies: Circus Zero, Silent Tower
International sales: Silent Tower, priscilla@silenttower.media
Producers: Martin Edralin, Priscilla Galvez
Screenplay: Martin Edralin
Cinematography: Diego Guijarro
Editing: Bryan Atkinson
Production design: Helen Kotsonis
Music: Cody Partridge
Main cast: Rogelio Balagtas, Sheila Lotuaco, Esteban Comilang, Pablo S. J. Quiogue, Vangie Alcasid